Developed by Activision, Destiny 2 has recently launched a new premium weapon in their series, The Heir Apparent. The Heir is a heavy machine gun with features like an intrinsic perk bonus as well as a massive slug tower. It requires players to spin it entirely before it can release its full power fire. This is a new weapon that is added to the list of weapons from Destiny 2 after the April update.
Talking about Destiny 2, it is free to play an online first-person shooter video game that is available to all significant platforms, including Xbox One, Play Station 4, and Microsoft Windows. It is one of the first games to feature cloud streaming through Google Stadia. As the game is set in a mythic science fiction type, weapons are somehow realistic, though. Upon the requests of users, we decided to bring out the guide on completing the Heir Apparent Class Act in the game. So follow our guide to do that.
How to Complete Heir Apparent's 'Class Act' Triumph?
The perk feature of the weapon Heir slows down it's handling, and the player thus requires to prepare beforehand. However, the Heir has some exciting features listed below:
Corkscrew Rifling: This balances the barrel with little increment in range, stability, and handling speed
Append Magazine: The magazine is better built to handle the higher capacity of bullets.
Armor of the Colossus: The spinning of the weapon protects you with an Arc Shield when you are in full health.
Combat Grip: More vertical direction recoil control function.
These were the features of the Heir Apparent. To acquire this weapon, players need to participate in activities after speaking with Eva Levente. She is the seasonal vendor in the tower. After talking to her, she will send you on a quest to Zavala and the Drifter. After that, she will start engaging you in Activities.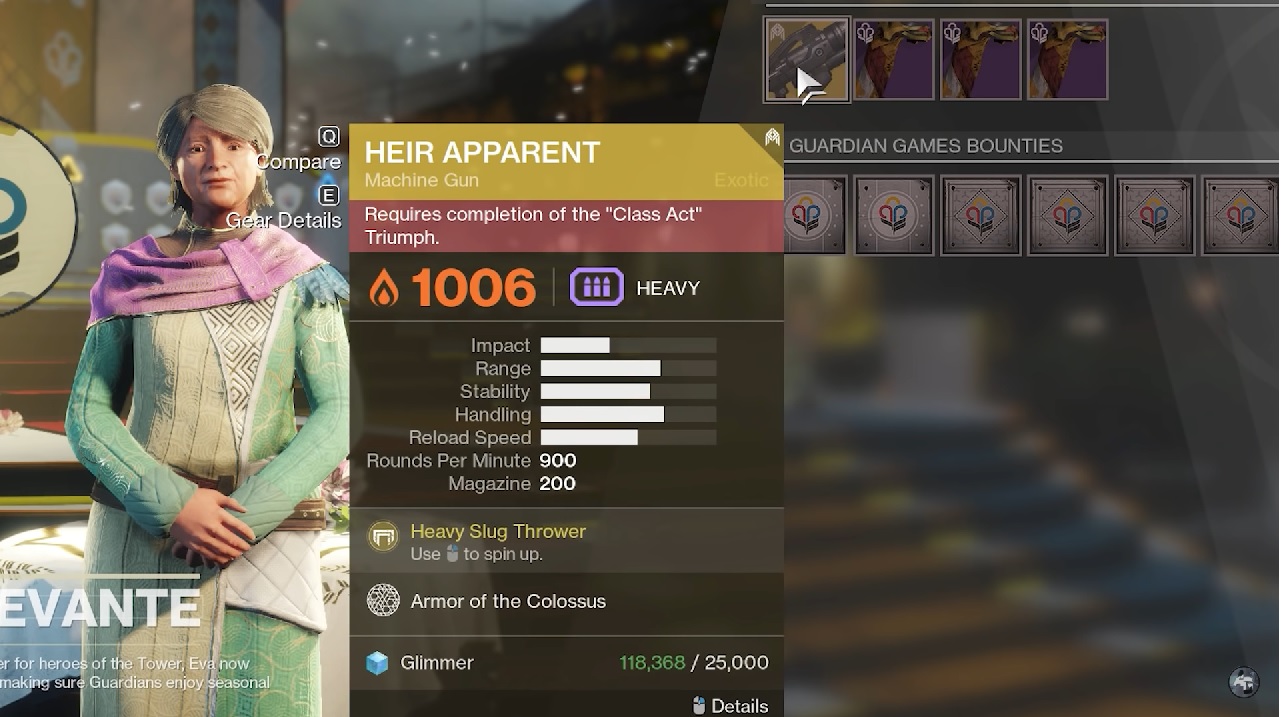 The moment you complete those activities, you will be able to see Eva's vendor menu on the main menu. Now you will notice Heir Apparent in the list of gear sections as the first item on the page. After that, when you take your mouse over it, you will see it costs 25,000 glimmers, and you need to complete "Class Act Triumph."
Class Act Triumph
To complete the Class Act, you have to head over to the Triumph page from your menu bar then follow the steps:
Click on "Seasonal"
Then select "Events" from that tab.
At last, click on "Guardian Games."
Now you will see the list of available Triumphs, from there choose anyone to from the list to complete the "Class Act."
The Triumphs on the list will be as follows:
Renowned: Each laurel from Super, Grenade, and Charged Melee final blows.

Laurels for the current class- 3 points.
Laurels for the other class- 1 point

Great Deeds: Collect Laurels from various activities.

Gambit- 400 laurels
Strikes- 400 laurels
Black Armoury Forges- 600 laurels
Any Destination or Activity- 1000 laurels

Gold Medalist: Redeem 30 Gold Medals
Medalist: Redeem 75 medal of any kind
Show Your Colors: Earn points by completing bounties.

Weekly bounties- 4 points
Daily bounties- 2 points
Additional or repeatable bounties- 1 point

Represent: Defeat Enemies using abilities like Nightfall and Vanguard Strike
Quintuple Threat: Redeem one gold medal from each of the following events:-

Crucible
Gambit
Forges
Destinations
Strikes

World Class: Redeem 20 medals of any kind from the Forges or Destinations
Guardian Gamble: Redeem 10 Gambit medals
Embrace the Light: Get 25 super kills in Rumble matches.
As of now, this is the only legitimate way known to us to get the Heir Apparent. Further, you have to start doing it fast because the vent of Guardian Games is going to last for three weeks, which has already started from 21st April to 12th May.
Wrap-Up
This guide was to help the players of Destiny 2 to get their hands on the exotic weapon Heir Apparent. Following our guide, they will be careful to get this as soon as possible. We hope our guide helped you. If you have any queries or feedback, feel free to comment down below with your Name and E-mail ID. Likewise, check out our iPhone Tips and Tricks, PC tips and tricks, and Android Tips and Tricks for more such tips and tricks. We urge you to participate in the $100 giveaway by subscribing to our YouTube Channel. Thank You