Are you looking to buy a brand new iPhone X or XR because of the new price bump in iPhone 13? Well, then why not you try our refurbished iPhone X and XR, i.e., available in almost every colour that Apple offers? We here in Hekka.com sell almost every smartphone brand refurbished phone.
So, we recommend you to instead of purchasing or spending your hard-earned money on a new older phone, and you can get your hand on these smartphones at a reasonable price. Well, don't worry! We have given all the necessary details that a buyer need to know before buying in this article. So, make sure to stick with it till the end.
iPhone X 64GB, iPhone XR 64GB, iPhone XR 128GB (Refurbished)
First, if we talk about the Hekka website, you do not need to worry about its authentication as Hekka is such a great and trustworthy platform! Moreover, there are so many fun, exciting products and happenings that you can pick from. However, not only that, they are always adding new products regularly.
If you are looking to buy a refurbished iPhone, then you must visit Hekka website as they offer you iPhone X 64GB, iPhone XR 64GB, iPhone XR 128GB at very reasonable prices. So, talking about the prices for these smartphones, then the iPhone X 64GB Silver (Refurbished) will cost you around 259.99USD, which is lower than its price tag, i.e., 309.99USD. However, if you want an extra discount, then use the coupon code hekkax50.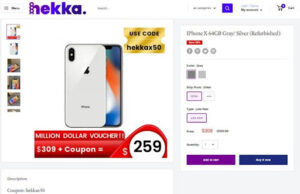 Similarly, the iPhone XR 64GB white/red/yellow/blue/coral (Refurbished) will cost you around 269.99USB, which is lower than its page price tag, i.e., 319,99USD and to get an extra discount, use code hekkaxr50.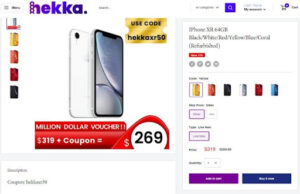 In addition, to get the iPhone XR 128Gb (Refurbished) variant, you need to pay 299.99USD, which is also lower than its original page price tag, i.e., 359.99USD. Also, after using coupon code hekkaxr60.
What Are The Selling Points?
The devices that Hekka give you are like-new devices at second-hand prices.

Also, before dispatching the product to their buyers, the Hekka experts checked and restored each device.

What I've liked personally about their products is Hekka's transparent ecosystem, which allows you to understand the refurbished products' appearance and technical conditions (durability, battery life, etc.) before purchasing.

If you find that your refurbished iPhone is not working properly, then they also offer you a 45-day warranty which is counted from the date of purchase.

I have ordered both the X and XR from the Hekka, and trust me; still, I do not regret my decision to purchase the product from Hekka. They also give you free shipping on every product you purchase all over the world.
Personal Opinion on My Purchase
Well, back in September, I've purchased an iPhone XR 64Gb from Hekka and trust me, the device will feel like a new one. Also, when I hover over to the settings section to check the battery percentage, it shows 93percent, the camera is working fine, the screen and charger are original, which means the phone is just a few months older. So, I'll be given full marks for the website in terms of quality and value for money. Therefore, I'll suggest you try this website once.