In a surprising move, HMD enables bootloader unlocking on Nokia 8. Nokia's representative Juho Sarvikas mentioned it on his official Twitter account. It's a great news for the developers who have waited for this. Now they can create custom ROMs and other mods for the device.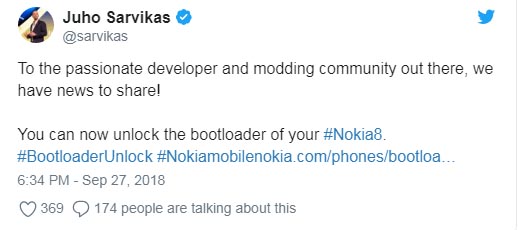 Nokia has been making the kernel source code for various of its device available for download. Yesterday itself, Nokia 6.1 Kernel source code was made available for the developers. Also, more phones will be able to support bootloader unlocking.
However, everything comes with a price and so does unlocking the bootloader. You must know that, once your phone bootloader unlocks, it will no longer be under the manufacturer's warranty. Also, once you unlock the bootloader, you cannot relock it. Some apps may not work. Most importantly, save your data and back it up before unlocking the bootloader. After unlocking, all media and content on the device will erase permanently.
Make sure that you are not casually unlocking the bootloader of your device. If you have serious goals to develop custom ROMs for the device then do it. If you are a regular user i.e. non-developer, then don't indulge in this at all. It may harm your device.
Go to the Nokia website and go here to unlock the Nokia 8 bootloader. You have to sign-in if you already have the account with Nokia. Otherwise, you have to sign-up and create an account. You will be provided with the Nokia bootloader unlock App. Then you have to provide your device details in order to validate it.
So, now that HMD Enables Bootloader Unlocking on Nokia 8, we are hoping other devices will follow the route soon as well. If you are a developer, go unlock the Nokia 8 bootloader, create mods and custom ROMs of your choice.