If we're looking at an open-world video game, then you'll know that fast traveling is an essential element. This is pretty important if you don't have a faster means of travel in such a game. Right now, we're looking at Horizon Zero Dawn and the difficulty the players are facing when it comes to transportation. Luckily, the game does have fast travel in it.
So today in this guide, we'll take a deeper look into Fast Traveling in Horizon Zero Dawn. In the following guide, we'll dig deeper into the fast traveling methods available in Horizon Zero Dawn and how you can do it. If you fall among the players who's got no clue with fast traveling in this game, then please read on. So without any further ado, let's look at how to Fast Travel in Horizon Zero Dawn.
Horizon Zero Dawn: How to Fast Travel
1. Fast Traveling to Campfires or Settlements
To start with, you first need to go about discovering the campfires or settlements around the map in the game. Upon discovering, you'll see them in green color on your map. Once you're done with that, you can make use of the Fast Travel Packs to fast travel to the discovered settlements or campfires. You can obtain the Fast Travel Packs either from the quests that Aloy completes as you progress through the game or by purchasing it from merchants for 2 Metal Shards, 15 Ridge-Wood, and 1 Rich Meat. However, using fast travel packs will drastically use up the much-needed resources you have so not everyone will prefer it.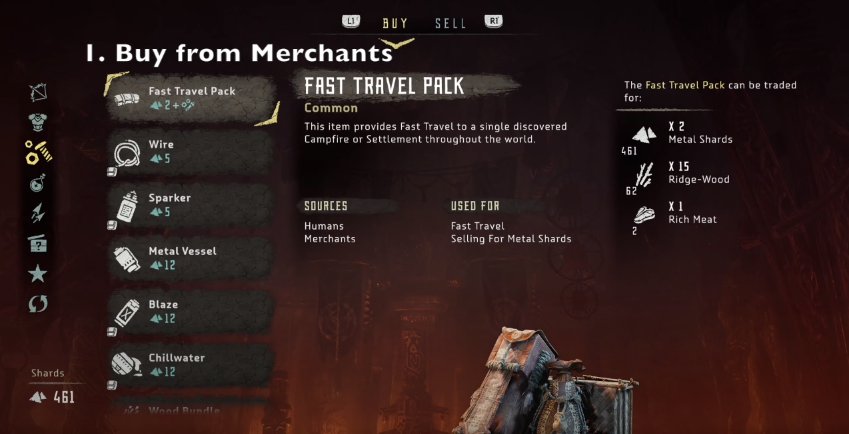 2. Fast Traveling by Golden Fast Travel Pack
The Golden Fast Travel Pack is something that's pretty similar to the normal Fast Travel Packs in Horizon Zero Dawn. However, what makes them different is that you only have to purchase the Golden Fast Travel Pack once and you'll be able to travel anywhere, anytime, and it's unlimited. To get the Golden Fast Travel Pack, you first need to progress through the game and complete the quest The City of the Sun to Meridian. Once you're there, you'll get the Golden Fast Travel Pack, which comes at a pretty huge cost. For this, you need 50 Metal Shards, 1 Fox Skin, and 10 Fatty Meat. With that, go to Meridian speak with a Hunters Goods merchant.
Choosing to fast travel in Horizon Zero Dawn sucks up plenty of your resources, especially if you choose to go with the Fast Travel Packs. Compared to those, it is always a good idea to purchase the Golden Fast Travel Pack once and then use it for unlimited times in the game. Although it comes with a one-time hefty price, the item is pretty much worth it! That said, we hope reading the article above has equipped you with some bit of information. Please let us know by commenting down below if you have any further queries regarding the same.
Also, check out our iPhone Tips and Tricks, PC tips and tricks, and Android Tips and Tricks if you've got queries for it or want help. Thank you!