As the two hemispheres are entering a new round of season and months, players of Animal Crossing New Horizons are seeing chances of catching new species of bugs in the game. This time, the game has released Horned Hercules into the islands of the game for the players to catch. While everything looks new to them, the players are all struggling to get their hands on this beetle.
In this guide today, we'll teach you everything regarding catching a Horned Hercules in Animal Crossing New Horizons. We'll take you through everything from its seasonality to its appearance so that you can get your hands on this beetle easy and fast. Without any further ado, let's look at how to catch a Horned Hercules in Animal Crossing New Horizons.
How to Catch a Horned Hercules in Animal Crossing New Horizons
The first thing you need to take note of before catching any kind of bug or fish in Animal Crossing New Horizons is their seasonality in the game. In order to get your hands on the Horned Hercules in Animal Crossing New Horizons, you first need to know when they'll appear. Their Seasonality is in the months of July and August in the Northern Hemisphere and in January and February in the Southern Hemisphere.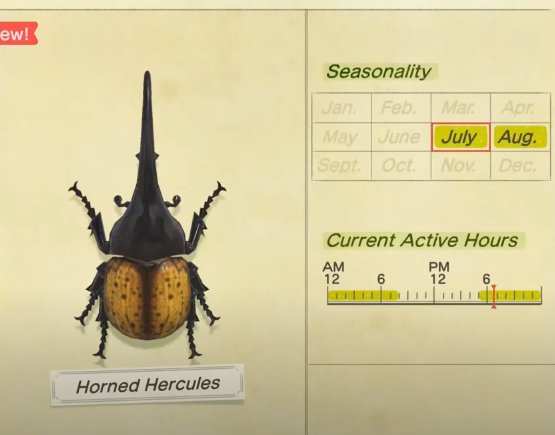 Now that we know the seasonality of the Horned Hercules in both Hemispheres, let's look into actually catching this bug in Animal Crossing New Horizons. The Horned Hercules spawn on tress during the hours from 5 PM to 8 AM. These beetles have a long horn-like structure that sticks out from its head. The beetle is a combination of yellow and black in color as well. Once you do spot one of these beetles, approach them slowly with your net and swing it across.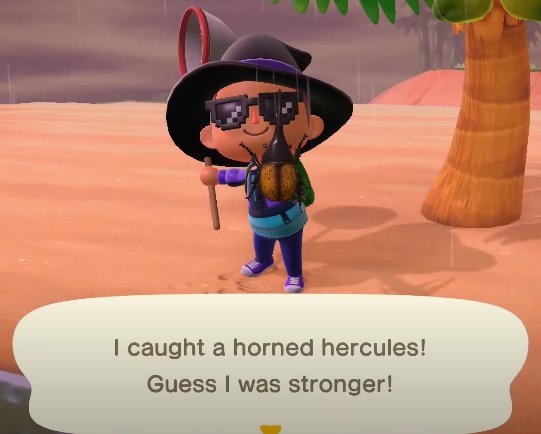 After catching yourself a Horned Hercules, it'll make a pretty good addition to your collection in Animal Crossing New Horizons. You also have the option to sell it for 12,000 bells, which is a pretty good amount for a beetle. With that, we hope reading the guide above has brought some valuable information and help to you. Please let us know by commenting down below if you have any further queries regarding the same.
Also, check out our iPhone Tips and Tricks, PC tips and tricks, and Android Tips and Tricks if you've got queries for it or want help. Thank you!