Battery draining problems can be one of the most disturbing issues anyone can encounter. With smartphones getting powerful as technology advances and getting added with so many features, decent battery life is necessary for the seamless working of the device. Since, we rely so much on our smartphones such as to make calls, receive and send emails, stay in touch with friends, shop online, listen to music, watch movies, surf the web, play games, etc, slow charging along with fast battery draining can be a disgusting experience especially when you have loosened your pocket so much for the device.
Battery draining problems can be due to a variety of issues ranging from software crashes, device condition, usage, hardware issues to corrupt applications or corrupt software or OS. Imagine a situation when you need your smartphone you notice battery draining. Since the battery is needed to do any task on our device, we often start to panic in such situations without knowing the fact that battery draining problems are not complex and can be dealt with ourselves. This article would help you identify the problem and allow you to fix Elephone battery draining problems in a few simple steps.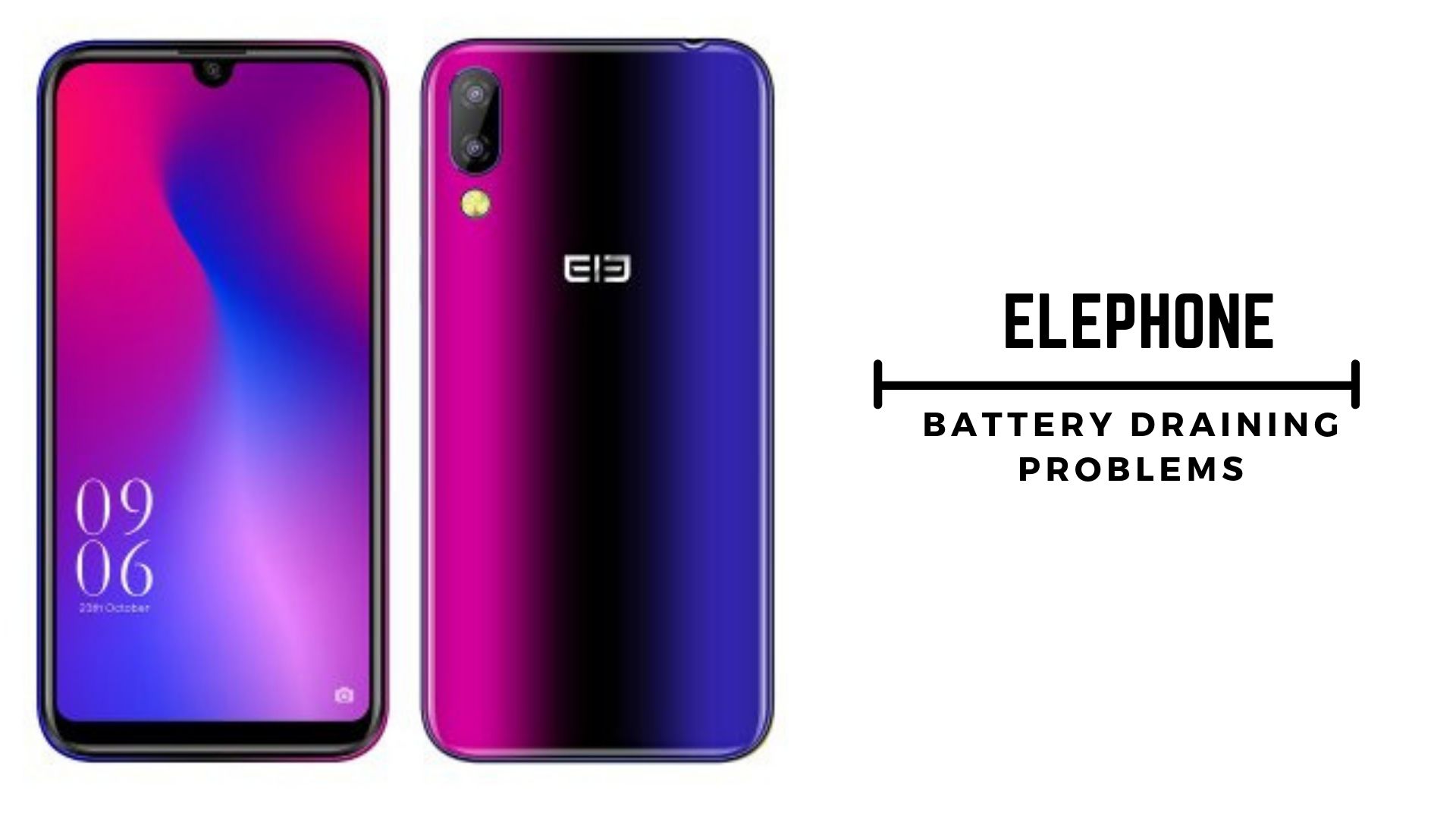 How Fix Elephone Battery Draining Problems?
Before following any complex steps, try rebooting the device to solve any issues. Rebooting gives a fresh start to your device by closing all applications. Battery draining is often caused due to over usage of the smartphone without giving it rest. You may be using your phone for a long duration, running various applications continuously leading to higher battery consumption. Simply turn OFF the device and wait for a few seconds or minutes and turn in ON again.
Step 1: Find out the battery hungry apps
Navigate to Settings >> Device >> Battery >> Battery Use. This would provide a breakdown of what percentage of your battery has been used by different apps and system functions for the day, and you can even for a week. Look at the list of battery consumption and identify the apps that are eating up too much power. Uninstall these if you don't use them often. Use third-party applications if you want an in-depth analysis of Android's battery. An example of such application is GSam Battery Monitor that monitors battery usage and gives a detailed analysis of your battery status. Battery hungry applications or the useless ones should be uninstalled at once to avoid any issues further. You can turn off Background activity for those applications that consume battery or processing power even while they are inactive or idle.
Step 2: Close unused applications and restrict permissions
Smartphones are made for multi-tasking. Most of the users run numerous applications at once and do not close the applications that are not needed further. We often jump from one application to another leaving the previous application running in the background. This results in a lot of battery consumption by the applications that are not even required. Therefore, close the application after you use it. This should be done every time you use the app. You may also restrict background permissions such as the "Autorun" and "Background Service" permissions used by some apps that allow them to run in the background even when not in use.
Step 3: Force stop applications
If due to some reason, an application cannot be closed, try force stopping the application. Force stopping applications is like a hard reset your application. It turns OFF the app thus prevent it from draining the battery. For this, follow the steps below:
Open Settings
Navigate to Apps
Select the app from the list.
Tap App info
Select Force Stop.
Then tap OK to confirm.
Step 4: Find alternatives for high battery consuming applications
We often encounter that some applications are consuming a lot of battery and processing power but we cannot uninstall them as they are the important ones. Some applications such as system applications cannot be uninstalled. In such cases, you can always download third party applications that perform the same task but consume less power. These alternatives would not obstruct your work and also be more power efficient than the older applications you are using. The older applications can be disabled through the settings if you cannot uninstall them.
Step 5: Try to enable power saving mode
Every smartphone comes with a battery/power saving mode and is quite handy if you are encountering battery draining problems. This closes all unnecessary applications automatically, adjust the best display settings, reduce background animations and toggles useless connectivity options such as NFC, Bluetooth, etc. It does sacrifice on performance but helps to get the most out of the battery. You may also find the 'Ultra power saving mode' in some devices. As the name suggests, this would only allow you to place and receive calls and read messages and can be used when you are running very low on battery but cannot charge up your device due to some circumstances.
Step 6: Adjust brightness settings
The display of any device is one of the biggest battery consumers. If display settings are not adjusted properly, you would surely encounter battery draining issues. First of all, you can turn OFF auto-brightness mode in your smartphone and manually set the brightness every time there's a change in surroundings. Auto-brightness helps in adjusting screen brightness automatically according to light conditions of your surroundings. This might be a battery consuming feature and can be turned OFF. Adjust brightness to low when indoors like at home or office and moderate to high when outdoors.
Step 7: Adjust display settings
There are numerous display settings that need to be altered if you encounter battery draining issues. One such setting is the stay awake feature also known as 'Always ON Display' which keeps your smartphone screen awake even if you lock your phone. It is quite handy as you get to know the time, date and other notifications as per your priority without waking up your device. Open Settings >> Display and then toggle 'Always ON' option. You should also reduce the screen on time. You can set a lower time for how long the screen will stay awake after the last activity done with it.
Step 8: Turn Off 'Wake for Notifications' feature
'Wake for Notifications' feature is handy in getting notifications for things like email or social networks without waking up your device. Thus, for every notification you get, even the useless ones such as those of shopping applications, your screen wake up if your phone is locked. So, if you encounter battery draining problems, head to Settings >> Display and select to turn off Ambient Display (which means no app notifications will cause the screen to wake). You can also navigate to Settings >> Apps and then uncheck 'Show Notifications' for those needless application notifications.
Step 9: Toggle connectivity options
Bluetooth, GPS, NFC, Wi-Fi, personal hotspot and all your other wireless connections should be turned OFF when not in use. You should also turn OFF Location access in application permissions. Also, for applications, you can set the option of always seeking permission if they want to toggle connectivity options such as GPS, Bluetooth, etc.
Step 10: Update apps and firmware
All applications and device software and OS should be updated. Developers often send updates in order to add new features, improve security and to fix bugs that may be related to the battery. Update the apps by navigating to Google Play Store >> My apps and games >> Update all. To update the device software and OS, head on to Settings>>About phone>>Software updates. There you will be able to see if there is an update available for your device. Updating might help in fixing battery draining issues.
Step 11: Clear accumulated cache data
All applications and the device system storage accumulate cache files over time. Uncleared cache data may hamper the system's performance and can be a cause for battery draining problems. Navigate to Settings >> Apps >> Downloaded. Select 'Clear Cache' option for each application. To clear the storage cache, jump to Settings >> Storage >> Cache Memory. After this, you can clear storage cache by a single tap.
Step 12: Perform a hard reset
Hard reset uninstalls all applications and sets system settings to default. This would also fix any software crash that might have occurred. Make sure to back up all important user data and then follow the steps to perform a hard reset:
1) Switch off the phone.
2) Press and hold the Volume Up key and Power key simultaneously
3) Release the keys when the Android system recovery screen appears.
4) Highlight the "wipe data/factory reset" option using volume keys as navigator and then use the Power button to select it.
Step 13: Get help from the manufacturer
The last and final option you have to fix the Elephone battery draining issue is by approaching the nearest service center. They would help resolve issues that might be related to software or hardware. There could also be an issue with the battery and if your phone is under warranty, you can always claim for a free battery replacement.