If you are an Apple user, there is a pretty good chance that you have an apple subscription for some of there services. Where you have a variety of subscriptions or membership based on your Monthly or Annual plans. Here are some of the most subscription-based services you might using like iCloud storage, Apple Music, Apple Arcade, and some could be a third party like Netflix, Amazon Prime, Disney+, HDBO Go, among others.
Subscription is a membership with that app, Where you pay to access their content from an app or service for some time.  Once your Subscription plans over, it automatically gets renew unless you cancel the subscription to continue endless series that you enrolled for endless entertainment.
However, Have you ever thinking about how you can cancel subscription from your iPhone or iPad. If you did not know about it, then its quite easy once you learn how. Subscription-based services often come with a limited free trial period, but before you continue with their trial, you have to connect your credit card/PayPal with the account.
Manage View, change, or cancel your subscriptions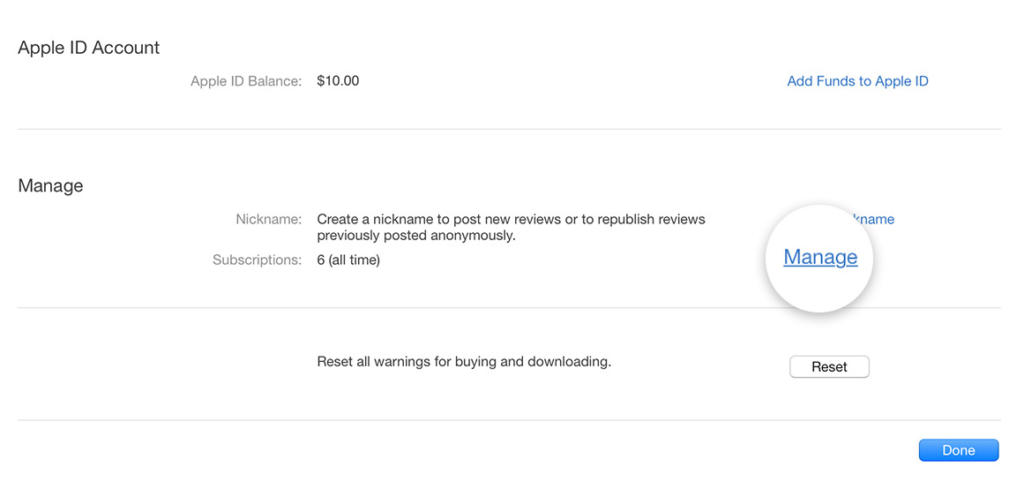 Many people didn't realize to cancel subscription plans. Where may before the end without cancel subscription plans, even they are not interested in renewing. However, you need to cancel the subscription 24 hours before renewable.
Whereas, Several users start thinking that they were using the free trial, but credit cards/PayPal automatically renew once the trial period is over. Sometimes, if you try to cancel the subscription, you might stick with it because various subscription services don't directly give you an option to scan the plans.
Even the apps don't come with a cancel or unsubscribing button that makes people get confusing. It's so simple to cancel the subscription in just a few simple steps, and Apple iOS 10 comes with an Active Subscription that allows you to manage your subscriptions.
How to cancel Subscription service on iPhone and iPad
The majority of the users were not able to cancel subscription because of the usages of Apple's payment gateway. Meanwhile, the Apple payment gateway allows you to manage all of your subscriptions in one place. Also, this gives you a Secure environment and to manage your variety of subscriptions in iOS and iPadOS.
Open the "Setting" app on your device.
Tap on your "Apple ID."
(Placed right above the airplane mode toggle)
Choose "Subscriptions."
(Here you can view all of your inactive and active subscriptions in one place)
Select on your Active Subscription.
(Which you no longer interested to pay or want to adjust plans)
Enter your Apple ID Password, Face ID, or Touch ID.
(If you enable the security, Either it doesn't require if you have not allowed privacy and security)
Here, you find an Edit Subscription option
(You find Subscription plans and renew date of your subscription)
Click on "Cancel Subscription"
Click on "Confirmation Cancellation" to confirm to end your subscription.
Note: If you registered for a trial version, then you have to cancel renew at least 24 hours before the trail or discount trails end. On the other hand, The Apple News+ and Apple Arcade trail subscriptions end as soon as you cancel the subscriptions because there is no period for these services.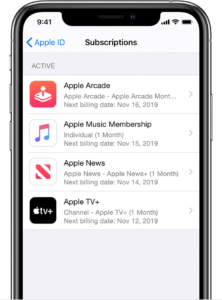 Not to mention, Canceling subscription is slightly different based on the region, especially in Israel, South Africa, and turkey. After canceled Subscription plans would not be required or charger automatically, further, if you like to resubscribe, then you can choose any of the subscription plans. Additionally, this method works directly within the various apps and services.
Can Family member manage subscriptions
No, they can't manage subscriptions for another family member. They have to cancel or change plans with their device or whey they signed to another device with their own Apple ID.
Manage Suspicious Subscription plans
Apple is not responsible for suspicious subscriptions, and Apple didn't show on your device. If you receive a suspicious email about a subscription, then make sure you don't provide valuable like Social Security Number, Mother's maiden name, full credit card number, and Credit card CCV code.
Apple never asks you to provide this information over email.  If you find something phishing, then report it to reportphishing@apple.com. If you receive an email like this, then instantly change your password or update your password to protect your payments from the setting.
Hopefully, You find this quick guide helpful. It helps you to deal with the subscription plans. And find a way to managing your subscriptions from your Apple ID Using iPhone and iPad. Share your valuable opinion and feedback in the comment section down below.