Google has been continuously working on providing the dark mode to various of its applications.  The company has insisted that the dark mode is really useful for devices with AMOLED panel. As LED panels incorporate more color detailing which includes Google's material design(white color). This consumes a lot of battery in a short duration. Dark mode darkens the display which leads to less use of bright colors hence reducing battery consumption. Of course, dark mode is comforting to the eyes if you use the phone for gaming or reading books at night in the darkness. Already Messages app and Google Phone received the dark mode for them. Now, it's the turn of the  Contacts App. In this post, we will tell you how to enable dark mode on Google Contacts.
Latest Google Contacts version 3.2.4.22 brings the dark mode. Though officially the dark mode has made its entry, most of the devices are yet to see the new update. We have laid our hands on the APK from a third party source. We have included the download Link for the same in this post.
Download Google Contacts v3.2.4.22
Here is the download link of the APK which brings the dark mode for Google Contacts
Google Contacts v3.2.4.22 With Dark Mode [APK Download]
Note:- While downloading you may see a pop-up asking whether you want to confirm the download. The reason why you see that because it is not the official integration, rather a manual flashing of the APK from a non-official source. Just confirm it and continue the download.
GetDroidTips will not be responsible for any incidental bricking/damage to your device while/after installing this update.
You May Also Like,
How To Enable Dark Mode on Google Contacts
After you're done downloading the APK, it will automatically install/update over the existing version. However, it may happen that even after upgrading to Contacts v3.2.4.22
In-case night mode is not enabled after installation/update to the APK, then simply do this.
Go to device Settings> Apps & Notifications
Open Contacts App > App info
tap on Force Stop.
Then re-open the Contacts App
Now, you will be able to see the dark mode enabled.
Preview of Dark Mode on Google Contacts
Here is a preview of how Contacts App appears with the dark mode in action. You can see the difference in the previous version and current version placed side-by-side.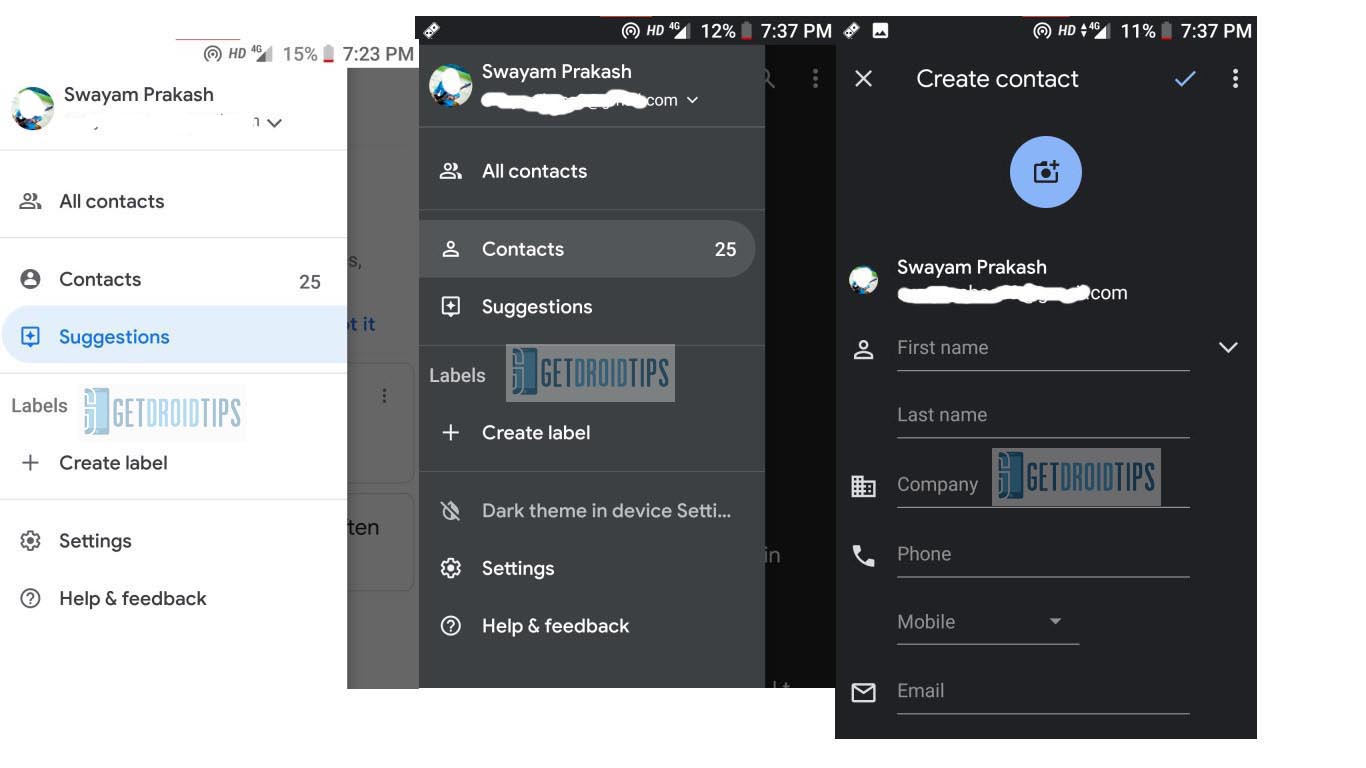 So, there you go. If you want to try out the dark ode on your Contacts App, then follow this guide. It works 100%. If you have any queries do let us know.