One one the new quests in Destiny 2 that's bee puzzling the players is the Means to an End. This particular quest wants you to farm Umbral Traces in the game. Although the new resource named the Umbral Traces is not that rare or scarce, you'll really be trapped if you have no clue about where to start with. So it is vital that you know how and where to farm them from.
In this guide today, we'll teach you how to farm Umbral Traces in Destiny 2. We'll take you through the locations that are ideal for farming this particular resource in the game. We'll also quickly run through certain other aspects regarding farming the Umbral Traces that we believe will be helpful for you. So without any further ado, let's look at how to Umbral Traces in Destiny 2.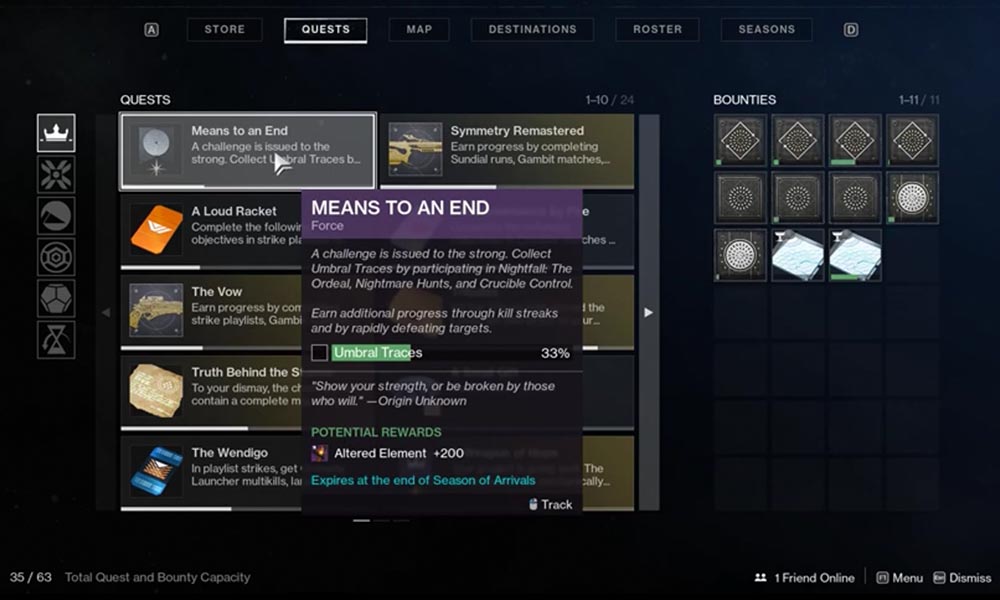 How to Farm Umbral Traces in Destiny 2
In Destiny 2, we have only 3 locations that will give you Umbral Traces. These are Weekly Nightfalls, Nightmare Hunts, and Crucible Control. For players that prefer PvE adventures, the Nightfall: The Ordeal and Nightmare Hunts are the best bet to go with. Simply go to the  Vanguard portion of your Director and you'll be given the option to begin this.
Also, if you're the kind of a player that prefers to fight against other guardians, then the best option for you is to take part in the Crucible: Control playlist maps. Here, you will receive Umbral Traces by taking down almost every enemy, and going in with the Witherhoard is an excellent choice for AoE attacks, leaving the enemies punished! By farming these locations, you'll get out with a handful of Umbral Traces.
Conclusion
Summing up our guide, you need to farm the locations Weekly Nightfalls, Nightmare Hunts, and Crucible Control in order to get Umbral Traces in Destiny 2. Depending upon what kind of fight you prefer, you can choose between the locations and missions. That said, we hope reading the guide above has brought some valuable information and help to you. Please let us know by commenting down below if you have any further queries regarding the same.
Also, check out our iPhone Tips and Tricks, PC tips and tricks, and Android Tips and Tricks if you've got queries for it or want help. Thank you!