As more and more people are getting dependent on phones, shopping is no more an entirely physical process. An app or website can grab you everything you can think of and that's all while sitting on the comfy sofa or couch at your home without any hassle. The prerequisites to online shopping is a phone, app or website of any e-commerce sites like Amazon, and you can tap into the million products on sale on a click.
Amazon Shopping app is one of the most profound shopping apps used on iPhones and Android smartphones thanks to its robust performance and with a catalog expanding over millions of products, everything is available in just a few searches. In fact, app developers behind Amazon usually update their applications on all devices so that the system is performing at its optimum while reducing the loading time and processing as well. In practical, you can buy any product on Amazon shopping app in less than a minute if you know what you want or you can search from millions of products available. However, the grass is not greener every time since users have reported several issues with their Amazon app.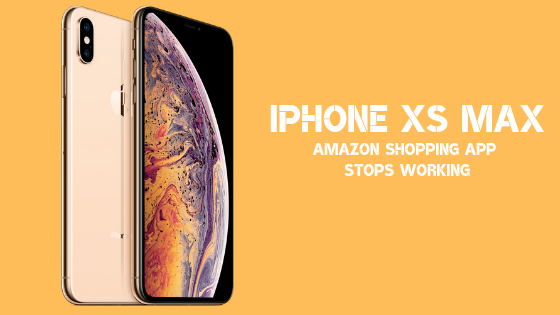 The issue could be independent of any other issues since it is an app running on an iOS platform which is clustered with several apps that work together. Any bugs either on the Amazon app or the firmware it is running on or any apps installed on the smartphone alongside Amazon can cause a slew of errors. The app could crash or fail abruptly or might not load the homepage and other pages or might be very slow or might not redirect to the payments page and so on. If you are having such errors on your iPhone XS Max, here's a troubleshooting guide on how to fix Amazon Shopping app not working issue on iPhone XS Max that you will find handy.
How to Fix Amazon shopping app stops working on iPhone XS Max?
I have listed a few effective troubleshooting methods that you can use yo fix the Amazon shopping app stops working issue on iPhone XS Max.
Solution #1: Reboot the phone
This is the first thing I think you should do. It is quite common for a smartphone like the iPhone XS Max to encounter bugs or a crashed firmware or any other problem triggered when you were using Amazon shopping app or any other app that you are using right now. Thus, a quick reboot will probably fix a handful of issues if not all. This is because a reboot will remove any strain on any resources that are in use as well as fixes any technical glitch or snag that might have triggered whilst you were using an app such as Amazon as mentioned here.
Press the Side/Power Button and any of the Volume buttons.
You will see a slider on-screen that says 'Slide to Power Off' that you can slide to the right to turn off the phone.
Wait for a few seconds and press & hold the Side/Power button to reboot the device.
Solution #2: Refresh the internet / Wi-Fi connection
Whenever you are using an app that requires your phone to be connected to the internet either via a data connection or Wi-Fi and Amazon is no exception. The app requires good quality internet allowing the users to surf across the app in various catalogs, tap on any product and proceed with it. However, any problems with the internet encountered while you were using your phone can cause trouble here and there. A minor connectivity issue might delay or even halt you from proceeding on the Amazon app for a while. However, a more resilient internet or Wi-Fi issues can throw you off the course as the app is unable to process data without a properly working internet connection.
Considering that you could be using Wi-Fi or mobile data, here's how you can refresh both so that the app starts working properly.

To refresh mobile data, simply go to Settings >> Mobile Data and toggle the switch a few times to check if the internet is restored or not.
To refresh Wi-Fi, you need to go to Settings >> Wi-Fi and toggle it a few times to jumpstart it.
You can also toggle Airplane Mode listed within the Settings app to see if it makes any difference.
You can check out the Control Center for shortcuts of all the functions I started above.
Solution #3: Reset all the settings
Apps can behave abnormally on the internet if the settings are invalid or have gone haywire. There could be a number of reasons why invalid settings actually happened but it is simply easy and worthy to fix.
To reset all the settings, you need to launch Settings app and access General >> Reset.
Select 'Reset all settings' from amidst the given menu and proceed by confirming the credentials.
Solution #4: Exit from background apps
You are using an iPhone XS Max which is the most powerful iPhone at the moment. This means you can use a number of apps at once without any hassle, however, sometimes the system is too overloaded due to suspended applications running in the fore and background which can be a problem as it can subdue the phone from reaching its maximum performance. Anyways, too many apps opened in the background can cause a string of issues as well, which is why you need to exit from background apps that you don't need.
First of all, swipe up from the middle bottom of the screen towards the center on the Home screen to showcase a list of all the apps suspended in the background.

Now you can switch up the apps to close it and leave those that you don't.

This will free up the hoarded memory and other resources and hopefully, it will enable getting rid of the

Amazon shopping app that stops working abruptly or whatsoever may be the underlying issue.
Solution #5: Update the Amazon shopping app
If the Amazon app itself is crashing too much or if it is not working properly, it is time to update it. Outdated apps have the tendency to crash often simply because they can be easily bugged or malware or intrusion is easy to initiate on an outdated app which is why I usually recommend iPhone XS Max users facing any app-related issues including Amazon shopping app stops working abruptly. There are multiple ways you can keep the app updated and here's how.
First of all, you can visit the App Store and proceed to the Updates tab where you will have to locate the Amazon shopping app and press the 'Update' button.
Secondly, visit the App Store >> Updates section and toggle the 'auto-update' feature so that every time an update is available, the system will automatically update the apps based on the availability of Wi-Fi or mobile data as recommended within the Settings.
Solution #6: Uninstall & Install
Reinstalling an app could act as an ultimate solution if the problem is indeed the app or the conflict caused due to the presence of this particular app on your iPhone XS Max.
To uninstall the app, you can simply tap and hold on the app from the Home screen.
Select 'X' on the upper-left corner and select 'Delete' and the app is gone. You can also visit Settings >> General >> iPhone Storage and uninstall the Amazon shopping app from the list of apps presented on the screen.
Once you are done with the uninstallation process, access the App Store on your device and type 'Amazon' and install it right away. Configure the app by entering your login credentials and I hope the app must work properly. If it doesn't, try rebooting the device once more and see if it makes any difference now or not. Finally, you can have a glance at the next method to put an end to the issue.
Solution #7: Seek help!
If the Amazon shopping app keeps failing and abruptly closing or triggers any other response, it could be a problem due to the app itself. You can always send a bug report or call Amazon support team to help. On the other hand, if the problem is not limited to Amazon only but you have encountered the same on other apps as well, the possibility of a problem on the phone's front is more. It could be a hardware or software issue and since you cannot get rid of the said issue on your own using the many methods prescribed above, you can always visit a nearby Apple Service Center or call Apple Support for further assistance.