It is common for smartphones to exhibit certain problems due to one of the other issues. Unless there is hardware damage, you shouldn't worry about it much as anything else can be taken care of using various explicit troubleshooting guide that you would find on GetDroidTips. One such problem is when your iPhone XS Max won't turn on or becomes unresponsive either gradually or abruptly. This could be worrying if you had just brought the phone worth a thousand dollars and encounter this problem in a few days.
This problem could be induced due to temporary issues like firmware crash or it could be due to bad updates or outdated firmware among other problems on iPhone XS Max. You need to check if there are any physical or liquid damage to the phone as well since in those cases, the hardware is possible to be blamed. You can check out if there are any signs of physical or water damage to the phone if it acts weirdly or if there are scratches, scuffs, or cracks on the front or back panel which is an ideal sign of any physical damage while liquid damage might not leave any apparent damage from outside but only damage the device or any sensitive component from inside. Here are all the possible ways you can try to fix the iPhone XS Max that won't turn on and has become unresponsive or frozen by any chance.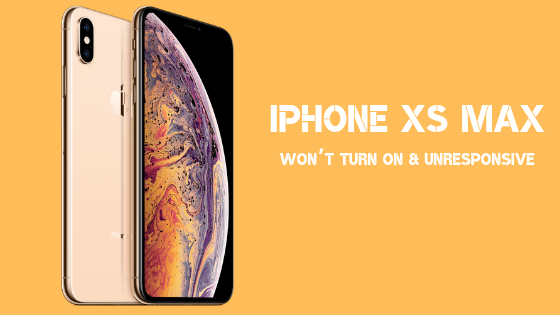 How to fix Apple iPhone XS Max that won't turn on and unresponsive?
To elaborate something about this particular issue, you could end up getting this issue when your iPhone XS Max suddenly shuts down abruptly and becomes frozen or unresponsive and unwilling to turn off again. This could create a problem since you won't be able to use any of the usual techniques you would practice if the phone was frozen in a turned ON state. Here is a working methodology to fix the issue.
Step 01: Practice a forced reboot on your iPhone XS Max
This is a quick and effective method you can try if the phone isn't responding to your touches or stimuli after shutting down abruptly. This will act as a simulated battery pull and must kickstart the firmware without any further ado. Here's how you can use this technique to your favor.
First of all, press the Volume UP key once and quickly press Volume DOWN key once.
Then press the Side/Power button and hold it until the Apple logo doesn't show up on the display.

Once the logo is visible, release the key and let the phone reboot.

If this method doesn't work, proceed to Step 02 as that must work in most cases if the earlier didn't work out in your case.
Step 02: Put the phone on charge and forced reboot it
This step will come handy if you tried and failed to do the first step. This is where you need your charger to charge the device for 10 minutes or so irrespective of if it shows any charging sign or not. After ten minutes, you need to use the above mentioned method to perform a forced reboot on your iPhone XS Max to jumpstart and that's when the phone is still connected to the charged and hopefully, it must restart. You can follow further steps in order to prevent it from happening again.
Step 03: Reset all the settings
Your iPhone XS Max has several settings including carrier settings, network settings, etc which are almost automatically configured by the concerned parties without any intervention. However, it is possible that a bug might have modified any settings or any setting has become obsolete or invalid that could introduce issues on your phone and thus, a quick 'Reset all the Settings' feature will do the needful by restoring the phone to its default settings.
To do it, you need to launch the Settings app and proceed to General.
Open Reset and select 'Reset All Settings' from the given menu.
Confirm the selection by entering and password and hopefully, the issue will be fixed.
Step 04: Update all the apps & the firmware
Most of the issues you would find on your iPhone XS Max are due to cache files or apps among others and this issue isn't any different. It is quite possible that any bad updates might have introduced problems or it may have invoked the firmware to crash causing the conundrum in the first place and thus, you must always update apps and get gid of any bad apps & updates.

To update an app, proceed to the App Store and check out for the list of apps installed.
You will find the list with the 'Update' button adjoining to it that signifies that there is an update available that you can tap and update the said apps.
On the other hand, you can press 'Update All' mentioned on the top right of the apps section that will update all the apps at once.
Now that you have treated outdated and bad updates on apps, you need to keep a tab on firmware updates as well. A firmware is crucial on a smartphone as it allows interaction between the software and the hardware party and thus, must be treated with utmost importance and therefore, must be updated as and when the updates are available.
You can check out if there's an update available or not via Settings >> General >> Software Update.

If yes, simply download the said file and install it and that's all.

If not, wait until you receive any notification from Apple citing the update and install it asap.
Step 05: Restore the iPhone XS Max to its factory settings
Restoring the phone to its original factory settings will actually fix any kind of software or even network-related issues to uproot. Doing so will restore the phone to its factory settings which is something you had when you first purchased the device and turned on for the first time. By the gist of it, you know that all the data will be lost so you need to obtain a backup of all the data you have saved on your phone that you can either save on iCloud or use any pen drive or store it on your computer until the process is done.
You need to proceed to the Home screen and tap and launch Settings app.
Next is to select 'General' and navigate to the 'Reset >> Erase all user data and settings'.
Your phone will prompt you to enter a passcode for authentication before proceeding further that you need to provide and tap on 'Restore Phone' to conclude this method.

After rebooting it, you can configure it accordingly.
Step 06: Seek Help!
If you are still figuring out a way to fix the issue, maybe you should visit a nearby authorized Apple service center or a third-party service center must be able to help. The issue may be related to hardware since software issues must have been resolved after you did a restore factory. Anyways, you can get the phone scanned and diagnosed to know what caused the problem and take actions accordingly.