Battery drain has been the evil for smartphones ever since the invention came into reality. A smartphone needs applications to function properly. It is like the backbone of the android system. However, this means that there will be permission requirements for all the different apps, including audio permissions, microphone permission, GPS permission, and so on. So almost every app will have control over different hardware pieces of the device.
This functionality turns out to be an issue if there is a bug in the code section. Even if it is present in an App that is not necessarily present by default in every android system, it can be uninstalled. But what if it's an app like Google play services required by the system and is also present in every Android. That actually happened when the 18.3.82 version of google play services was pushed out.
After a week of release, several complaints started rushing out about their battery dying without much of an activity. Even if the phone is idle, it is eating up the battery like it's in use. Many people we confused about this and many actually blamed the hardware of the battery.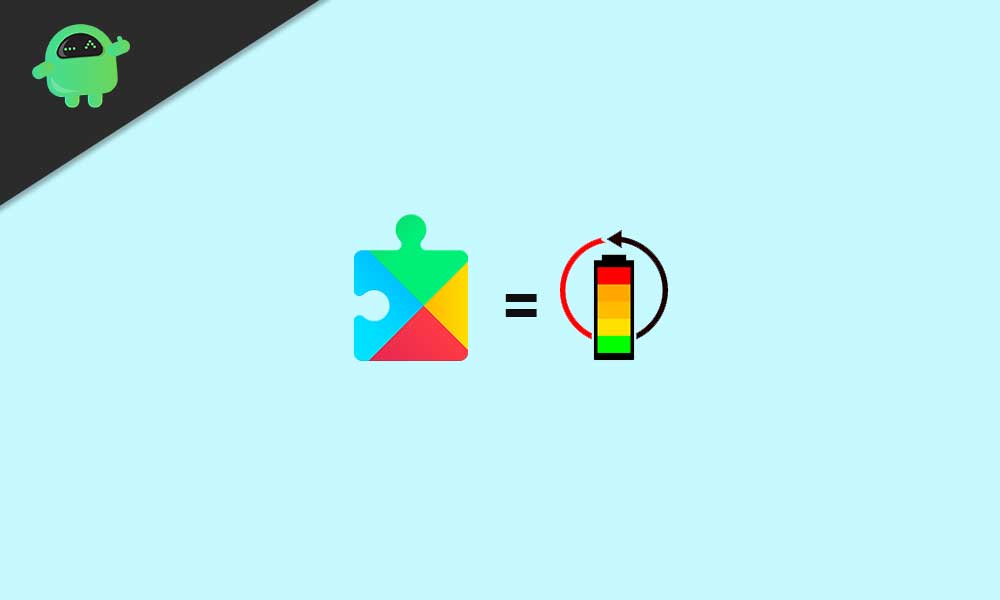 What is Google Play Services?
It is an API package that allows apps on your device to communicate well with each other. It also integrates system functions like GPS with different apps that require location information. So it basically means it will be there in the background eating up the battery. It is an app that does not take up much space by itself, so most of the time, other apps are the culprits behind the battery drain. Features like WiFi, location, metrics, and so on used by the secondary apps keep Google play services active in the background. Thankfully there are certain fixes to it, and in this article, we will take a look at it.
How to check what's draining my battery?
Checking the drainage of apps now is a very easy process. So one can easily see how much battery is being consumed by "Google Play services."
For that, firstly go to Settings > Full list of apps > Google play services.
Here you will see all the information about Google play services. There will also be a battery section that tells how much battery has been consumed. It is mostly in the advanced section of the Google play service settings information menu. If the percentage mentioned there is in double figures, then it is too much, and you are a victim of Google play services.
Improve Battery life by tweaking Google Play Services:
The first thing one could try is clearing the Google play services cache. To do that, go to "Settings -> Apps & notifications -> Google Play services -> Storage -> Clear Cache". This should fix the issue most of the time, and you will have the battery working fine like before.
However, you might try clearing the data on this completely too. This is a more forceful action, and you will be required to sign in to your Google account again. For this hard clearance, go to "Settings -> Apps & notifications -> Google Play services -> Storage -> Clear Storage -> Clear All Data".
This clear function should definitely take care of your problem.
Other fixes that one can try are the following.
Location Services
Plenty of apps have a habit of asking for permission, and the issue is that permission comes through Google play services. If you feel some apps are unnecessarily taking location information, you can turn that permission off manually for those specific apps. To do that, go to "Settings >  Apps & notifications > [App name] > Permissions."
There you will see the location permission on the list. Tap on it and turn the auto-sync off. With that, probably your problem will be fixed.
Turn off Auto Sync
Having more than one account logged in could probably be the cause of the battery drain. Google searches for nearby events, special places, and updates regularly. That ends up drying the battery up faster than usual for sure.
Turning off auto-sync on additional accounts could result in the fix you are looking for. Auto syncing the account with calendar, drive, email should be turned off immediately. The process of executing it is also a very simple one. Go to Settings > Accounts. Tap on the account and ff you see sync on tap on Account sync. Therefrom the list selects the apps you want the synced turned on or off.
Factory Data Reset
This should be the last resort, as this will result in a complete wipe of storage data. It is highly recommended to get a backup on the entire data via an external device or cloud. Google drive may prove to be the best solution if there isn't much data to backup. Once the backup of everything is done, then follow the steps mentioned below.
Open your phone's Settings.
Tap System > Advanced And then Reset.
In some phones, there might not be an additional Advanced tab. In that case, directly tap on Reset.
Tap on Erase all data And then Reset phone.
If prompted, enter your device's security PIN, pattern, or password.
Tap on Erase everything.
Once everything is erased, tap on restart.
Set up your device like a new phone and restore all the necessary backed up data.
So hopefully, these simple fixes will help you solve your battery drain issue.