It is iCloud that enables auto-backup of all the data you store on your iPhone or any Apple device that isn't misplaced or lost. iCloud has been integrated into the Apple devices such that it automatically takes updates as per the duration is set is store anything from photos, documents, texts, emails, videos, audio files, and a bunch of other items that you once stored on your device and enables the internal memory to be free. Assuming that you are an iPhone XS Max user or say any iPhone user, taking a backup or restoring e phone either to fix problems with its software or say if you are switching phone and want to wipe off all the data the phone will be integrated with iCloud and thus, no data will be lost whatsoever.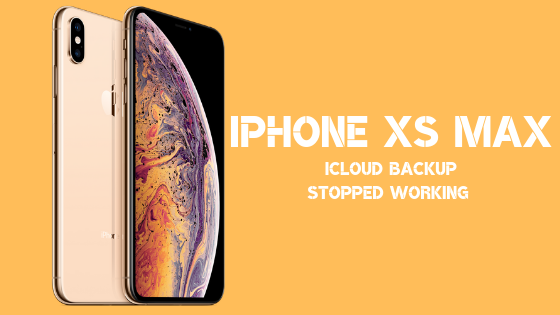 How to Fix iCloud backup not working on iPhone XS Max?
Method #1: Check out the iCloud Settings
Is it possible that somehow accidentally or unintentionally you or someone else who got the hold of your phone such as kids, might have changed the iCloud settings disabling the automatic backup or it could end up getting an error message on the go.
To fix the incorrect settings, go to Settings and tap on your name.
Tap on iCloud and scroll to find 'iCloud Backup' and toggle it to enable.
Ensure that you have the latest backup so tap on 'Back Up Now' or check the date enlisted with 'Last successful backup' to be updated.
Method #2: Toggle the Wi-Fi
Come on, we are discussing the phone backing up all the data to its iCloud account and here, the Wi-Fi is deeply involved since backing up data on cellular data will be time-consuming and a huge load on your pocket for sure. Now, if the Wi-Fi isn't working properly or if it is disconnecting abruptly, try fixing the issues with Wi-Fi here.
For starters, check if you are connecting to a Wi-Fi network or not. If the network keeps dropping abruptly, try toggling Wi-Fi for a few times and get closer to the modem or router or at least have it in sight for better signal. You can also reboot here if Wi-Fi is the problem or use airplane mode to jumpstart the service and hopefully, all of these methods will work on your iPhone XS Max.
Method #3: Check out for any intermittent issues
Unlike most of the other services, iCloud has a dedicated 'System Status' page that informs users about any of the Apple services being down. This includes services like Apple TV, Apple Music, Apple ID, and a tonne of other services including various aspects of iCloud. You can check the status and know if the particular app or service is temporarily unavailable or if it is facing any issues marked with either yellow or red depending upon the severity of the issues while the green color states that the services are working fine.
Method #4: Make sure you have sufficient storage available
Okay, now this is the most usual issue with iPhone users where iCloud backup not working issue pops up. Either it won't make a backup or it will show an error message such as "iPhone Backup Failed" which is basically what it means. Your iCloud account has a limited storage i.e. 5GB beyond which, either you will have to buy storage or delete a few things here and there to accommodate new files. If the backup fails repeatedly, check out the storage being used which is easy to determine within Settings >> Click on your Name >> iCloud and check the storage bar on the top of the screen.
If you see that space is filled up, try removing some of the files backed up earlier to ensure the new backup goes smoothly. You can also buy more storage at your will if that's the problem. On the other hand, if the storage is not filled up and the phone is still finding it difficult to take a backup, try the next methods in this explicit list that will work for sure.
Method #5: Reboot your iPhone XS Max
A smartphone has a bunch of hardware components working in conjunction with apps interacting with the firmware. Now, it is possible that either specially the iCloud app or it could be a case with several other apps together that have attracted bugs or have struck a rough patch or random glitch that causes the app or functionality in question to either not work properly or with a degraded output or it could stop working at all.
Rebooting the device relieves all the resources hoarded by apps and services while relieving the battery and processor and other components of the ultimate stress these apps might have put or the glitch cause them to suffer as well. Thus, a reboot works in such cases which is indeed an effective method to comply with.
Method #6: Sign Out of the iCloud account
Temporary issues can occur anytime and iCloud isn't spared of it. You can try this method in case if it works.
For that to work, you need to launch the Settings application and scroll down the page and tap on 'Accounts & Passwords'.
Now, you need to select 'iCloud' from the resultant page and a new page will appear.
Scroll it to the end and tap on the button that says 'Sign Out'.
The phone will prompt you to select 'Sign Out' again to confirm your actions and once done, reboot the phone and sign in to your iCloud account to verify if this solution had any effect or not.
Method #7: Reset All Settings on your iPhone XS Max
This particular troubleshooting method which tends to fix iCloud backup not working issue can be handy. Your iPhone XS Max has a tonne of settings may it be cellular or Wi-Fi or Bluetooth, etc. This means the phone has default settings that might change over time such as the cellular settings could change a bit by the carrier or telecom provider or there could be variable in settings over time. This is not a direct culprit that causes the iCloud backup from stop working but any discrepancies in the settings can surely cause the issue.
Assume that resetting all the settings will work, navigate to the Reset section within Settings >> General.
Select 'Reset All Settings' from the given page and enter the passcode it asks for confirmation purposes.
Once done, restart the phone once and check if iCloud is working or not.
Method #8: Perform a Hard Reset on your phone
This is where you end up if nothing in this troubleshooting guide works in your favor. You can put an end to any iCloud-related issues in case if caused by a bug or virus or malware or anything that would disturb the working of your iPhone XS Max. If you don't know how to perform a hard reset on your device, here's a troubleshooting guide to doing it but ensure you have a backup of data that you wouldn't risk losing beforehand.
Step onto the Home screen and launch the Settings app.
Next up, you are required to tap on 'Reset'.
Click on the second option that says 'Erase All Content and Settings' that will end up asking for a passcode for authentication.
Upon entering the correct passcode, the phone will automatically reset the device to its original factory settings and there it is.
Method #9: Use an alternative
If backing up the files on iCloud account via your iPhone XS Max is problematic, you can try using any alternatives for that matter. Dropbox or Google Drive or any other cloud-based storage solutions can be handy and since they have their dedicated apps and integrate well with iPhones to take backup and store data, you wouldn't find any issue here.
Method #10: Seek Help!
For any other matter possibly related to complicated bugs or even a hardware issue, you can call the Apple Care to know more about the issue and how to resolve it. Pick out from a host of authorized service centers or walk into an independent technician to get the resolution although there are various factors that might be affected here so think about it before you proceed.