Sending emails and receiving them is one of the fastest ways to communicate with people. May it be formal emails exchanged between two or more parties or it could be a casual mail to the friend or a mailer from any shopping site or absolutely anything that you can think of and everything is propelled through emails. Google Gmail is one of the popular email clients on iOS devices without any doubt as it is free to use, has plenty of features onboard and whatnot.
There could be dozens of underlying reasons why Gmail is not running on iPhone XS Max. Primarily, it could be an automatic sign-in blocking function which triggers when Gmail detects that you or someone tried to log in to your Gmail account either with an incorrect password a number of times or it could be on an unidentified or unverified device that requires authentication sometimes even if you are logging in from a different device. This subdues many hacking attempts although you might end up getting winded in such a feature as Gmail might not have recognized that it's actually 'You'.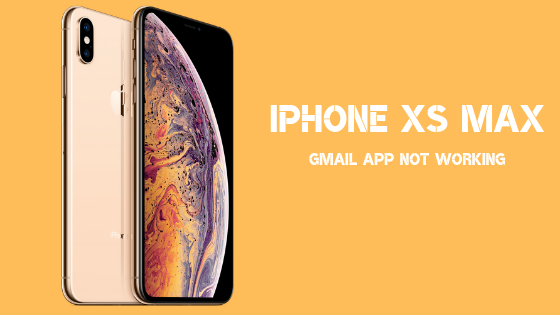 On the other hand, if Gmail is not loading or if it is not working, it could be an app issue or a system failure causing the app to suffer. It could be anything from a bug or malware or the firmware could have collapsed or there might be any other reason that the Gmail app nor working issue was a trigger. Since there is no specific reason why any app would fail or not work, here's a generic and app-specific troubleshooting guide that will come handy on your iPhone XS Max or any other iPhone you can think of.
How to fix iPhone XS Max Gmail app not working?
First Solution: Force Stop Gmail app
This can occur if you have accessed the Gmail app on your iPhone XS Max once and found no errors, used it or say opened it and minimized it without closing it. Now the app is in the background and uses a few of not all the resources it would use if it was being used actually. Now when you try to retrieve the app the second it, usually it must open from where you left. However, if there are too many apps in the background, the Gmail app could restart.
On the other hand, it could land in trouble due to corrupted cache or availability of required sources causing the app to wobble and collapse when you recall it. This is where you need to close the app once and wait for a few seconds. I would recommend closing all the apps that you aren't using but are still in the background that could take a toll on the phone's performance. You can close any running or inactive apps by accessing the recent apps section. You can recall cards preview of apps that are active in the background by swiping the finger from the middle bottom of the screen to center of the screen by making a swipe movement. This will open the recent apps previews that you can close by kicking off cards.
Second Solution: Restart the Phone
The primary most solution you can opt for while fixing any problem is to restart the phone. This will end all the apps and processes right there while freeing up space in the storage and memory and deallocating the resources that were occupied. This creates a surge in performance as a result while eliminating any bugs or malware or minor software or firmware glitches in an attempt to rule out any temporary issues with the Gmail app for a change and hopefully it'll work.
Long press the Side button to turn off the phone and wait for a few seconds until it settled.
Now, long-press the Side Button until an Apple logo shows on the screen and the phone is rebooted.
Third Solution: The Reinstallation
There are a number of conditions where this technique can work. First, if the app keeps shutting down immediately after you launch it or if it is triggered when you access certain functions. For instance, the app works just fine until you view the draft. Secondly, it could be due to bad updates which have a tendency to affect certain parts of the app if not all or it might affect certain devices or it could be very targeted such as iPhone XS Max running on iOS 12.4 located in the United States. Thus, reinstalling the app might help.
To uninstall the app, navigate to the Home screen.
Tap on the Gmail app icon and hold it until the screen stars jiggling.
An "X" option comes alive on top of all the app icons that you can tap and confirm to uninstall an app.
Once you have uninstalled the app, simply go to the App Store and search for the app 'Gmail' and install it, that's all.
Fourth Solution: Update Gmail
If a bad update can make the app behave abnormally, a further update will surely reverse it while adding new features and fixing bugs, if any. Updating apps is an imperative task and since app developers pass updates almost every month, this ensures that the app is up-to-date with the latest viruses and malware definitions that strengthens its protection against these intruders while grabbing new features on the go. If you haven't updated the Gmail app for a while, it is bound to behave abnormally. In can behave awkwardly even if the current update possesses any problems or bugs and thus, an update will fix all.
The update an app which is not rocket science, you just need to navigate to the Updates section of the App Store to view if the said app (Gmail) has any incoming updates or not. If yes, hit the Update button and there you have it. You can also let the phone automatically update the apps by enabling Settings >> iTunes & App Store >> Updates.
Fifth Solution: Reset All Settings
If you have modified the underlying settings for the Gmail app or if the problem commenced after you got the latest iOS update or Gmail app update, this could be due to invalid or incorrect settings. You can reset all settings on your iPhone XS Max simply by diving into the 'Settings >> General >> Reset >> Reset All Settings'. You'll be asked to enter passcode entering which, you can confirm the step and clear all the settings from your device which won't take more than a minute. I would recommend going for a reboot so that the changes can take place. Check if the problem persists or not.
Sixth Solution: Take it for diagnosis and repair
Although most of the issues concerning apps revolve around storage, memory, and the app itself, it is somewhat possible that there's a hardware issue. Unless and until you don't have professional experience about dismantling iPhone XS Max which of course has different mechanics due to its full glass body so be careful cause cracking the rear glass will push you in paying almost one-third of what you paid to buy the phone although the conditions will differ for those who leased the device. Anyways, make sure there's no impending software or network-related issues by going through the methods aforementioned. Look any signs of physical or liquid damage which is one of the precursors to hardware issues.
Take the phone either to a third-party service center which will be cheaper and quick while rendering the phone warranty obsolete or you can pick up an authorized service center that will maintain the warranty but isn't economical at all.