Apple is considered a revolutionary tech juggernaut across the globe. It pays close attention to the security and privacy of the users and that is why it brings several security layers such as a passcode, TouchID, and FaceID where the latter simply changed the world for good as you will spot it in almost all mod to flagship smartphones. Anyways, you'll need to point the front camera to your face to access your iPhone XS Max via FaceID, however, let's assume that you want to unlock the phone using passcode for any unspecified reasons or to make it more understandable, let's say someone else you know wants to unlock your iPhone with the passcode. Note that this could be authorized or unauthorized access by someone who got hold of your phone.
If you have forgotten your passcode, this can be a problem since there is no other way to reset it without taking extreme measures. On the other hand, entering the passcode will unlock the phone but if you enter incorrect passwords, there will be consequences. iPhones usually lock itself when the user tries to enter the credentials six times with the wrong passcode and this could leave you stranded as the only way out is to reset the phone although there are a few workarounds here and there and that is what I will be listing it here in this troubleshooting guide. Locked out of iPhone? Forgot PIN code? Read along to know how to resolve this issue.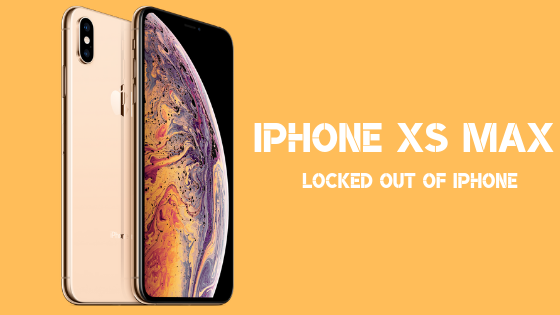 How to Fix Locked out of iPhone, forgot PIN code issue on iPhone XS Max?
There are a few ways to unlock your iPhone XS Max and here's what you are required to do and how.
Method 01: Unlocking iPhone XS Max with Synced iTunes
If you have synced the iTunes with your iPhone XS Max, this makes it possible to store almost all the data and settings since iTunes takes the backup of everything you store on your phone. This makes it easier to reset the phone without losing much data so here's how you can do it.
First Step: Connect the phone to your computer or Mac and launch iTunes if it doesn't automatically pop up on the PC.
Second Step: iTunes will take the required backup of all the data saved and allow users to click on 'Restore Phone'.
Third Step: Go through a few pop-ups agreeing to the same to confirm the actions.
Fourth Step: Once the restoration is complete, you can set up the device manually and reset the passcode that you'll remember or you can tap on 'Quick Start' as well.
Fifth Step: Note that your iPhone XS Max will prompt if you want to restore from an iCloud or iTunes backup or set up the phone as a new one, etc so select 'Restore from iTunes Backup' and this will take a few minutes to complete.
Method 02: Unlocking iPhone XS Max with Synced iCloud
iCloud is another method that can help fix locked out of iPhone XS Max issue which occurs when you attempt to enter an incorrect password six times straight thus, triggering the phone to lock itself and the only way out is a factory restore. Here's how to use iCloud in your case.
Step #1: Go to www.icloud.com on your Mac or PC.
Step #2: Sign in using your Apple ID and Password and wait until you sign in.
Step #3: Amidst the various icons displayed on the screen, tap on 'Find iPhone' which helps trace the location and other details with respect to the Apple devices registered with the same Apple ID.
Step #4: Next is to select 'All Devices' and find your phone.
Step #5: Once you locate your phone on the corresponding page, tap on it and hit 'Erase Phone'.
Step #6: This must restore the iPhone XS Max to its original factory settings and thus, it will allow you access and set up a new passcode that you will remember.
Method #3: Use a professional tool to unlock iPhone XS Max
There are a string of professional tools that can help with the locked out of iPhone situation such as "LockWiper" as recommended by iMyFone or you can use "dr.fone – Unlock" from WonderShare as well. Here's how to use LockWiper to unlock your iPhone XS Max.
Step 01: Open any browser on your PC or Mac and download iMyFone LockWiper and install it.
Step 02: Launch the app and tap on 'Unlock Screen Passcode' and then, hit 'Start' while keeping the phone connected to the computer or Mac.
Step 03: In the next window, the app will automatically recognize your phone model and firmware version among other details. If not, manually set it up and hit the 'Download' button where the tool will download the firmware package and extract it.
Step 04: After downloading the package, hit 'Start to Extract' which will take a few seconds.
Step 05: Next up, hit the 'Start Unlock' button and enter the passcode '000000' to accept the agreement proposed by iMyFone LockWiper and this will set the ball rolling while unlocking the screen passcode which will take some time.
Step 06: Once done, set up the device and use a new passcode that you could remember rather than wiping the slate clean the second time.
A bug busted with Siri unlocking the iPhone
For those who might have heard about Siri capable of unlocking the iPhone when it locks you out, this will not work at all. Although it did work as a bypassing method tricking a few iPhones if not all, this could work on iOS 10.3 where it originally appeared as a bug and might allow you to unlock the data without losing any data if you are running on iOS 10.3. However, if you upgrade iOS 11.x or iOS 12.x, this method was rectified so you won't be able to use it anymore.
Protecting your iPhone XS Max being unlocked by thieves
Erasing the data will get back your phone without any hassle if you entered an incorrect password several times thereby causing it to go into locked out of iPhone situation. On the other hand, if your phone was stolen or say any other reason that someone else got the hold of your phone, it is crucial that you take steps to prevent any misuse.
First, of up, enable the Find My iPhone feature that detects the location of your device. Also, until the feature is unable, the perpetrator cannot unlock it in most cases. If you haven't enabled the option yet, go to your iCloud account and enable it. You can also check the last location as well. Similar to Find My iPhone, Find My Friends is also a key feature rolled out by Apple. This requires users to pre-set 2 or 3 friends so that you can track your phone using their devices. Furthermore, you can set up two-factor authentication which is nothing but asking two different passwords to unlock the phone which adds another layer of security in case the phone goes into someone else's hands.