Launched in August this year, the Moto G5S Plus is a fabulous smartphone available in the market today. It has attracted the attention of a lot of people and has gained popularity like all other Motorola devices in a short time span. A lot of people have purchased it and are appreciating its noteworthy features. However, just like all other Android-based gadgets, it is also suffering some technical glitches that have become common up to some extent and have been reported by a lot of users. One example is Wi-Fi issue. In this post, I will show you how to fix Moto G5S Plus Wi-Fi issues reliably.
There is probably nothing wrong to say that the Motorola has equipped it with some amazing features. The 5-inch screen, 1080 × 1920 pixel resolution, Octa-core processor, 3 GB RAM, as well as a combination of a 13-megapixel primary & 5-megapixel secondary camera, makes it an amazing device in its category.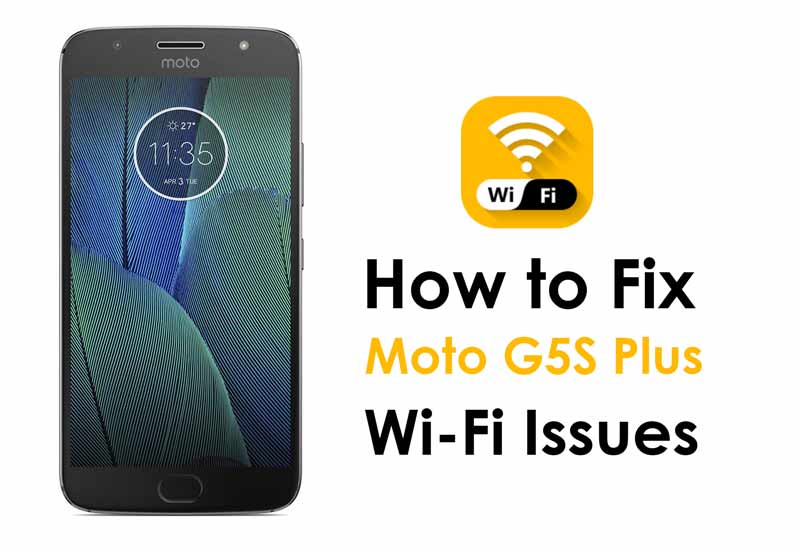 Although the Moto G5S Plus is currently running on the Android 7.0, still the Wi-Fi issues have become quite common and users are looking for a permanent solution to this issue. The most common problems that have been reported so far are an unsteady connection, slow speed, not showing the connection and so on. If that is also an issue with your G5S Plus, here is our guide on how to fix Moto G5S Plus Wi-Fi issues.
Solutions to the Fix Moto G5s Plus Wi-Fi problems:
Here you will find some of the solutions to fix Moto G5S Plus Wi-Fi Issues. Follow step by step to troubleshoot Wi-Fi problems on Moto G5s Plus.
Toggling Wi-Fi
The first and in fact the very easy way to solve the issue is simply turning OFF the device Wi-Fi and turning it again after a few seconds. See if this can solve the issue. To do so, simply open device "Settings" and looking for Wi-Fi.
Restart your G5S Plus
Many times restarting your device can simply avoid the Wi-Fi issues. Thus, simply do it with your Moto G5S Plus for solving the Wi-Fi issues.
Turn OFF Wi-Fi Scanning
This is another useful trick to fix Moto G5S Plus Wi-Fi issues. To do so, follow the below steps
Open "Settings" on your device and scroll down to the location.
Look for "Options" which are in the form of three dots that are vertically placed
Under this, you will see "Scanning". Tap on it and you can see Turn OFF Wi-Fi scanning
There are certain chances that it will fix the problem Wi-Fi issues on G5S Plus.
Reset the network settings
Simply resetting the network settings of your device can also solve the Wi-Fi issues. To do so, follow the below guide
Go to "Settings" and tap on "Back Up and Reset"
Tap on "Reset Network Settings" after this.
Finally tap "Reset" and this will reset your network settings
Forget Wi-Fi Network
Simply forget your Wi-Fi Network on your device and add connect it. The steps to do this task are listed below.
Open device "Settings" and scroll to Wi-Fi select the Wi-Fi network that you are currently using.
Simply tap on "Forget" option to remove it.
Install the Wi-Fi network manually again.
The chances are extremely good that the Wi-Fi issues would be done and will be able to enjoy a stable internet connection on your device.
Update your G5S Plus
For security and other reasons, it is necessary that your device must have the latest version of OS installed in it. Therefore you must update the device in case you haven't done it. Check for all the software updates that you missed. At the same time check if the router's firmware is recently updated or not.
In case these tricks don't work for you, probably you need to visit a nearest or an authorized repair shop to examine the exact cause of the problem. The problem can be in the Wi-Fi antenna or your device might be having a software glitch. Take the opinion of the repair expert to know more.