The dark mode is something which has gained huge popularity since the introduction of it on mobile platforms. More and more application developers, as well as OEMs, are trying to induce the Dark Mode on their smartphones either via software updates or a total revamp of their previously existing UI like Samsung One UI. Moreover, most of the applications are either testing the dark mode or have already rolled out an update with this feature embedded in them. This is actually a good move and I personally like this feature and have also forcefully modded many applications and enabled the dark mode in them. Google is also not far behind in this case and after rolling out the Dark Mode update for many of its application like the Google Photo and Calendar, you can now switch in the dark mode on the Google Chrome as well. In this post, we will share with you how to force dark mode on all web pages in Google Chrome [All Platforms].
Note that this feature is hidden inside some settings of the Google Chrome called Flags, and you need to enable it by tweaking into the Flag settings. However, you do not need to worry, as this guide will help you exactly with that. Moreover, the new Flag option, allows the user to forcefully set all the web pages into dark mode. You do not lose the quality of the images or any content on the web page, which is quite nice. So, without any further ado, let us get straight into the article itself;
How To Force Dark Mode on all Web Pages in Google Chrome [All platforms]
This guide will help you forcefully set all the web pages in the Dark Mode on all platforms like Windows, Mac, Android. However, there are certain steps that you need to follow which are mentioned in this post. But first of all, for those who do not know what we are talking about or what Chrome Flags are?
What are Chrome Flags?
Google Chrome has an in-built experimental feature called "Flags" that allows the Google Chrome developers to test some features before rolling out them as stable updates. Moreover, these are some experimental features that Google is working on and has not yet made public. Most of the features allow the user to enhance the user experience and also allows the user to use some experimental features as well. However, if you are a geek and loves to use some under-cooked features then, you can tweak with the Chrome Flags and enjoy the features. You can access all the Chrome Flags by typing in the search box "chrome://flags". Note that you can also use this feature on the Desktop or Laptop as well. You can be either a Windows user or a Mac user, but you can access the Chrome Flags as easily as possible. Make sure that you are using the latest version of the Google Chrome Canary either on desktop, using Mac or Windows or Android/iOS smartphone.
Download Chrome Canary from Google Play Store
Below is the link to download the Google Chrome Canary for Android device as well as for Windows desktop/laptop and Mac OS;
Steps to Force Dark Mode on all Web Pages in Google Chrome [All Platform]
You can follow the below steps for both desktops as well on mobile phones;
Make sure to download the Google Chrome Canary latest version on smartphones or desktops. (Canary version of the browser gets frequent updates with new and experimental features)
Now, in the search bar/address bar of the Google Chrome, type "chrome://flags".
Under that, you will again see a search bar from where you can type any feature that you want to tweak and enable its flag.
In that search box type Force Dark Mode for Web Contents.
Now, a drop-down menu will be there under the Force Dark Mode for Web Contents flag and Enable it.
You need to select "Enabled with selective inversion of non-image elements".
Now, relaunch the browser to apply the flag which you have just enabled.
That's it!
You can now enjoy the Dark mode on your Google Chrome browser. Note that the background of all the web pages will be turned black but, all the contents will be visible as well as there will be no loss of image or any content quality. You can check out the screenshots below for both smartphone as well as the desktop version of the Google Chrome;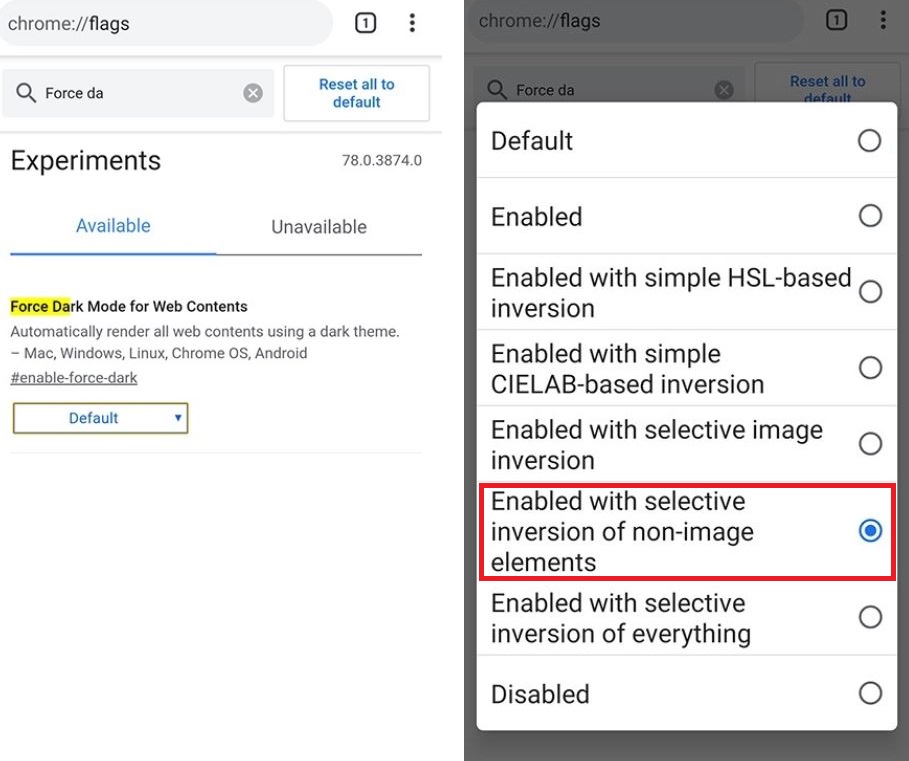 So, there you have it from my side in this post. Hope you guys liked this post and have successfully forced the Google Chrome browser to use the Dark mode on all the web pages. Moreover, this feature will work on the latest version of the Google Chrome Canary on Android, iOS, Windows, or Mac OS. Let us know in the comments below if you used any other Chrome flag option or experimented on your own with any of the other different Chrome Flags.