New Horizons is the latest addition to the life simulation video game Animal Crossing, developed and published by Nintendo. Animal Crossing New Horizons is the fifth main title of the Animal Crossing series, and its release dates back to March 20, 2020, on Nintendo Switch. The game is played in real-time, with the gameplay just like the previous titles of the series. New Horizons starts off with a customizable character for the player, setting out to develop a desert island. The story of the game further progresses as a whole variety of animal characters, known as Villagers, come to seek shelter on your island. You can see the Villagers list on New Horizons here.
The Animal Crossing New Horizons features endless possibilities for the players to mess around. This can be customizing your character, adding/removing Villagers on the island, or in our case, fishing for a Football fish. Fishing is one of the many fun activities in-game, and it simply reaps off our efforts trying to catch a rare one. One such fish is the football/soccer fish. But before you go about catching a fish, any at all, make sure you are well aware of the timing. You can read more about how to catch a fish in this article. With that said, let's see how to get a football fish in Animal Crossing New Horizons.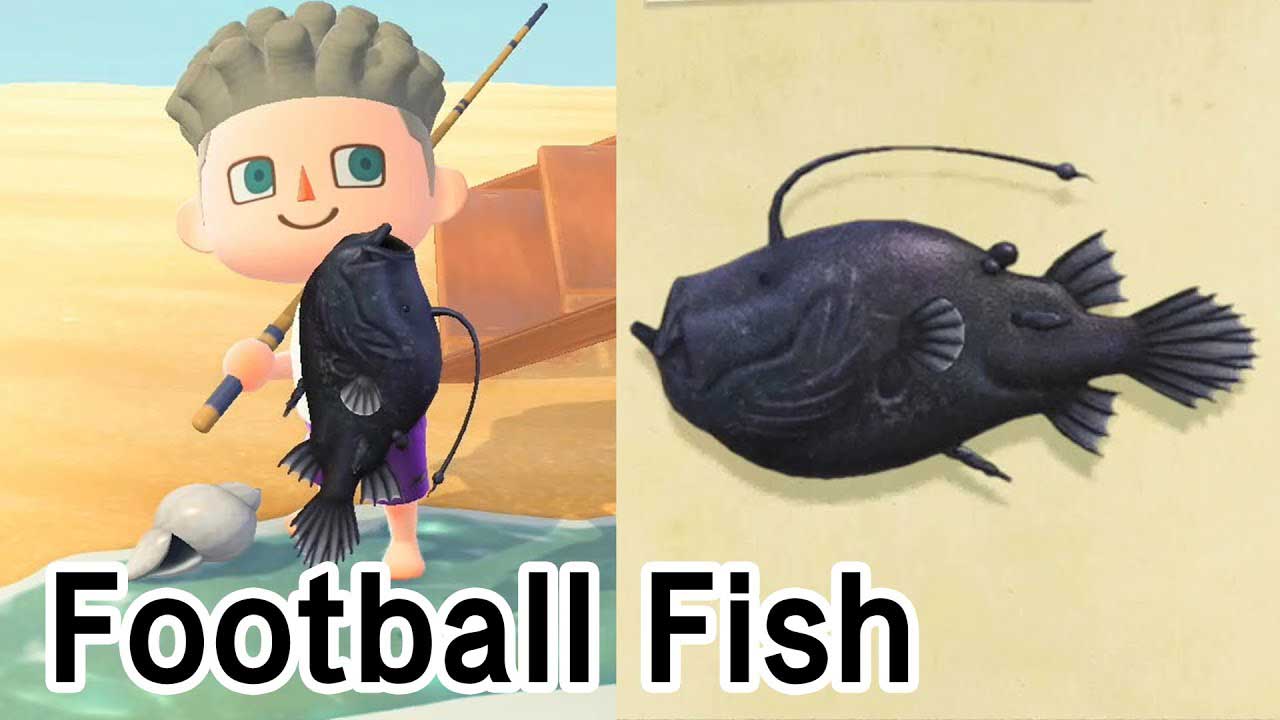 Catching a Football Fish
The football fish is a deep-sea species known most for its dark, rich color and the glowing fishing lure light sprouting from its head. Before you can successfully catch the football fish, there are certain basic things you must watch out for. The football fish is a highly rare specimen, and the efforts you're gonna put in to catch one will really drain you out! Follow the steps below in complete patience, and hopefully, you'll pull a lighting football/soccer fish just fine.
1. Timeframe
The football/soccer fish is a creature of the dark. That means there little to no chance of catching one in the high peaks of sunlight. Simply put, you can only catch this fish between the hours of 4 PM to 9 AM.
2. Spotting a Football/Soccer Fish
Don't waste time roaming around and fishing in ponds or rivers if you're looking for a football fish. Unlike many of the other fishes, which you can find in ponds or rivers on your island, the football fish is only found in the sea. So run over to your island's beaches and search for shadows or throw in the fish bait.
The football fish is a large size fish and will have a large shadow. So get your fishing rod in and wait for the large shadow to appear. This may take minutes to hours, so make sure you're ready for how long it may take. While waiting for its shadow, it is better that you don't waste your fishing rod's durability fishing for the smaller ones – throw in some bait. Finding one may take some time and patience, but keep at it.
When you've successfully caught the fish, you'll see the cheering dialogue:
"I caught a football fish! Some countries call it a soccer fish!"
Since the football fish is of the highest rarity, catching one will require patience on an extreme level. The football fish is bigger than some of the other fish you catch but not as large as an oarfish or tuna and can be sold for 2,500 bells. It's not much considering the rarity of the fish, but it will certainly add value to your fish collection. Also, make sure you keep tabs on the timeframe and crunch in some hefty load of bait to attract this pure specimen of truthful rarity!