Two years ago, Sunshot was quite a famous exotic hand cannon. Even now, it has quite the power, but with changes in the game overall, the way to farm it has changed for sure. Before, Sunshot was something people earned as a reward from the Red Legion campaign mission called Sacrilege along with two other items. The other things were Graviton Lance and Riskrunner.
But now you can't do the same to get this exotic hand cannon. And it might be a classic item but still has a place in modern builds.  So how do you get this classic hand cannon with all the new changes in Destiny 2? That is what we will take a look here in this article.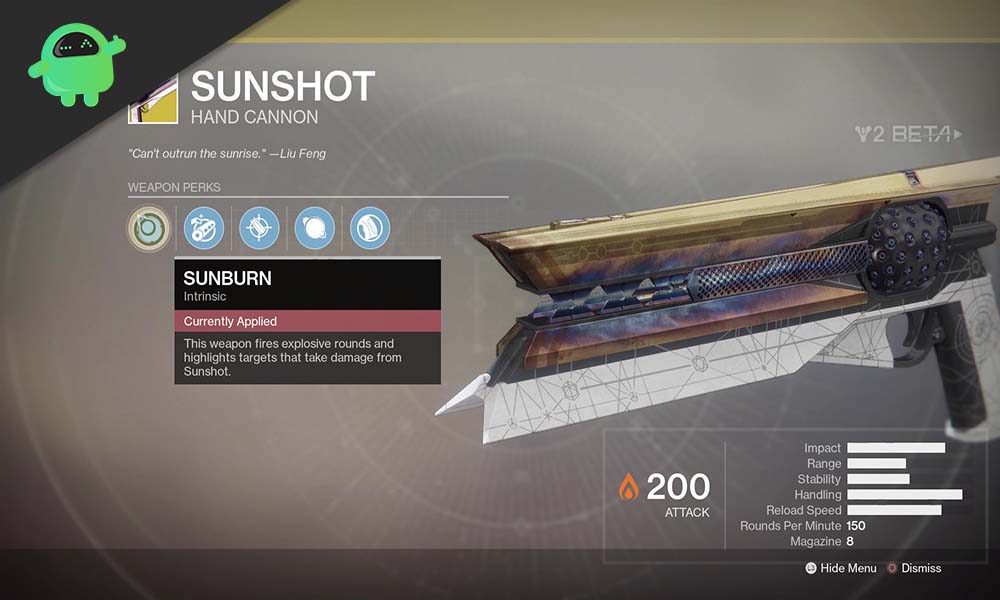 How to get the Sunshot Exotic Hand Cannon?
Now the only way to get the Sunshot is through sources where Exotics are dropped. So you will have to unlock Sunshot by buying it from Xur, purchase a Fated Engram from him, or farm it from raids or Nightfall: The Ordeal.
Now the reason why you should have this cannon gun is for its perks and traits. It has barrel, magazine, and grip perks in the form of a Chambered Compensator, Accurized Rounds, and Textured Grip. The Chambered Compensator is a stable barrel attachment that increases stability and decreases handling and recoil. Then the Accurized Rounds is a barrel attachment that increases the range. And finally, we have the Textured Grip, which increases the handling speed but decreases stability.
But the main reason why Sunshot is so popular is it's two traits Sun Blast and Sunburn. With Sun Blast, you get target kills by Sunshot that explode in Solar Energy. And as for the trait Sunburn, the weapon fires explosive rounds and highlights the targets that take damage from Sunshot.
They don't interfere with each other's performance, and regarding the situation can be a perfect option for you. Especially with Sunblast, you get an excellent trait that can clear out a low tier mob gang with just a single shot. Killing a single unit will make it explode, killing all its nearby units. These nearby units will then again explode, and it will go on until all those affected by the Sunblast are cleared out. This trait alone makes this cannon a must in PVE situations. Like a dominos stack, it will clear out the entire area.
Sunshot also has an Exotic Catalyst that increases its Range and Stability perk, which is perfect in Crucible.
So this is what you get with this exotic hand cannon, Sunshot. Now it is a bit more difficult to farm than what we got in the initial times, but it is worth the extra effort even now. If you have any questions or queries about this guide on Destiny 2, then comment down below, and we will get back to you. You can find other similar articles on Destiny 2 on our website in the games section. Also, be sure to check out our other articles on iPhone tips and tricks, Android tips and tricks, PC tips and tricks, and much more for more useful information.