As we know, today smartphone industry runs on trends. One of the most common trends of 2018 smartphones is the adaption of notch over the display. This was introduced by Apple with its iconic iPhone X. Later the notch went viral and even mid-range and budget devices also incorporated the design. Only two days ago Google released its most awaited 2018 flagships Pixel 3 and. Pixel 3XL. The 3XL is a bigger counterpart of the Pixel 3 and it sports a big notch.  This notch is the reason why it faced a lot of criticism post-release. To the relief of users, Google stated that Pixel 3XL notch can be hidden. In this post, we will tell you How to hide the Google Pixel 3XL notch.
The notch is nothing but a cutout over the display which usually houses the sensors and front cameras. The Pixel 3XL notch looks quite bigger because it houses two front cameras. One regular shooter followed by a wide angle camera. Also, it houses one of the two front-firing speakers and other sensors. This big notch leads to lots of criticism and even Samsung mocked the notch. Samsung in a tweet said one can land a plane on the Pixel 3XL notch.
How to Hide The Google Pixel 3XL Notch
If you think, you will be able to physically remove the notch, then it's not possible. This can be done by a toggle which will black out the linear area where the notch places itself. Here take a look at this image to understand what we want to say.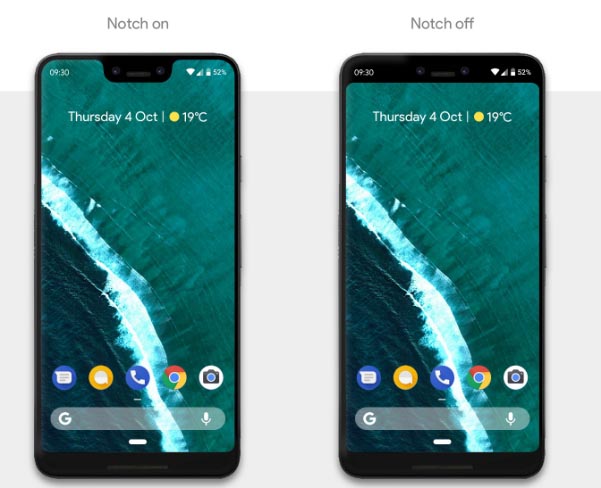 Steps to Hide the Pixel 3XL Notch
Step-1 You have to enable the Developer Options on your Pixel 3 XL.
Step-2 To do it go to Settings > About Phone > Build number
Step-3 Now tap 7 times on the build number.
Step-4 After the 7th tap you will see a pop-up toast message that says, "You are now a developer".
Step-5 Again go to Settings  > System > Developer options > tap on Developer options.
Step-6 Scroll down to the tab Device Cutout > tap to open it.
Step-7 Finally, tap on the Hide option to hide Pixel 3 XL notch.
So, that's it. It was quite easy..isn't it..? So, if you don't like the notch on your Pixel 3XL, you can now hide it. Hope this guide helped you out.