Huawei is in the news yet again and this time once again, it is not for anything good. Yes, there are developments that Huawei has filed in patents for its own Operating System following the ban by Google and other U.S. companies. It is reported that patent has been filed in over 9 regions and soon we will be seeing a different operating system in Huawei devices. The ban by Google on Huawei means that the smartphone manufacturer will not be able to use the services and apps or games offered by Google. Any Huawei user in future will not be allowed to install an app from the Play Store let alone use the operating system.
The ban also bars Huawei and Honor company to push future firmware updates or any Android OS updates which means they will eventually lose all the Google services as well. However, instead of coming out and giving explanations on this matter, the company seems to be focused on pushing unnecessary ads on the lock screen of Huawei smartphone users. A number of users have reported that they are seeing ads from hotel reservation company Booking.com on the lock screen of Huawei and Honor devices.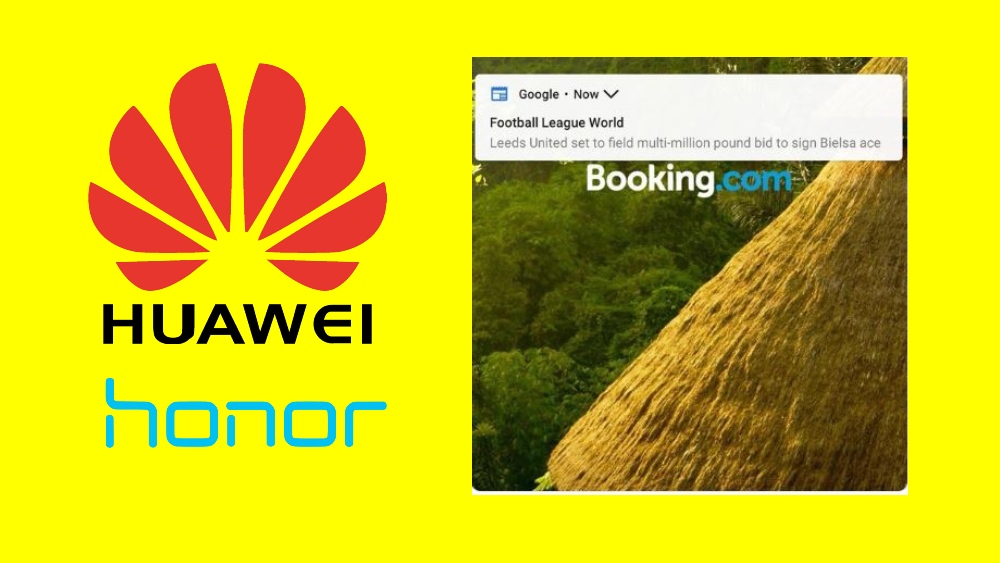 You can check out the tweets from different users below;
https://twitter.com/ValexWhoa/status/1139158911037116416
@Huawei_Europe Why is there advertisement on my lock screen?! Have I signed up to this in some small print T&C somewhere? pic.twitter.com/w6zS9ysuwk

— RAYZ (@justicefingers) June 12, 2019
Wtf. https://t.co/Fv4RzUmM1D ads on my lock screen. Anyone else with a Huawei getting this? pic.twitter.com/ILI6vs6wVD

— Ed Spencer (@efjspencer) June 13, 2019
As per reports on Reddit, it has been confirmed by several users that they are seeing this annoying unwanted Booking.com ads on their lock screen and many are unable to remove them. Moreover, these ads are not limited to certain region country but users from almost everywhere are reporting this ad issue on their Huawei and Honor devices. The confirmed countries are the UK, Netherlands, Ireland, South Africa, Norway, and Germany, at the very least.
The worst thing about this issue is that none of the users have the Booking.com app installed on their device. This is making it very difficult for the users to get rid of the ads on their lock screen. But, with some research and help from Xda Developers, you can finally get rid of the annoying ads on your lock screen by following the mentioned steps in this article.
How to Remove Booking.com or Any Lock Screen Ads From Huawei Devices
In order to disable the Bookings.com ads on your Huawei or Honor device, you need to follow the below steps;

Go to Settings.
Tap on Lockscreen.
Then, tap on Magazine Unlock.
From here you can disable the Auto Update option for the existing subscriptions.

But, there is more to it. As Booking.com ads are travel-related ads, so just switching of the travel category won't be sufficient to get rid of the ads on your lock screen. To totally remove and get rid of the ads, you need to remove the entire folder related to Magazine Unlock from either Gallery or using any file manager application. By following these workarounds, you should stop seeing the unnecessary Bookings.com ads on your Huawei or Honor device's lock screen.

Source: Android Police
Huawei Takes Down Lock Screen Ads
In a huge relief for those Huawei or Honor devices users who were still not able to get rid of the ads on their lock screen even after following the above-mentioned steps and workaround, Huawei has officially taken down the lock screen ads from their smartphones. In a report by Xda developers, Huawei reached out to Xda Developers and has confirmed that they have removed the wallpapers and ads from their servers and the users will no longer see those ads. Below is the official piece of information from Xda Developers;
Huawei reached out to confirm that these lockscreen wallpapers have been removed from its servers and they should no longer be visible to users. However, since some of these wallpapers may be downloaded on users' devices, they will have to be removed manually. To get rid of these Booking.com wallpapers from the Magazine feature, follow these steps:

When the wallpaper shows up on the lock screen, swipe up from the bottom to reveal the "operations" toolbar.
Tap on the cross-shaped button and then on "Remove" in the dialog box that pops up.

The company, however, did not clarify if these were uploaded intentionally or by mistake.

Source: Xda Developers
Let us know in the comments below if you have faced this issue or are currently facing this annoying issue on your Huawei or Honor devices. Also, mention us whether this method helped you or not in getting rid of the Booking.com ads on your lock screen. I would also suggest you to please mention your country also so, that we could understand in how many countries this problem existed.