Do you face difficulty while making your office or school project using different Software like MS Presentation? If so, then today we are here with another great tool, Wondershare EdrawMax, which allows you to draw your ideas in visual forms to make your projects more attractive.
However, there are seven layout models to choose from in EdrawMax for drawing mind maps. There are several types of mind maps that can be created manually using tools and symbols. So, let's dive deeper into the article and check out the other important about EdrawMax.
What Is EdrawMax?
In EdrawMax, you can easily visualize your ideas through a wide range of diagrams. You can draw 280 types of diagrams with diagram maker– EdrawMax, and 1500 templates are included. There are also 26,000 symbols available for you to use. With drag-and-drop functionality, you can also create any type of diagram. It is possible to draw mind maps in EdrawMax using ready-made shapes. In addition to flowcharts, P&ID diagrams, UML diagrams, fashion designs, certificates, etc., it can draw more than 280 diagrams.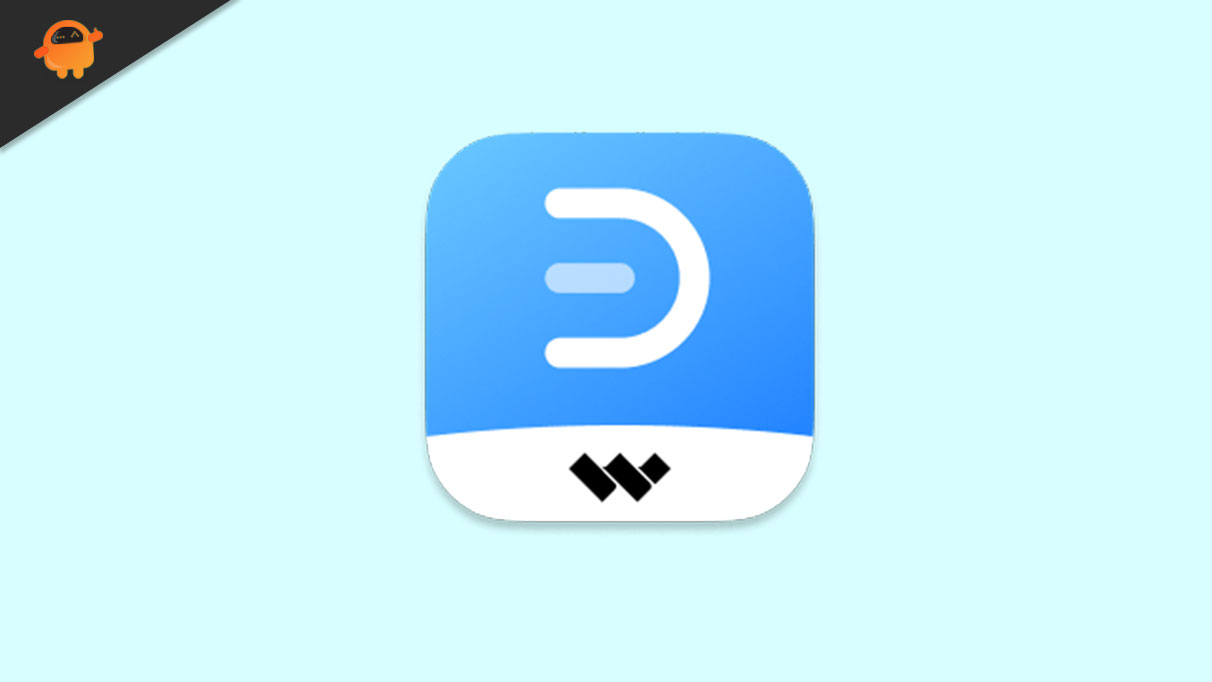 How EdrawMax Helps You
#1. Visualization
With EdrawMax, you can plan, visualize, and present better results. It has a Microsoft-like interface, drag-and-drop functionality, and professional template resources to quickly get you up and running. For all stages of your workflow, EdrawMax offers 280 types of diagram solutions.
#2. Innovation
EdrawMax allows users to visualize their ideas clearly and easily in any industry. The possibilities are endless, with over 26,000 symbols and more than 1500 built-in templates. It also offers an online community where users can get inspiration from other Edrawers.
#3. Collaboration
You deserve to be rewarded for your hard work! All parties can keep track of each other's progress with EdrawMax. Any file format, on any shareable channel, anywhere, you can share your work and collaborate with your team. In order for a project to be more connected and more distinctive, it needs EdrwaMax.
#4. Enterprise-scale Security
Here at EdrawMax, they are committed to keeping your data safe, secure, and private. All information and file transfers are encrypted with SSL, so nobody can access your information without your permission. When you use enterprise-scale security, your data is encrypted at the highest level possible. It is EdrawMax's top priority to protect customer data and privacy.
How to Sign in to Edraw Software
There is no need to use multiple diagramming solutions when EdrawMax is all you need. You can use Edraw Flowcharts, Edraw Networks, Edraw UMLs, Edraw P&IDs, and Edraw Floor Plans all from one application. EdrawMax Series products have a similar user interface and toolkits. So, let's check out the needy steps in order to Sign in to Edraw Software:
You must ensure that the Software is up-to-date on the computer, then click the

Sign In

button once it is open. Enter your email and password. You can use your Google, Facebook, or Twitter account if you prefer.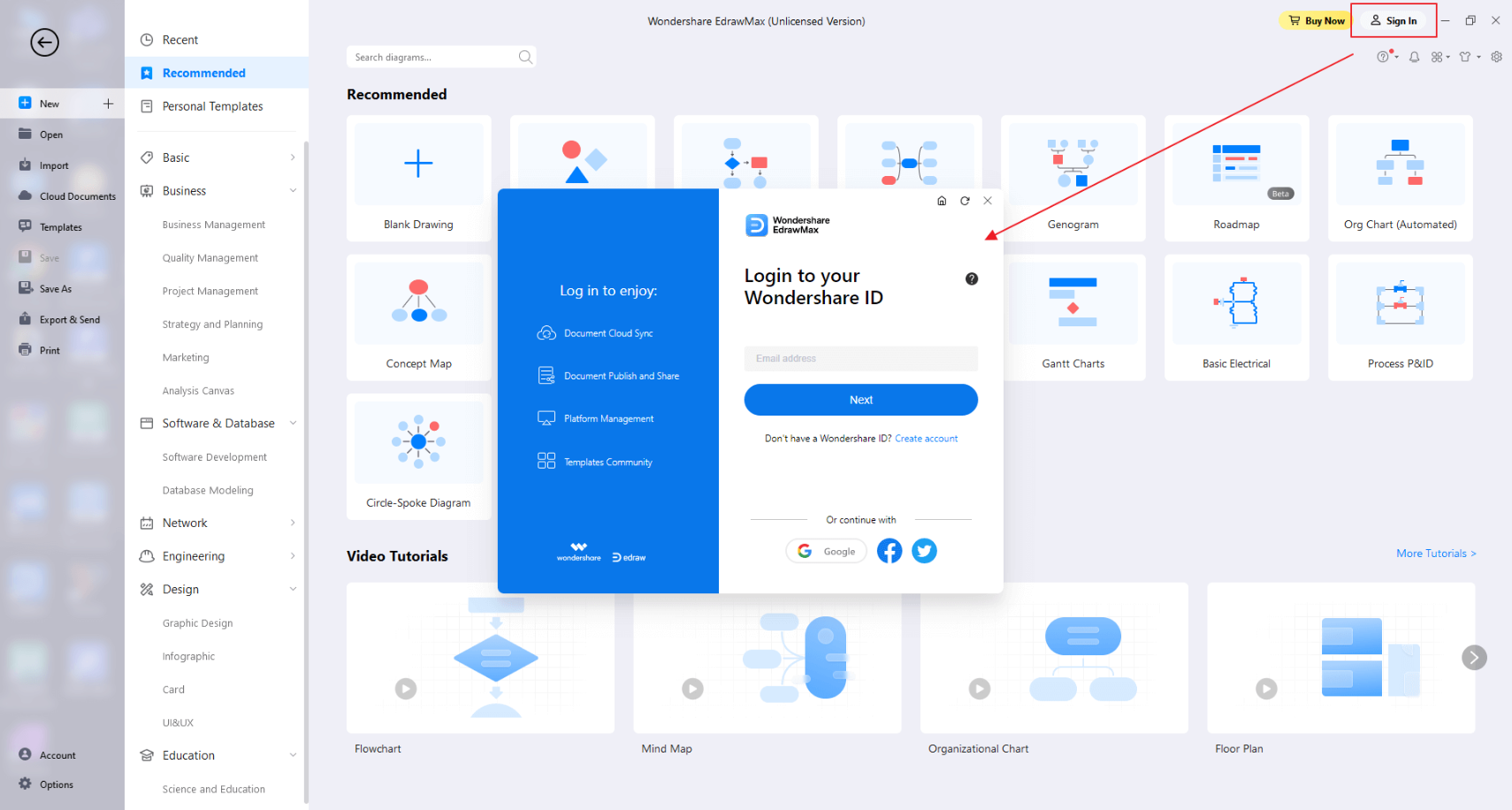 2.It is necessary to restart Edraw. Once you have purchased a membership, you will see Wondershare EdrawMax (Unlicensed Version) turn into Wondershare EdrawMax and Wondershare EdrawMind turning into Wondershare EdrawMind(Pro), which indicates you have achieved your membership status successfully.
3.You will now be able to access all the advanced features and all your cloud documents without any restrictions. Until membership is purchased, your account will remain as it was before.
How to Activate Edraw Software with License Code
So, in case you have purchased the premium membership of EdrawMax software and now don't know how to activate your account, then you must perform the steps given below:
After

paying for

EdrawMax

and

EdrawMind

, you will receive the valid license code in the order confirmation email.

In the

File

menu, select

account

. Select

Activate

or

Activation

.

A pop-up dialog box will appear after you click

Activation

. Select

Enter License Code to Activate Software

.

Click on the

Activate

button after you've entered your email address and pasted your license code. After a few seconds, you will see the below pop-up window, indicating that the Software has been activated.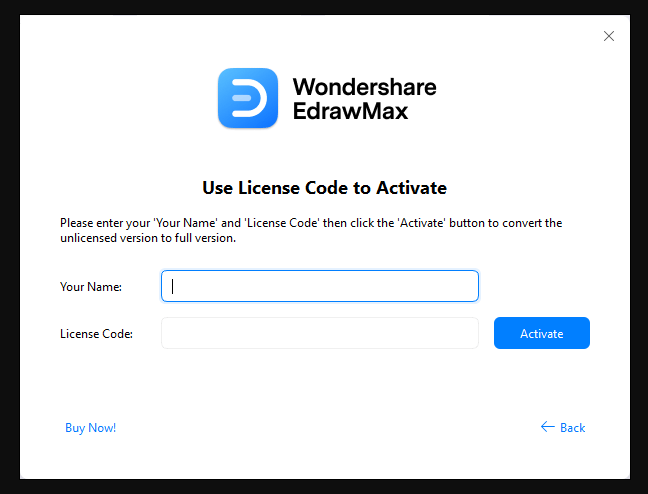 How to Activate Edraw Software without the Internet
In case you don't have an active internet connection with yourself but need to use the Edraw software. You are now allowed to activate the Edraw Software without any internet connection. So, inc case you want to know, make sure to check out the steps mentioned below:
To activate EdrawMax, click

File > Account > Activate

. In the next step, click on

Enter License Code to Activate Software

. You will now be asked to enter your name and license code in a dialog box. There is no need to connect to the internet to fill in the information. Next, click

Activate

.

As soon as you click

Activate

, a message box will appear without an internet connection. Click on

Get activation code

. To copy the URL, click the

Copy Link Location

menu.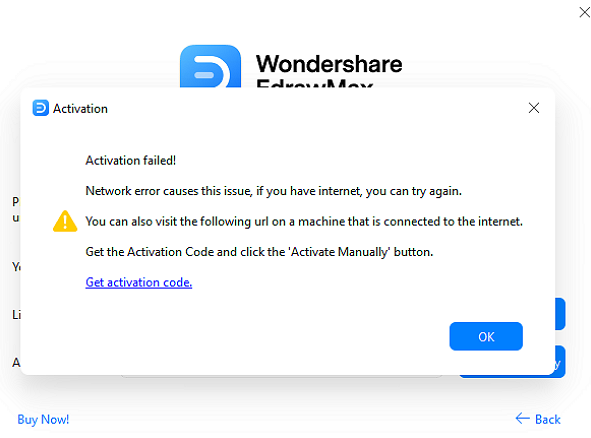 3.If you have an internet connection on another computer or mobile device, visit the same URL on that device. This is where you will find the Activation Code. You need to copy the activation code.
4.Edraw can now be manually activated on the first computer without the internet using the activation code.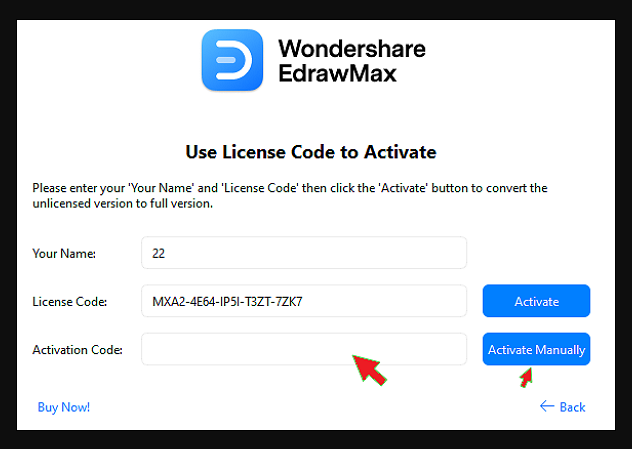 So, that's all we have for you about EdrawMax Software. We hope that you find this article helpful. For more info, comment below and let us know.