Apple devices are something extraordinary when it comes to features or anything else. You can see the implementation of the Notch on almost every Android devices just after, Apple brought that design to its iPhone. Moreover, Apple also does not rely on any third-party developer for its operating system as well. Besides, the chipset used in the iPhones is developed in-house, by Apple itself. And, if you are an Apple user, you might be very familiar with the iCloud.
iCloud is cloud storage purely built by Apple for its users using the Apple devices. You get this storage default for any of the Apple devices, be it MacBook, iPhones, iPods or iPads. Security has been enhanced after a famous hack was performed in the iCloud. Rest Assured iCloud is a nice way to keep your data organized and in one place and you can access them from wherever you are. However, if you are constantly annoyed by the "Not Enough Storage" alert warning on your iCloud then you are the right place.
In this article, we will look at how to solve not enough storage issue on iCloud. So, without further ado, let us get straight into the post.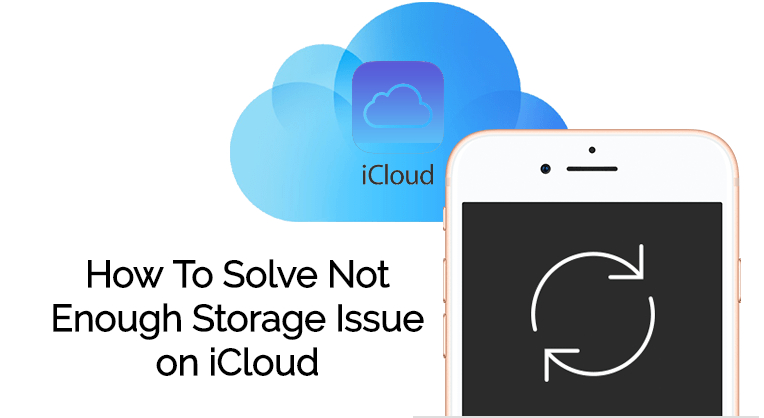 Features and Benefits of Apple iCloud
But, before we head straight into the solutions, let us understand in detail what benefits do you get using the iCloud. As explained by Apple on its website;
iCloud features
iCloud is built into every Apple device. That means all your stuff including photos, files, notes and more, is safe, up to date and available wherever you are. And it works automatically, so all you have to do is keep doing what you love. Everyone gets 5GB of free iCloud storage to start and it's easy to add more at any time.
With iCloud Photo Library, you can browse, search and share all the photos and videos from any of your devices, whether they were taken yesterday or years ago. To save space on your devices, the original, full‑resolution photos you take are automatically uploaded to iCloud. You'll still always have a lightweight version of every photo on your device and you can download the originals whenever you need them. iCloud Photo Sharing lets you create albums for trips, events or whatever you want. Simply choose the friends and family members who can see, comment and add their own photos and videos.
The files you keep safe in iCloud Drive are easy to get to, no matter which device you're using. You can access all your files from the Files app on iOS, the Finder on your Mac, File Explorer for Windows PCs or iCloud.com. iCloud Drive lets you organize your files with folders, rename them and tag them with colors. And when you make a change, the update is made across all your devices. You can even have everything in your Mac Desktop and Documents folders automatically available in iCloud Drive.
Work with others on documents, presentations, and spreadsheets, and see edits as they're made. With live updates on all your devices, your collaborators will always be on the same page. iCloud now automatically stores all of your messages. Search for an address, a funny exchange or anything else. And you can pick up every conversation exactly where you left off. Even when you move to a new phone or computer. iCloud automatically backs up your iOS devices when they're connected to power and Wi-Fi. So if you lose your device or get a new one, you'll have all the things that matter without missing a beat.
Two‑factor authentication is an extra layer of security designed to ensure that only you can access your account. That means your account can only be accessed on devices you trust, like your iPhone, iPad or Mac.
Source: Apple
How To Solve Not Enough Storage Issue on iCloud
1. Delete Useless Pictures Timely
An iPhone user would know that for the majority of times, it is either the photos or the backups which are the main reason for storage shortage on iCloud. If you have opted for the large storage option with the iCloud then, it is not a problem and the iCloud Photos will automatically store all your images and sync it with the iCloud. But, when the iCloud Photos backups or saves your photos automatically, it also saves all the emojis, gifs, ads, and useless screenshots and more.
It is strongly advised that you should clear up these kinds of images from your device and clean up your space. Moreover, you should also check for duplicate images as well as copy your old images to your desktop/laptop, and free up space from the iCloud.
2. Turn Off Unwanted Backup Feature
Now, as already mentioned in the above point that, the backup is the second most important factor that eats away your iCloud storage space. The backup function on the iCloud backs up books, user data, restore firmware pack, along with useless cache file, ads videos, offline maps, images from apps, etc. You should manually check and disable the unwanted backup features that you don't want to have a backup of. This will not only storage space on your iCloud but, also will clean up your device. You should check for these unwanted files creeping up on your device storage as well and you should get rid of them time-to-time.
3. Use Compressor Applications
Another possible solution to get rid of the Not Enough Storage alert issue on the iCloud is to use different compressor applications. These applications can easily compress images, photos or videos as well. This would not only help you save storage on the iCloud but also, allow you to save ample storage on your iPhone.
4. Upgrade iCloud Space
If none of the above methods or solutions solve your problem, then you should go for the last resort i.e. upgrade your iCloud storage option. There are 4 options to choose from and you can find the details about them in the image below;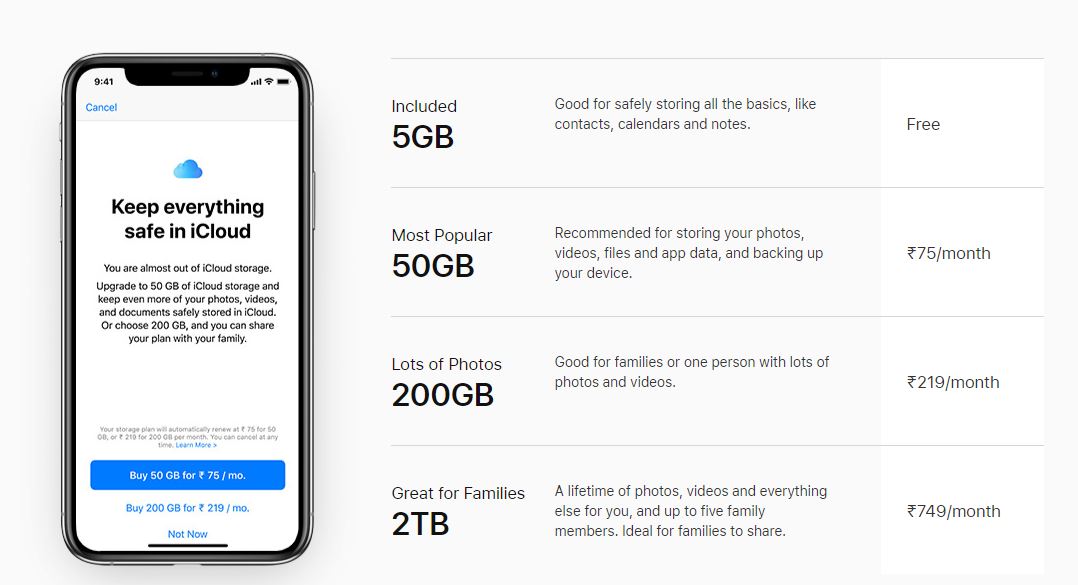 You can choose any one of the above options and upgrade your storage space. However, even after upgrading your storage space, we would recommend you to follow the above-mentioned points as well. This will ensure that you keep the useless data away from eating up your storage space on iCloud as well as your Apple device.
Conclusion
So, there you have it from my side in this article. Hope this post helps you in getting rid of the alert warning of not enough storage space on iCloud. I am pretty sure that if you would follow the above points, there will be no shortage of space on your cloud storage. Please let us know in the comments if these solutions helped you in saving storage space or not.