One of the most common functionalities you would find on iPhone XS Max and practically any other smartphone is to take a screenshot or screengrab. The function lets the user save that screen that could have movie tickets or map or it could have banking details or photos of anyone that you want to prank and whatnot. Since iPhone XS Max doesn't have a Home button, it could seem complicated to take a screenshot without using it but there's a way you can take a screenshot on your device without any glitches. These methods apply to iPhone X, iPhone XS, iPhone XR, and iPhone XS Max since all these iPhones don't have a dedicated Home button.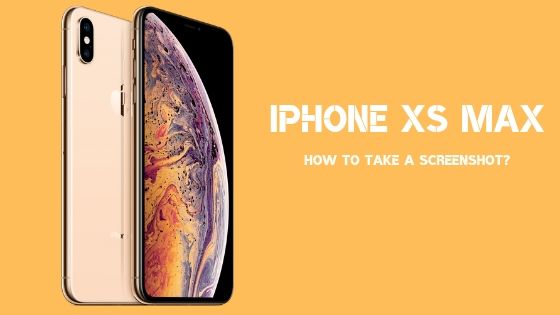 How to take a screenshot on your Apple iPhone XS Max?
There are two ways to obtain a screenshot on Apple iPhone XS Max which is directly saved in the gallery that users can access at any time. Here are the methods related to the same.
This method is fairly simple and takes just a few seconds to grab the screen and save it in the gallery without any hassle.
Step 01: First of all, navigate to the screen that you want to take a screenshot of.
Step 02: Press Side button and Volume up button together simultaneously and keep it pressed for a second.
Step 03: You can release the buttons as soon as you hear a camera shutter sound.
Step 04: The sound confirms that the screenshot is taken and that will be previewed at the bottom of the screen that you can check ut and annotate if needed.
Step 05: Check out the gallery to view it.
Method #2: Taking screenshots on iPhone XS Max using Assistive Touch
This method is rather complicated as it takes the help of Assistive Touch to grab a screenshot and save it. Here's how you can do it.
Step 01: First of all, go to Settings >> General >> Accessibility >> Assistive Touch and toggle the switch given on the top of the screen to turn it ON.
Step 02: Next, tap on 'Customize Top Level Menu'.
Step 03: You can customize the menu as per your needs where you can set up 'Screenshot' on any menu item within the Assistive Touch.
Step 04: Now that you are all set up, you can simply navigate to any page or screen you want, call the Assistive Touch and tap on the menu item that you have selected as a screenshot to grab it.
Step 04: You will hear a camera shutter similar to taking screenshots using hardware buttons that will confirm that the screenshot is saved.
I hope this method helped gain information about how you can take screenshots on your iPhone XS Max which has become a most-used feature as it enables saving anything right away.