Xiaomi is one of China's biggest electronic giants. Xiaomi's Mi Drone with 4k Camera is one of the newest drones launched by the company. If you own a Xiaomi Mi Drone with 4K Camera, and you want to update its firmware then, you are at the right place. In this post, we will guide you on how to upgrade Xiaomi Mi Drone 4k Camera firmware manually. Moreover, you might have tried to update the drone but it failed, or some wrong procedure would have caused the issued or you want to install latest applications on the Mi Drone then, this post has got you covered.
The Xiaomi Mi Drone with the 4K camera is a beautifully designed Drone. It is available in three different colors. Moreover, the drone is equipped with quick-release propellers which help the professionals as well as the beginner remote pilots, to attach or detach the propellers with ease. Besides, you also do not need a screwdriver to attach the propellers making it easy to assemble. The two landing skids allow it easier and impact-proof landing for the drone. One of the USPs of the Mi Drone is the built-in GPS and GLONASS positioning system which enables the drone to fly stable with communication with up to 19 satellites.
So, without any further ado, let us get straight into the article itself;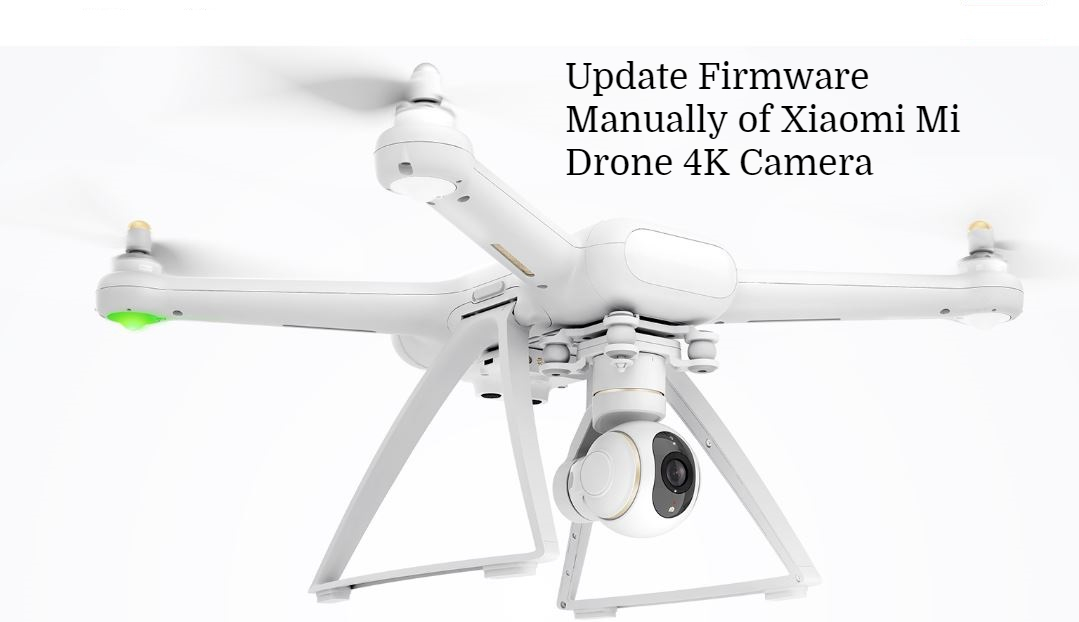 Specifications of Xiaomi Mi Drone 4K
It is Xiaomi's new launch in the Drone's segment, the Mi Drone quadcopter gives you a more cost-efficient of aerial photography drone. Moreover, the 4K camera version satisfies you even better with clearer image than the 1080P version. Below are the description of the Xiaomi Mi Drone 4K;
General
Brand: Xiaomi
Model: Mi Drone 4K
Material: Carbon Fiber, Electronic Components, PC
Type: Outdoor,Quadcopter
Features: Brushless Version,Radio Control,WiFi APP Control,WiFi FPV
Motor Type: Brushless Motor
Functions: Camera,Fail-safe,Forward/backward,FPV,Hover,Low-voltage Protection,One Key Automatic
Return, One Key Landing, One Key Taking Off, Tap to Fly, Turn left/right, Up/down, Waypoints
Satellite System: GLONASS, GPS
Sensor: Optical Flow, Sonar
Built-in Gyro: 6 Axis Gyro
Kit Types: RTF
Level: Advanced Level
Connectivity
Remote Control: WiFi Remote Control
Channel: Unknown
Mode: Mode 2 (Left Hand Throttle)
Radio Mode: Mode 2 (Left-hand Throttle), WiFi APP
Control Distance: Above 800m
Detailed Control Distance: About 3000m
Compatible with Additional Gimbal: Yes
FPV Distance: 4km
Model Power: Built-in rechargeable battery
Battery
Battery: 15.2V 5100mAh LiPo
Flying Time: About 27mins
Camera
Equipped with 4K UHD camera supports max to 3840 x 2160P 30fps video recording.
Video Resolution: 4K UHD
Dimensions and Weight
Package weight: 4.5800 kg
Product size (L x W x H): 38.00 x 45.50 x 17.00 cm / 14.96 x 17.91 x 6.69 inches
Package size (L x W x H): 39.00 x 46.00 x 18.00 cm / 15.35 x 18.11 x 7.09 inches
Package Contents
Contents: 1 x Drone, 1 x Transmitter, 1 x Camera, 4 x CW Propeller, 4 x CCW Propeller, 4 x Propeller Protector, 1 x Battery, 1 x Charger, 1 x USB Cable, 1 x Screwdriver, 10 x Screw
Extra Features
Real-time Transmission: The built-in phone holder of the transmitter facilitates WiFi FPV function. Also, the max to 3km superior long control distance ensures good performance.
Pointing Flight/Tap to Fly: Order your quadcopter to where you point to on the map.
Surrounded Flight: Pick what you want to record or capture in 3D and let your Mi Drone surround it.
Route Planning: Plan and set the flight path and get yourself a more smooth/high-quality work of art.
3 Axis Gimbal: Stable and accurate photography/recording are guaranteed.
Other Functions: One key automatic taking off/return/landing, real-time battery level monitoring and low-voltage return warning.
5GHz High anti-interference performance and powerful signal.
The Drone has Full HD low-distortion wide-angle lens and also offers the integrated stabilized camera.
Download Firmware Update
You can download the latest Mi Drone app from Google Play Store by clicking the below button;
Mi Drone
Download the official instruction manual by clicking the below button;
Instruction Manual
Download the latest firmware update v1077 for the Mi Drone Camera by clicking the button below and logging in with your Xiaomi Account;
Mi Drone Firmware v1077
How To Upgrade Xiaomi Mi Drone 4K Camera Firmware Manually?
Below are the steps that you need to follow to upgrade Xiaomi Mi Drone 4K camera firmware manually;
Firstly, download the Mi Drone APK from the above link given.
Now, fully activate the Mi Drone, and format your TF card with Mi Drone App. To do this follow the below steps;

Open the application and go to Settings.
Tap on Camera Settings
Now, select Format TF Card option. (Note that files in TF card will be cleared once you choose this option)

Once you are done with formatting your TF Card, Power OFF the Mi Drone, and remove the TF card from Camera.
Now, download the attached Camera Firmware package and unzip it.
Then, copy the firmware.bin file to the TF card root directory.
Once you are done with copying the firmware file, insert the TF card into the Camera slot, and activate the Mi Drone.
Now, check the Camera's red and white light status:

If the red light is bright, and white light is bright or flashes slowly, this indicates that the Camera has been started normally.
Now, after 3-5 seconds of starting the camera, if red light / white light flashes at the same time then, it means that the camera has begun to install the firmware via the TF card.
Make sure that you do not Power OFF Mi Drone when the firmware is getting installed.
Once the installation process is complete, you will notice that the camera white light goes out.
Now, wait until the red light, white light is bright or flashing slowly. This indicates that the update is finished and completed successfully. (the update will take approximately 2 minutes for completion)
Now, go to About the app and check the Camera version in App.
Conclusion
So, there you have it from my side in this post. Hope you have successfully installed the latest firmware update for the Mi Drone manually. Please let us know in the comments if you have faced any difficulties following any of the above-mentioned steps. Moreover, also let us know any other issues if you faced while updating the Mi Drone manually. Until the next post…Cheers!