Gone are the days of needing cable connection for the television network. Nowadays, Set-Top boxes are the way to watch Television. We also have a lot of options to choose from. Moreover, the network quality has also improved very much and we can watch any channel we want. Besides, with new regulations, we can design our own channel package and subscribe to it and pay for only those channels that we watch. This is a big convenience for the customers as previously, there were charges for all the channel whether we watch it or not.
But, this set-top box connection also brings with them some limitations. The most important one is that we cannot watch 2 TV on the same TV connection. You might have come across some methods that allow you to do so but, the channels on both the TV will be the same. This means that if the channel is changed in 1st TV then, it will be changed in the 2nd as well. There was no way to watch channels separately on a single connection on 2 TV. However, at GetDroidTips, we will give you a solution for watching 2 TV in the same TV connection and also watch different channels separately as well.
So, without further ado, let us get straight into the article itself;
How To Watch 2 TV From One Set-Top Box At Home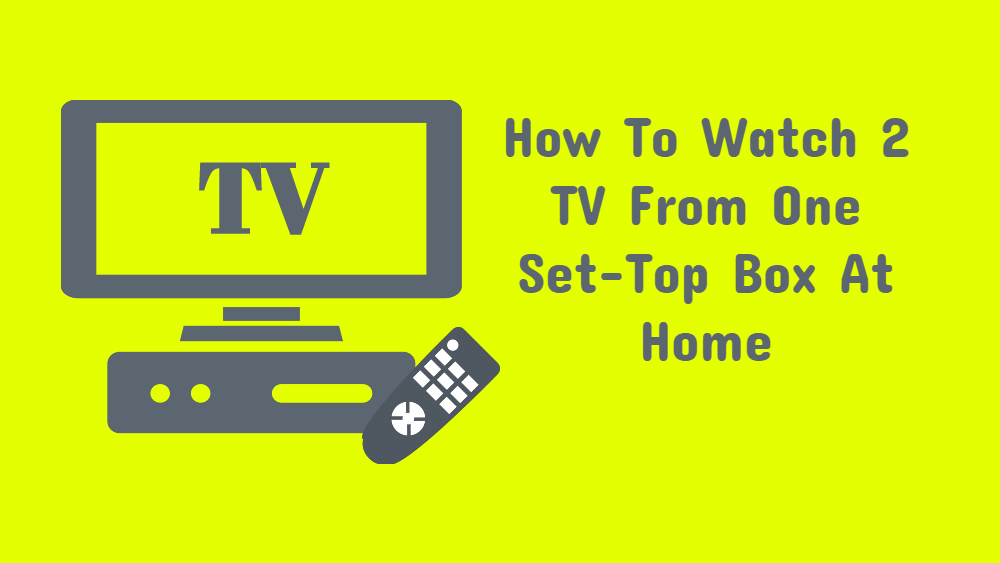 If you want to watch different channels in two TVs from one DTH then, you need an extra set-top box will be needed. Because only one TV channel can change from a set-top box. There will be two set-top boxes for two TVs. Moreover, it's important for you to note that the box has an LNB IN port. But, here we need a set-top box that contains the LNB OUT port also. Besides, the TV will not run if the box does not contain these ports.
The two set-top boxes must have one MPEG-4 and the other MPEG-2 set-top port. Make sure the MPEG-2 set-top box contains both the LNB IN and LNB OUT ports.
Connect the DTH's main cable to the LNB IN port in the first set-top box.
On the other hand, the output from the first set-top box i.e. the LNB Out port is to be supplied to the MPEG-4's LNB IN port.
Make sure that you keep the MPEG-4 box in another room.
Voila! Now you can watch different channels on both TVs with a single TV connection.
TRAI's new rule
The Telecom Regulatory Authority of India (TRAI) issued a new regulatory framework for cable and DTH operators, wherein these companies had to offer customers complete choice when it came to choosing channels for their television subscription, and the idea here was that customers would pay only for the channels that they wished to watch, rather than rely on packs decided by the companies.
The rules came into effect on February 1, and later TRAI extended the deadline to March 31 for customers to choose their channels. That deadline has now officially expired and customers will be moved to the 'Best Fit Plan.'
For those who are not aware, the new TRAI rules require, that the user should go to the official website, app of their cable or DTH operator, and then choose their channels. Users can get 100 channels for a Network Capacity Fee (NCF) of Rs 130 per month + 18 percent GST, which brings it to Rs 153 in total.
Source: IndianExpress
According to TRAI Secretary, SK Gupta's written press release;
We had a meeting with broadcasters, DTH operators and MSOs (multi-system operators) on Thursday. Everyone has confirmed the implementation of the new rules fast. They have requested that customers should be given some time, so that they can make better selections for themselves without haste.

The multiple system operators have also assured us that they will allow some channels to be available to customers to avoid any inconvenience, and they will also actively pursue customers to exercise their choice.

A large number of subscribers have already exercised options and their choices are recorded with the service providers. The service providers must process the request of subscribers on priority basis without causing any inconvenience to consumers.
Conclusion
So, there you have it from my side in this article. Hope you liked this post. Please let us know in the comments whether this method worked for you or not and also I would like you to share another method or solution if you have one for watching 2 TVs with a single set-top box.