In the recent past, Huawei teasing that it will introduce the new variants for the Honor Play, Honor 10 GT and Honor V10 smartphones, soon. Now the Chinses smartphone maker officially announced the arrival of the Honor Play's 128 GB storage variant, Honor V10's 8 GB RAM variant and Honor 10 GT's Lily White color variant.
Huawei Honor 10 GT first Honor smartphone that came with 8 GB of RAM on board. The Honor 10 GT available in the market in several color options including Magic Night Black, Phantom Blue, Phantom Purple and Seagull Ash. Now the company introduced a new Lily White color variant of the phone. The new color variant comes with a color changing the design that shows reflect shades of light green and red blue when looking from different angles.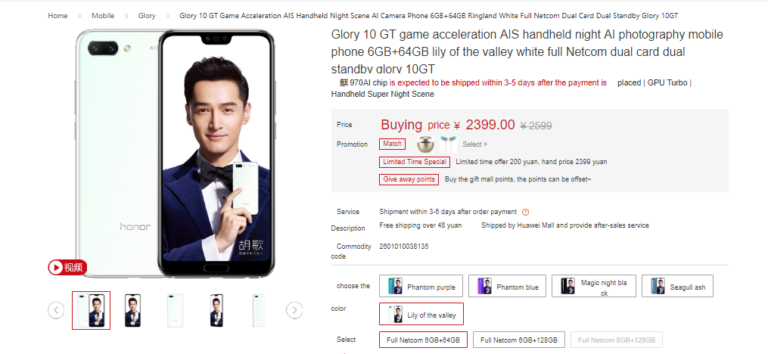 The Honor 10 GT Lily White Edition available 6 GB RAM and 64 GB storage and 6 GB RAM and 128 GB storage variants. There is no White color Edition available yet for the top model with 8 GB RAM and 128 GB storage.
Huawei Honor V10 is last year flagship smartphone that launched in November month. The company announced the several RAM and memory variants of the phone. All the variants currently price is, 4 GB of RAM and 64 GB storage available at 1,999 Yuan (~$290) price tag, 6 GB RAM and 64 GB storage available at 2,499 Yuan (~$362) price tag and the last top model 6 GB RAM and 128 GB storage available at 2,799 Yuan (~$406).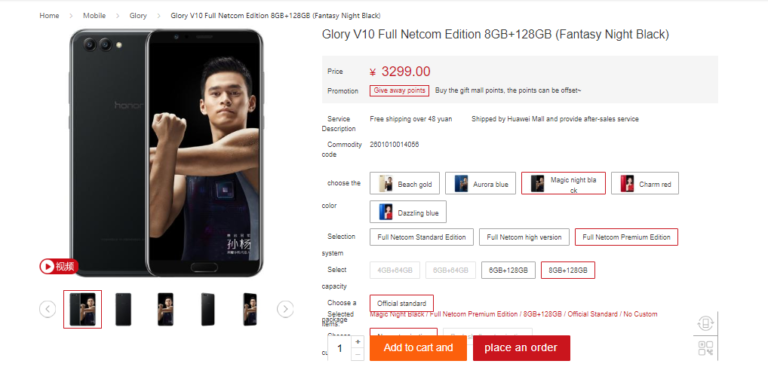 Now the company unveiled another RAM and Memory variant of the Honor V10 that comes with 8 GB of RAM and 128 GB internal storage. The Honor V10 8 GB RAM and 128 GB storage variant available at 3,299 Yuan (~$479) price tag. The phone is available in several color options, including Magic Nigh Black, Dazzling Blue, Aurora Gold, Beach Gold and Charm Red.
Huawei Honor Play is the first smartphone from the Chinses smartphone manufacturer that comes with GPU Turbo technology. It boosts the GPU performance by up to 60%. The company launched the phone couple of months ago. There two RAM and memory variants available in the market such as 4 GB RAM and 64 GB storage and 6 GB RAM and 64 GB storage, currently both the smartphone variants available at 1,899 Yuan (~$275) and 2,299 Yuan (~$333) price tag respectively.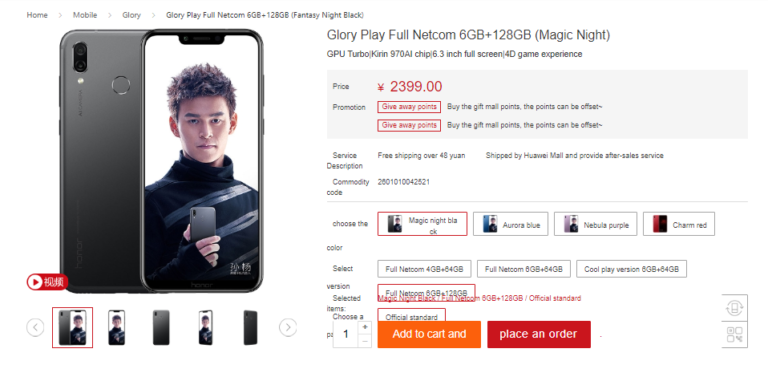 Today, the company unveiled the 128 GB internal storage model of the Huawei Honor Play with 6 GB of RAM. The new 128 GB storage model available at 2,399 Yuan price tag. It is available in Midnight Black, Aurora Blue, Nebula Purple and Charm Red multi-colour options.
Source 1, Source 2, Source 3, Source 4