New Update May 2020
Huawei is currently pushing a new update for Huawei Watch GT 2 with version V1.0.7.16 weighing around 40 MB. It brings support for a lot of new features.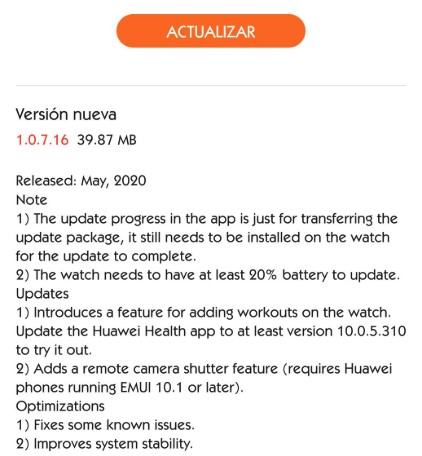 With the latest v1.0.7.16 build users can access their workout directly on the watch. However, on their smartphones, they need to upgrade the Huawei Health App to version 10.0.5.310.
Also, with the new upgrade, Huawei Watch GT 2 gets a remote camera shutter feature. This means using your watch you can click photos from your smartphone. It is very useful for those who click a lot of solo photos. They can easily set the camera and then simply click the shutter on the smartwatch to click the photo. Pretty much a hands-free modus operandi.
The only catch is Huawei devices running on EMUI 10.1 will support this feature. So, if you haven't stepped up your Huawei smartphone to EMUI 10, then do it to experience the remote camera.
Along with the new features, the v1.0.7.16 build also packs some regular bug fixes. It will also improve system stability to a great extent. If we bottom line it, this update is something you should not miss if you use the Huawei Watch GT 2. So, watch out for the new software and install it as soon as possible.
Note that, to smoothly install the latest Huawei Watch GT 2 update your watch must have a minimum charge of 20%.
New Update
Today Huawei is rolling a new update for Huawei Watch GT 2 with version V1.0.6.32. It added the feature for measuring SpO2 and improves system stability.
The new smartwatch from Huawei, the GT 2 is receiving a fresh software update which brings global support for NFC. It pushes the version number v1.0.2.28 to the device. Along with this, the new update also improves the accuracy of the heart sensor. It resolves the issue in the resting heart rate. The Huawei Watch GT 2 Software Update also integrates quick pairing for the FreeBuds 3.
Additionally, the update brings some tweaks for the Sound Settings to notify incoming calls and other notifications. Now users can customize their watch face with OneHop. However, your Huawei smartphone should be running EMUI 10.0. After updating to the new software the future updates will be faster. Recently, the precursor Huawei Watch GT also received software update v1.0.10.18.
Device Overview
Huawei Watch GT 2 is a wearable released in October 2019. It is available in two variants i.e 42 and 46mm. This smartwatch has a capacitative OLED display of 1.3 inches with a pixel resolution of 454 x 454 pixels(46mm) and 390 x 390 pixels with 1.2-inches display(42mm). The Huawei Watch GT 2 offers a memory of 4 GB. It has various modern-day sensors like the Accelerometer, gyroscope, heart rate sensor, barometer, and compass. The smartwatch is powered by a Non-removable Li-Ion 455 mAh battery.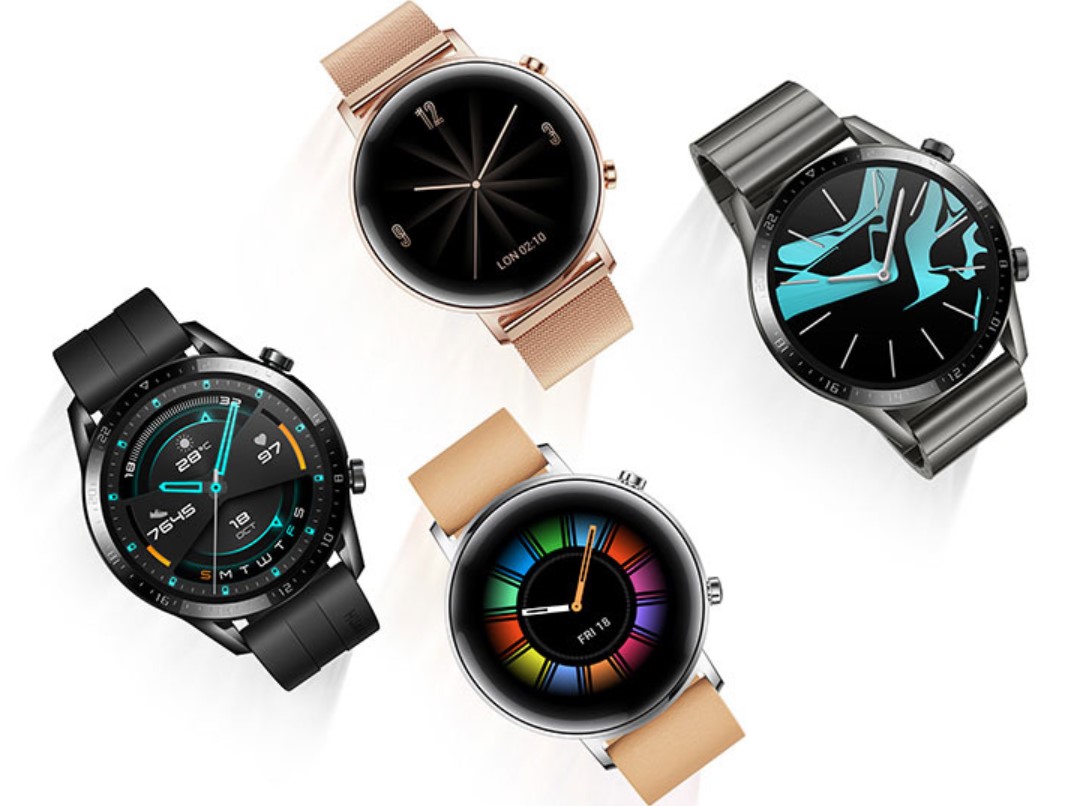 What do V1.0.6.32 update packs.?
So, let's take a look at the official changelog.
V1.0.6.32 Changelog
Updates
1. Adds a feature for measuring SpO2
2. Improves system stability.
Source: Reddit
v1.0.3.16 Changelog
[New and optimized]
Added support for sleep apnea research (supporting sports health app 10.0.2.511 and heart health research app 2.0.0).
Add style to standby dial.
Some dials have the ability to customize.
Optimize GPS positioning speed.
Optimized heart rate does not show problems.
Optimize Bluetooth headset compatibility.
v1.0.2.38 Changelog
Optimization

Fixes an issue with the heart rate display.
Improves system compatibility with Bluetooth earbuds.
Optimizes GPS tracking.
v1.0.2.28 Changelog
OneHop for customizing the watch face with (Huawei device should run EMUI 10.0)
Quick Pairing for FreeBuds 3
Sound Settings added for incoming call and notification alerts to the user
Optimization for Sensitivity of the wake-up feature
Improvement of the heart rate monitor during workouts.
Resolves display issue of resting heart rate
Updating will be faster
How to Download the Update?
The latest update may take some time to roll into your device. Normally, airborne updates move in phases. So, everyone may not receive them right away. However, you can check for the same. Go to About > Update Software. The Watch GT 2 will perform the check. If the new update with the latest build is available, then you will be notified to download the same.
So, make sure not to miss out on the Huawei Watch GT 2 Software Update.