New update on August 5, 2020: As per a Weibo post by OnePlus CEO Pete Lau, HydrogenOS 11 based on Android 11 will debut in China on August 10, 2020. Notably, for those who do not know, OnePlus has two different OS, one for its global users and one for its users in China. For global users, OnePlus comes equipped with OxygenOS, while for the devices sold in China, they come preinstalled with HydrogenOS. Moreover, while the OxygenOS 11 based on Android 11 is available for the OnePlus 8 series in the form of beta, users in China were eagerly waiting for any announcement related to it. And now the latest Weibo post confirms the date when the users will get their hands on the Android 11 based HydrogenOS 11.
Here is what the translated text from the official Weibo post, reads:
From the heart's voice, to be born again-#氢OS11# comes for you!
At 14:00 on August 10th, "Hydrogen Listening 2.0" will be
broadcast live on the official website of Station B, Weibo, Kuan, and OnePlus.
Brand-new visual design, brand-new interactive conception, brand-new features,
look forward to witnessing with you!

(Source)
---
OnePlus is riding high on the traction received for its recent release, the OnePlus Nord. This is the first time OnePlus has ventured into this mid-range category. Previously, the company was bringing in phones that were touted to be flagship killer phones. However, with OnePlus Nord, the Chinese OEM has now brought in all the best specs that you can find in the mid-range category to the phone. But one thing to note is that the camera is still not the best as compared to other mid-rangers. One of the best features of OnePlus phones is the OxygenOS that is based on Android.
This custom UI from OnePlus is the best after Google's stock Android UI. The latest iteration of OxygenOS currently is the OxygenOS 10 which is based on Android 10 OS. However, after the rollout of Android 11 Beta update by Google, OnePlus has already pushed the OxygenOS 11 update based on Android 11 for its flagship, OnePlus 8 series phones. There are a few people (not from the OnePlus ecosystem) who might not know that OnePlus devices sold in China come pre-installed with HydrogenOS UI. This is the same as OxygenOS but meant for the Chinese counterparts of Internation OnePlus phones.
And recent news might excite you if you own an OnePlus phone in China. Because OnePlus has confirmed that HydrogenOS 11 update will be arriving for OnePlus devices in the home country of China, very soon. This piece of information was shared by Pete Lau, the CEO of OnePlus on Weibo (the Chinese equivalent of Twitter). Moreover, Pete also confirmed that the current version of the HydrogenOS is not enough for the fans, and there will be tons of new features that will be included with HydrogenOS 11. These features will include several features from the IDEA session that OnePlus conducted some time back. Note that these features are those which the fans have been asking for quite some time.
Here is what the original post from Pete Lau reads,
Let me tell you, our brand new hydrogen OS11 is coming. This version will have some new changes and new features that everyone has always wanted. I hope that the new version of Hydrogen OS11 can become a new starting point. In this process, I also hope that you will still have your help and company.

(Source)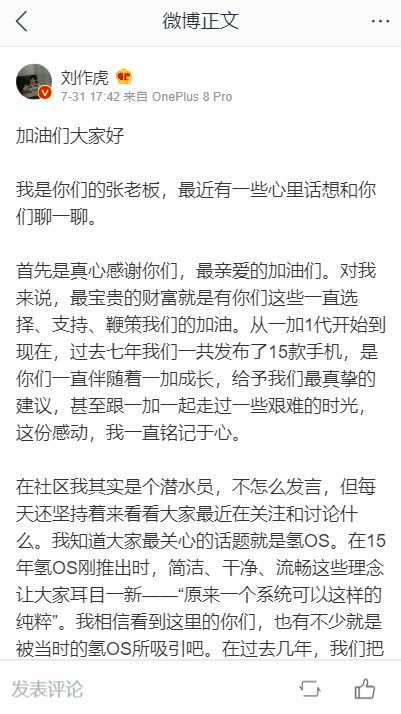 However, no ETA has been announced by the CEO. But we think that this could happen soon as Google is all prepped up for the release of Android 11 in the coming months. More or less, it will be the same time around when the OyxgenOS 11 update will be pushed for the international users. Besides, one of the most requested features, the Always On Display is supposed to debut with Android 11 update. So, we will be seeing this feature on OnePlus HydrogenOS 11 Android 11 as well.
All the devices, except OnePlus 5 and 5T will be getting updated with OxygenOS 11 or HydrogenOS 11 based on Android 11 in the coming months. Since OnePlus is one of the brands that are almost next to Google is pushing the latest Android OS update as soon as it is available, we expect the Android 11 update to arrive on all the eligible devices, once it is rolling out for the OEMs. We will keep you posted about it, once there is more information in this regard.