Good News for all Sony Xperia Z1 users. Now you can Download and Install AOSP Android 7.0 Nougat For Sony Xperia Z1. This is a custom ROM of Android 7.0 Nougat for Sony Xperia Z1 developed by XDA Senior member SuperLamic on XDA forum. According to him, the ROM is built from the AOSP Nougat Source code released by Google from Scratch with added custom features. The AOSP Android 7.0 Nougat For Sony Xperia Z1 is pretty stable and all the features are working pretty solidly without any issues. So install the AOSP Android 7.0 on Sony Xperia Z1 now.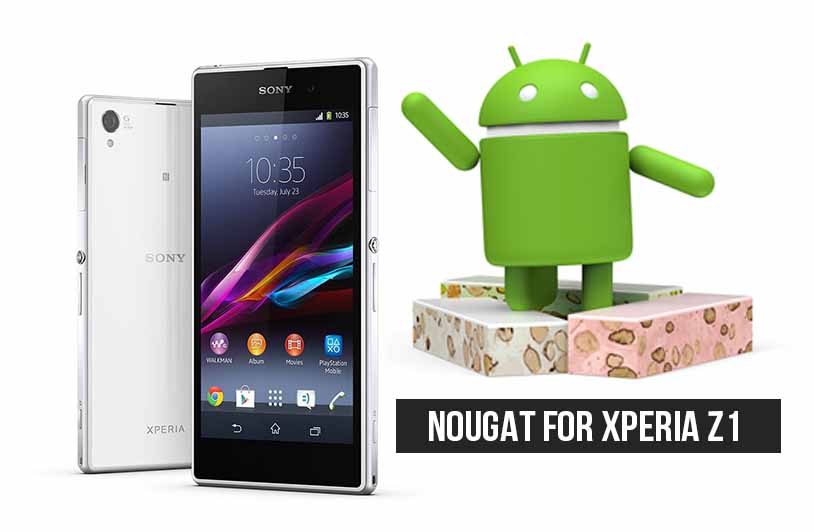 This is a full guide on How To Install AOSP Android 7.0 Nougat For Sony Xperia Z1. Download the below given link for Android 7.0 Nougat for Sony Xperia Z1. This ROM comes with pre-built theme ready gapps and supports Substratum theme engine. So now you can make more customization with color and your preference on Sony Xperia Z1 with Android 7.0 Nougat.
Changelog
24.12.2016
 >Many updates to kernel (security etc..)
 >Patches to camera
 >Overall update - 7.1.1
 18.11.2016
 >Update blobs (camera improvements)
 >Patches to cam stability
 -Optimized kernel + updated interactive gov
 5.11.2016
 >Update blobs (fix cam and proximity)
 >@munjeni's charging fix and fixed detection of usb connection
 Still no deep sleep
21.10.2016
>A lot of updates, security, camera, android 7.1
9.9.2016
>black (daynight) theme - activate in settings - display
>fix some mhl things
Patches:
-removed latest regulators patch
-remove camera fd
7.9.2016
>Add current values for cpus
>fix cpp for smmu dts node (camera)
Patches:
- USB: Disable regulators only when enabled
5.9.2016
>Camera KW fixes (camera still does not work well)
Patches:
- Charger: add missing properties
- Hotplug: tune the values
- Audio: remove fixed bandwidth
- Bluetooth: set BT name dynamically (I'm not really sure if this fixed bt, but it works)
- Touchscreen: enable touch size
- Wifi: use config from stock
2.9.2016
>Initial release
Patches: 
- audio: kernel jack , headsethook number (first custom rom where audio jack works as in stock)
- memory: don't limit memory to 1.4 GB
This is a Beta build of AOSP Android 7.0 Nougat built from the newly released Google Android Source Code. Stable enough to use it has a daily drive, As the developer trying to make it more stable. You can expect some bugs, So please share the feedbacks and bug reports on the original forum. If you want to try this ROM, then please download and follow the guide on How to Install AOSP Android 7.0 Nougat for Sony Xperia Z1.
The Developer has put all his effort to bring this alpha Android 7.0 For Sony Xperia Z1. So please try Android 7.0 For Sony Xperia Z1 and Give the feedback related to bugs except which is already listed here. You can leave the comment on the original source of Android 7.0 For Sony Xperia Z1.
What is in Android 7.0 Nougat ?
Android 7.0 Nougat was another codename for the new version of Android after Google's Android 6.0 Marshmallow. It was unveiled on Google I/O 2016. This is the seventh major version of the Android operating system. Google first released Android 7.0 Nougat has a beta build on March 9, 2016 and it was officially released on August 22, 2016. This has a huge incremental and feature on this new update. Android Nougat comes with features such as Quick Switching between recent apps, Split Screen Mode, Quick Reply via Notification, Notification Redesigned panel, Notifications prioritization, Enhanced Doze Mode, System UI Tuner, Customizable Quick Settings, Don Not Disturb, New Settings Panel Redesigned, Data Saver per App, seamless updates and New Emoji Support.
Current status
Overall : Stable, mostly usable. See features list for known issues.
PRE-REQUISITE
This will work on Sony Xperia Z1 Device.
Charge your phone up to 80% or 70%.
You will loose the original ROM or any CUSTOM ROM if you already installed on your phone. So make sure to Backup your phone before doing this step using TWRP or CWM or any Custom Recovery.
You must install TWRP or any Custom Recovery on your phone.
Download all the Zip files from below and Place it in your phone's root of internal memory.
Steps for How to Install AOSP Android 7.0 Nougat for Sony Xperia Z1
[button color="red" size="22px" type="square" target="blank" link="https://mega.nz/#!AI8CxDaT!-vcvjvDFO_6K5PPmGKDfi3dWGs8s2vKUgWnj7HQ1h7c"]DOWNLOAD CM14[/button] [button color="red" size="22px" type="square" target="blank" link="http://opengapps.org"]DOWNLOAD GAPPS[/button]
First of all, you need to Boot into Recovery -> First Switch off your phone -> Press the Recovery Key combination Volume Down + Power Button simultaneously -> You will see the recovery option (In Some Brand, Volume Up and Power button)
Before installing the custom ROM, its better if you Wipe all the data by Clicking the Wipe button and Select Advanced Wipe – Tick all except Internal Storage
Swipe to WIPE
Now Click the Install Button to install the AOSP ANDROID 7.0 Nougat
Now Browse through the files of Internal memory where you have uploaded the Zip file of Custom Rom (better move the custom rom zip into root of your internal memory)
Select the Custom Rom Zip File and Swipe to confirm the installation. Then reboot.
For Google Gapps install the Google Gapps Zip using the same process
That's it ! Now reboot your phone. You have Install Android 7.0 on Sony Xperia Z1 Successfully.