There were specific numbers of users who wanted to install and run macOS Catalina Beta alongside other versions of macOS, such as the macOS High Sierra and macOS Mojave. Where the beta version of macOS needs to be installed macOS Catalina BETA on APSP volume, but in this case, the macOS beta is already installed, and here you need to create and install another macOS beta into a new APSP volume.
Meanwhile, you can create another boot volume known as a dual boot for macOS beta. Hence you require a secondary beta version of Mac higher than sierra to install alternatives macOS, including macOS Catalona Beta.
Noteworthy of using the dual operating system on Mac?
You can use a single drive doe on both of your macOS betas on your system at the same time. Likewise, this means you don't have to format your current volume storage to install another macOS beta on your system.
Reportedly, there was a report that confirmed that those using the T2 security chipset with Touch ID. Meanwhile, you have to first back up their data before installing macOS. So you would not lose any data from your Mac.
Not to mention, you must have complete backups of your drive and have to secure a minimum 35GB of free disk storage on your drive for a faster experience.
How can you install the macOS Cartailna in APFS volume alongside macOS High Sierra & Mojave?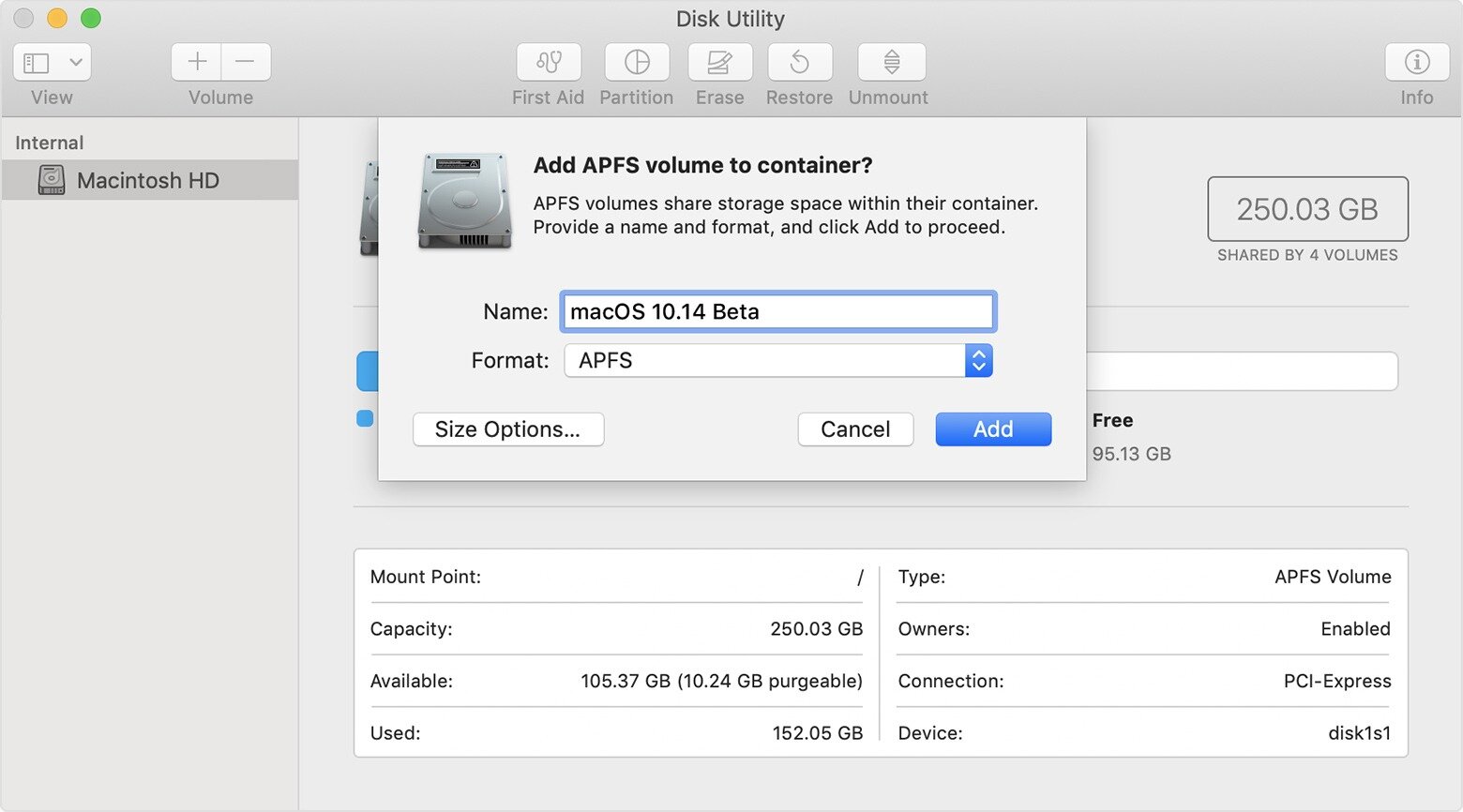 Today, we are going to share a little bit of knowledge so you can install the macOS Catalina and secondary ora such as macOS Mojave or macOS high sierra. You have to follow the instructions down below to install macOS Catalina BETA on APSP.
First thing first, you have to take an entire backup of your Mac using a time machine, or you can also take backup using an external drive.
(it's based on your preference, if you did not want to take backup then you can skip it as well.)
You will need to open the Disk Utility on your Mac and then create a new volume with the format of APFS Volume.
(you can create an original amount by creating clicking om the "+" icon.)
Then, it will ask you to name the drive as always named it and click on the "Add" button.
(At the same time, you can also change the storage size.)
After that, click on the "Done", and then you can exit the Disk Utility when you finish.
Then open the "Install the macOS Catalina BETA" package that you will find in the application folder.
Click on the "Continue" button to accept the terms and conditions of the services.b
Now, click on the "Show all disks" and the same screen. There you will find the "Catalina" APFS volume that you have created earlier.
After this, click on the "Install" button to allow installation on your Mac as the macOS Beta on that particular volume.
Okay, now on the same display you have to select the secondary OS that you want to install on your Mac.
Then choose the package and install it on the same volume that you have created earlier.
Wait for some time until the macOS is installed on your Mac and then reboot your Mac to complete the installation. Your Mac will soon open directly initially in the macOS Catalina.
How can you switch to macOS Mojave or high sierra from the system start?
All you have to do is to boot or restart your Mac and at the same time hold down the option key. Then select the boot screen to choose the macOS volume. There you have to select the operating version that you want to use at that time.
How can you switch the macOS version from system preferences?

On your home screen, pull down the Apple menu, and there you have to go over the system preference. There you will have to head over to "Startup Disk" and then choose the volume operating system to boot from.
How do I remove the macOS Catalina from APFS volume?
After using the dual boot mac, if you want to delete the macOS Catalona Beta from your Mac. From there you can remove it. There you have first to open the Disk Utility. From there you have to delete the APFD volume that you have created and install the macOS Catalina.
However, you didn't upgrade or install the macOS Catalina over your current macOS release or the macOS that you are using on your computer. So you can downgrade your Catalina instead of formatting and deleting the macOS from your mac Volume.
Hopefully, we would like to know your experience, and we assume that you have successfully understood the method "macOS Catalina BETA on APSP" of creating a dual boot APFS volume on Mac. Let us know your feedback and opinion if there is any query shared with us in the comment section down below.