The Ninjala game is built around points. This means that the more points you have, the more features you can unlock. In addition to that, these points help you to win and bring down people when you are playing with the team. Points are literally everything in Ninjala, and this is why you need to gather as many points as you can. Ippon is an important aspect of the game. Hence, players must ensure to take practices that will secure the most points for them.
This is where IPPON comes into the scene in Ninjala. Ippon is a form of additional points or better put point bonus that comes with performing some special skills and actions. The reason that we're emphasizing the term IPPON here is that it can actually double your points, which is why you need to get IPPON in your game. Moreover, Ippon is kind of a KO technique but it is worth more than KO and can be called KO+ as they can earn you more points than an ordinary KO you'll get in the game. Now that we know the basics of this concept, let's look at how to get it.
How to get Ippon in Ninjala
1. KO your opponent when they are gum bound
Attacking your opponent when they are gum bound is one of the easiest ways to get Ippon in Ninjala. Once your opponent is gum bound, meaning they can't move or attack you, is the best time to attack and finish your opponent. This will add Ippon to your points and give you better chances of ending the game as the winner or amassing more points than you ordinarily would do.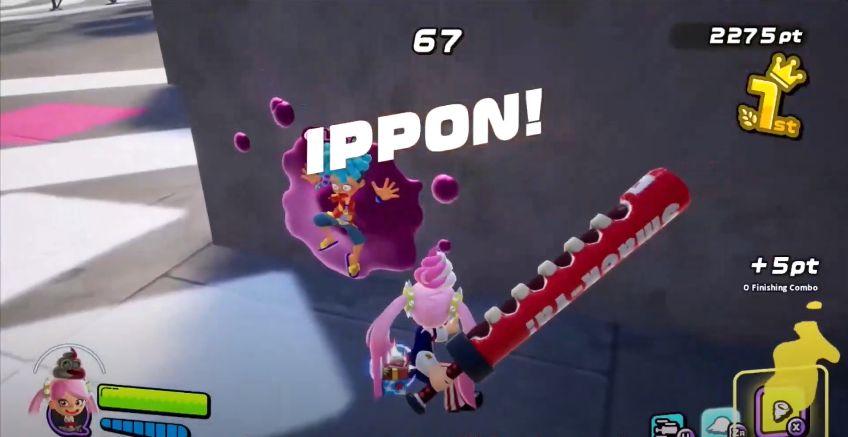 So, attack when they're gum bound. Just don't leave your opponent to freeze or suffer the effect of the gum bound in isolation. Rapidly attack them in their gum bound situation and finish them off to get an IPPON. Also, an important point to keep in mind here is that the attacks you deal to the opponent after the gum bound has expired will not give you an IPPON.
2. By finishing your opponent following a Parry
This means that you'll get an Ippon if you manage to come out victorious from the Parrying element of the game. During Parry, you stand an excellent chance of getting an IPPON if you attack and finish up the opponent immediately. Simply win while Parrying and then immediately KO your opponent, and this will count as an Ippon. The follow-up action must be done in quick succession to receive some IPPON bonuses to your account. So, try to get in those directions right and you'll manage to pull off a fine Ippon at the end.
IPPON doubles your points more than KO or any other bonus element on Ninjala. This is the reason why it is crucial to know how to get them. This guide is put together to help you achieve this aim. And with this guide, we believe you'll get to stand out among others. With that, we hope reading the guide above has brought some valuable information and help to you. Please let us know by commenting down below if you have any further queries regarding the same.
Also, check out our iPhone Tips and Tricks, PC tips and tricks, and Android Tips and Tricks if you've got queries for it or want help. Thank you!