Ulefone launched something very different from other Smartphone companies. Where companies are trying to make their devices with features and gimmick folding screens. Ulefone has launched the latest Ulefone Armor 7 which is completely shockproof, waterproof, and dust resistant. It is great to know such companies exist who creates tough and powerful devices. The new Ulefone Armor is a device intended for power users such as in military, karate or other conditions where normal smartphones might fail. Today we are going to perform Ulefone Armor 7 waterproof test to see the durability limits of this device.
It is early 2020 and we have seen many innovations in the smartphone market. Whether it be a punch hole camera, a folding display, in-screen camera or other gimmick features. But we haven't got any device which might last for years. This is where the new Ulefon Armor 7 draws its line as it the world's most toughest and durable smartphone with military-grade waterproof and dustproof protection.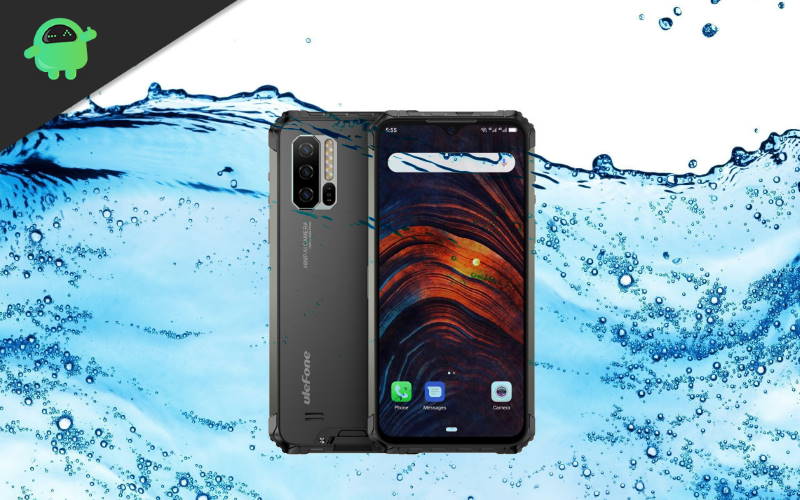 Is Ulefone Armor 7 a Waterproof device?
Waterproof smartphones are fascinating as they are more durable and not prone to water damage. This opens doors for new possibilities of features such as underwater photography, going live underwater and much more. The demand of waterproof smartphones is increasing day by day. And this is why Ulefone Armor 7 is a great smartphone for people. Since it is already certified for waterproof and dustproof ratings, it is a tough and durable device. It is a perfect companion for people who tend to the harsh environment such as in forest, military, industry, factory etc.
Also since the new Ulefone Armor is waterproof, you get to enjoy new features. Some of these features are taking underwater selfies, shoot underwater videos, talk while it is raining outside and listening to music while swimming. The possibilities with Ulefone Armor 7 are endless since its a waterproof and dustproof device.
Ulefone Armor 7 Device Specifications
The Ulefone Armor 7 launched back in 2019, is the toughest smartphone we have ever seen in the smartphone industry. Ulefone has done a great job considering its design and the built material is nearly unbreakable. This phone comes with a 6.3 inches IPS LCD screen. It operates on Android 9.0 pie powered by Mediatek MT6779 Helio P90. The Armor 7 is available with 6GB RAM and 128GB internal and a shared SIM slot. There is only a black variant available for this phone. Moreover, you get a side-mounted fingerprint sensor and other features include heart rate sensor, baroceptor, and a lot more.
Moving on to its camera part, it has a triple camera setup at the back. It consists of a 48MP main camera, an 8MP telephoto lens, and a 16MP low light camera. So, you can expect some good picture quality from this beast as well. Most impressively, it provides a 5500 mAH battery with a 15Watt fast charging support. It also supports a 10Watt fast wireless charging. Above all, it has an IP rating of IP69k that means it can even survive a pressurized water blast. In addition, it also has a MIL-STD-810 rating which simply means it can survive temperature shocks, fungus, humidity, and other extreme conditions too.
Ulefone Armor 7 Waterproof and Dustproof Test
Since Ulefone has already made it clear that the new Ulefone Armor 7 is rated IP69K for dust and pressurized water endurance. This means that the device is completely waterproof and ideal for taking into water activities. However, we will still continue with our Ulefone Armor 7 waterproof test to find out for sure.  The test will comprise of all waterproof, and dustproof test. After the test, we will get to know if it can really handle such situations comfortably or not.
warning
The below waterproof test's results are purely based on individual/team observation. These tests will only give an idea of whether a device is waterproof or not. We recommend users not to try this test at home, as it might damage your device.
| | |
| --- | --- |
| Camera | Camera works fine |
| Screen | No issues with screen |
| I/O ports | No damage |
Well, we have succeeded in conducting the test and as you might have expected that the device passed our waterproof and dustproof test.
Conclusion
| | |
| --- | --- |
| Device Name | Ulefone Armor 7 |
| Waterproof | Yes, IP69K for dust and pressurized water endurance |
| Splashproof | Yes, IP69K for dust and pressurized water endurance |
Finally, after conducting the water test on this device, the result is clearly visible to us. The latest Ulefone Armor is a tough device with an official IP69K rating for dust and pressurized water endurance. So you can take this device anywhere without worrying much about water damage.