Fortnite season 3 bosses have made their way into the game with Jules being one of them, while Fortilla is an action hotspot that will bring tremendous loot when players are able to open the Vault. Today we will find both of them.
Jules will help to get your hands on a mythical weapon and especially the Jules Drum Gun and Jules Glider Gun. Although Fortilla being a location on the map, will fetch great loots after action and fight with enemies.
In this guide, we will be looking for Fortilla and Jules, which have come after the Season 3 update. As we progress down the season 3 lane, many things get uncovered. Now let's begin with finding Jules along with Fortilla.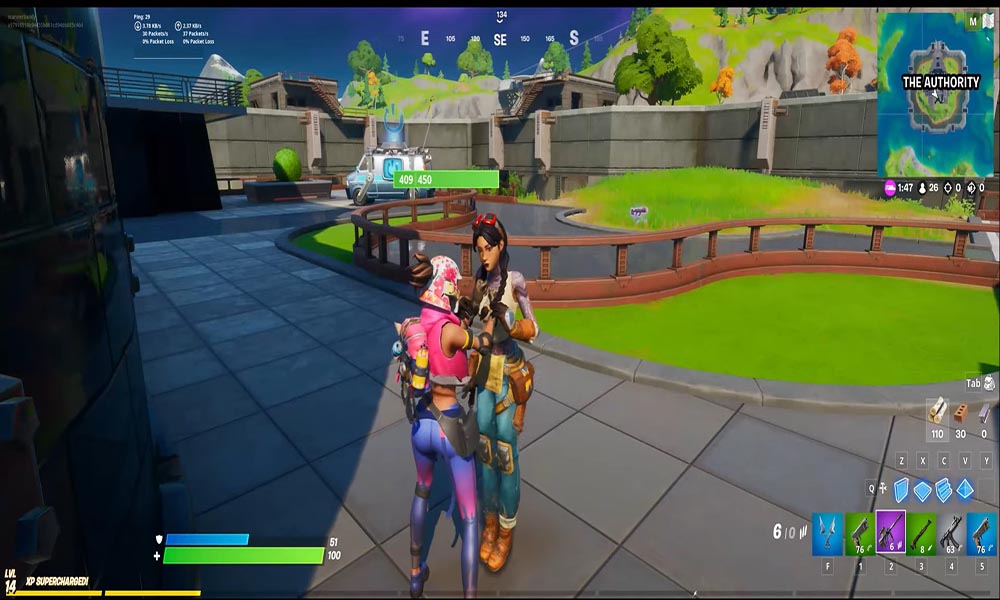 Who is Jules?
Three bosses have been introduced in the latest version of Fortnite, which is Chapter 2 Season 3. These bosses are very aggressive and will anyone who would try to mess with them. Also, these bosses can now take even more significant damage. But, of you can defeat these bosses, you can earn an excellent mythical weapon. 
Jules is one of the three bosses. She is better known as The Engineer, alongside possessing the boss status of the Authority. It can be difficult to defeat her but, if you manage to do so, she will reward you with a stash containing:
Mythic Glider Gun

Mythic Drum Gun

Authority's Vault Keycard
Jules's picture was seen in front of the Doomsday room in Midas' Room during the Battle Pass tab of the lobby. This picture spread the rumor that Jules is Midas' daughter. We can assume the same, although there has been neither confirmation yet nor has the storyline provided us with any clue of this relationship yet. 
Find Jules and Fortilla
Jules
Before hunting for Jules, you should be well aware that she is a mighty warrior. She can take a lot of damage is reasonably tricky to knockdown. She uses her special weapons to kill her enemies. But once you manage to kill her, you will have access to her guns. 
To trace Jules, head to the center of the in-game map. Find out the Authority building. The Authority is a replacement of The Agency building after it was wiped off during the Doomsday event. This building has a lot of stories and a vast plaza in the center. The structure's basement contains the Vault. Many players have reported seeing Jules on the ground floor of the Authority building. Find her in the Main Plaza. When you fight her, do keep an eye for Henchmen. Henchmen, along with other players, will try to kill you when you are fighting Jules.
When you successfully defeat Jules, she will drop the items' stash for you. Use her guns to increase your gameplay levels. Also, the Vault Keycard will give you access to the Vault. You can locate the Vault using the arrows that come up as soon as you take hold of the Keycard.
Fortilla
The new map of Fortnite's Chapter 2 Season 3, the players will get to see an excellent new POI location known as Fortilla. Fortilla can also be called as the hotspot for action. It will take the place of The Agency, which was seen in the last season. The Fortilla is a pirate town floating. It is carved out from the debris. You can check Fortilla as the 'base' on your menu screen. There has been a piece of news from the Fortnite developers that Fortilla will also contain a 'Builder Brother,' which will enable Fortnite players to change the Glider settings. 
Fortilla can be found in the southwesterly corner of the new map of Season 3. Fortilla can found floating in the ocean of Midas' creation. You may find this location to be an awkward one. The players may need to find a way to navigate the storm well, as we all remember the infamous Slurpy Swamps. Fortilla appears to be somewhat similar to that from a distance. 
Be watchful of your flight direction. If it is near to this POI, you may find a lot of crowds. The image above depicts the Vault, which will fetch you great loots.
We hope you find this guide helpful to find Jules and the location of Fortilla. You can check out our Windows Guides, Gaming Guides, Social Media, iPhone Guides, and Android Guides for more content. Subscribing to our YouTube Channel can help you win our $150 giveaway contest. If you have any queries or feedback, comment down below with your name along with e-mail ID, and we will reply shortly. Happy Gaming.