Coming in with the Call of Duty: Modern Warfare's Season 4 is a new Melee weapon, Kali Stick. As we see in every new season in the game, most of the offers and weapons will be limited to players with a Battle Pass. However, the Kali Stick comes in with a different approach in Call of Duty: Modern Warfaring, which allows every player in the game to get their hands on the new melee weapon if they choose to.
In this guide today, we'll go through everything you need to know when it comes to getting the Kali Sticks in Call of Duty: Modern Warfare. As this weapon can be grabbed by players with a Battle Pass and without a Battle Pass, we'll take you through the two instances and you can choose to follow whichever method you want. So without any further ado, let's look at how to get Kali Sticks in Call of Duty: Modern Warfare.
How to Get Kali Sticks in Call of Duty: Modern Warfare
Kali Stick is a new addition to the lining of melee weapons in Call of Duty: Modern Warfare, which you cannot really purchase despite that big bank account you have. What this means is that there's much more like a challenge that you should take up in order to get Kali Stick in the game. So no matter how much money you have, Kali Sticks are coming into the game as something exclusive.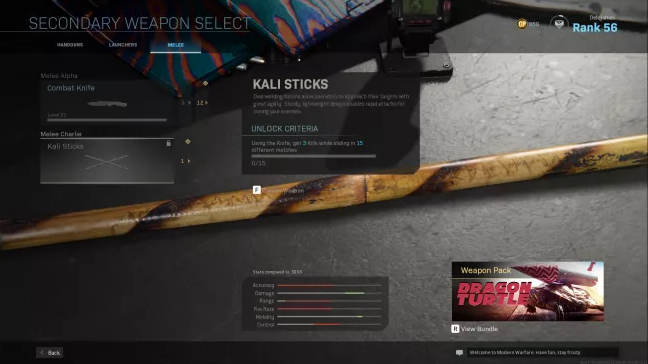 As with the challenge, you are required to get 3 melee kills while sliding in under a total of 15 matches. Though the number of kills given here might not seem that much, it is indeed going to be hard. You'll know the difficulty if you've ever tried melee attacks. Combining this difficulty with the short sliding animation, things will get a lot harder for you if you really need that Kali Stick.
Conclusion
Summing up our guide, Melee Stick is a new Melee weapon in Call of Duty: Modern Warfare. In order to get your hands on this weapon, you need to complete a challenge of getting 3 kills while sliding in 15 matches. As this weapon currently cannot be purchased, making your way to grab one is difficult. That said, we hope reading the guide above has brought some valuable information and help to you. Please let us know by commenting down below if you have any further queries regarding the same.
Also, check out our iPhone Tips and Tricks, PC tips and tricks, and Android Tips and Tricks if you've got queries for it or want help. Thank you!