The original title Last of Us did not have a multiplayer mode when it launched. But later on, we had a Factions DLC that added the multiplayer mode to this action game. Now with the release of Last of Us 2 on 19th June, many anticipated that we would get a multiplayer mode in the launch itself. But that was not the case, and now people are wondering whether or not there will be a multiplayer mode for Last of Us 2.
The Factions DLC that added multiplayer support to the original title Last of Us was quite the success. Players grouped and formed factions that competed with one another for survival. Players can either choose either to side with the Hunters or Fireflies and continue the struggle for survival in this post-apocalyptic scenario. We don't see any of this in Last of Us 2, and so many are wondering if we will ever see this in the future in the second iteration too. Let's find out what we know so far about the multiplayer mode of Last of Us 2 in this article.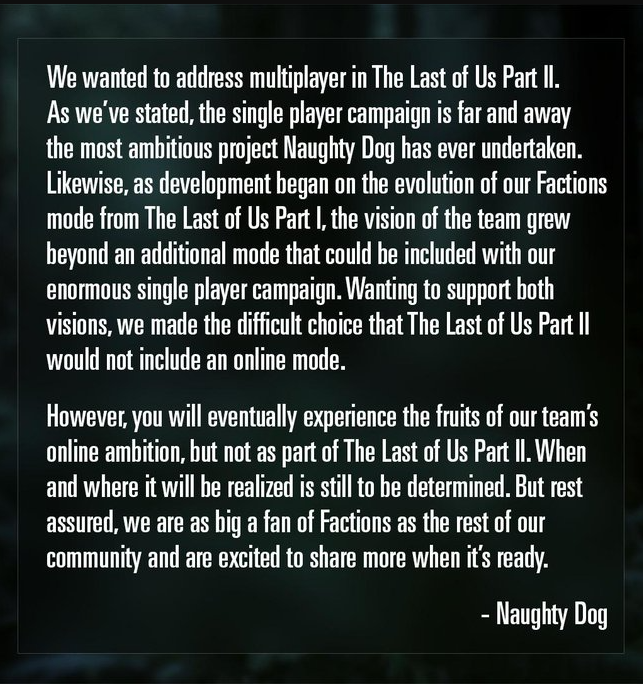 Does the Last of Us 2 have multiplayer?
To put it simply, as of now we do not get any sort of multiplayer capabilities with the Last of Us 2, but there is a promise for a future update. Naughty Dog did agree to the fact that the multiplayer mode on Last of Us was a success. They wanted to include it in Last of Us 2 too, but that would mean a less polished and underdeveloped single mode. They did not want to compromise on the quality of either of the two modes, and that is why they have given all their attention to the single-mode in the launch. For them, launching both the multiplayer and single-mode proved to be a bit too much. And this is evident from their statement on Twitter.
It is quite clear from this statement that Naughty Dog is not dismissing the idea of multiplayer gameplay in Last of Us 2. For now, in this launch, they have not included an online mode, but they have expressed their desire to do so in the future. As of now, we cannot say anything specifically about the multiplayer mode. We do not know when will it come to Last of Us 2 and whether it will be the same as the last one.
Naughty Dog acknowledges the popularity that Factions have earned since release, and they seem determined to do something similar with last of Us 2 too. So Last of Us fans who purchased the Last of Us 2 should not be disappointed. The statement, "But rest assured, we are as big a fan of Factions as the rest of our community and are excited to share more when it's ready" from Naughty Dogs is promising. So we will just have to wait and see what Naughty Dog does in the future. As of now though, we only have the single-player mode in Last of Us 2.
If you have any queries with this guide, then comment down below. Also, be sure to check out our other articles on iPhone tips and tricks, Android tips and tricks, PC tips and tricks, and much more for more useful information.