The Samsung Galaxy Watch has received an update that disables the alarm sync and also improves the swim tracking feature on the device. Recently, a similar update was also rolled out for the Gear S3. For those of you who do not know, the Galaxy Watch is the successor the Gear S3 but, is not called the Gear S4. However, both the 42mm and the 46mm Galaxy Watches are receiving this update. Most of the users that have reported the arrival of this update are from the U.S. So, it is not clear whether the update has rolled out for global users or not. Nevertheless, it is expected to be rolled out to other regions as well.
The firmware update version is R810XXU1CSG4 and it weighs around 15.36MB in download size. Moreover, the official changelog states that this new update improves the overall stability of the device and brings on some additional features as well. Many users previously reported the automatic sync of the alarm clock with the phone's settings once the device is paired. What this means was, the user could not set the alarm clock on vibration mode and the phone profile on the sound mode. The alarm clock automatically used to copy the phone's settings and will ring the phone profile sound. But, with this new update, this issues has been sorted.
Below, is the official changelog of the latest update;
Changelog
Improved system reliability.
Disabled automatic sync of Alarm from paired Smartphone to Watch.
Improved tracking for Swim.
You can check out the latest update for the Samsung Galaxy Watch screenshot below;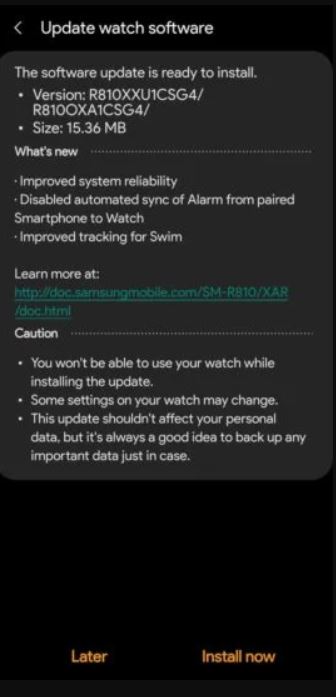 Moreover, the Galaxy Watch also has the feature to track swimming workouts as well. And with this new update, the swim tracking has been improved. To check for the update whether it has reached on your Samsung Watch or not, you can head to the Wearables App>>About Watch>>Update watch software>>and if any update is available then, tap on Update now.