Smartphone enthusiasts are quite in surprise, as Chinese OEM Lenovo Teases A 4-Camera Smartphone. As you can see in the image below, it shows a camera set-up of 4 lenses. This photo was shared by the Lenovo's Vice President Chang Cheng. This picture sources back to a Chinese website. He also mentions, "inspires us to innovate" in his post.
Apparently, Samsung's upcoming device Galaxy A9 will surface with 4 cameras on its back panels. Even Huawei is releasing it Mate 20 Pro in October which also houses 4 cameras on its body. Probably, Lenovo also has some machine which packs a similar camera set-up and may unveil soon.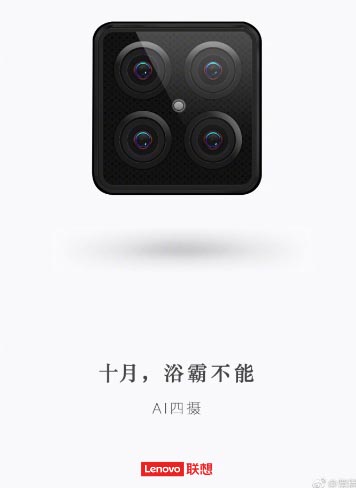 Though Lenovo Teases A 4-Camera Smartphone, it can be just a publicity stunt as well. Everyone remembers how the company boasted of a bezel-less and chinless device which is the Z5. However, when the device marked its entry, it had both bezels and chin. People were quite angry with this misleading game by Lenovo for the marketing stunt.
Interestingly, in the picture above, you can see some writing in Chinese. We tried to translate it and it says In October we may get to see a new device with this 4 camera set-up.  Also, you can see it mentions of AI, which means the camera is going to rely on the feature. AI is now a common attribute on every smartphone camera that has been recently releasing.
So, let's wait and watch whether in October Lenovo brings out a smartphone with 4 cameras or it turns out to be some misleading marketing stunt.