Last few months we have been seeing a lot of hype on the upcoming LG V40. This device is becoming the talk of the town for its Penta camera set-up. Earlier this month V40 received NRR Certification in Korea. Last month some LG V40 live images also surfaced on the web. There were speculations regarding the device that it will pack flagship grade specs. Its true up to some extent and also a bit disappointing. LG V40 Geekbench listing has surfaced up and it reveals a lot of info on the hardware and software. On the Geekbench listing, it goes by the model number LGE LM-V405.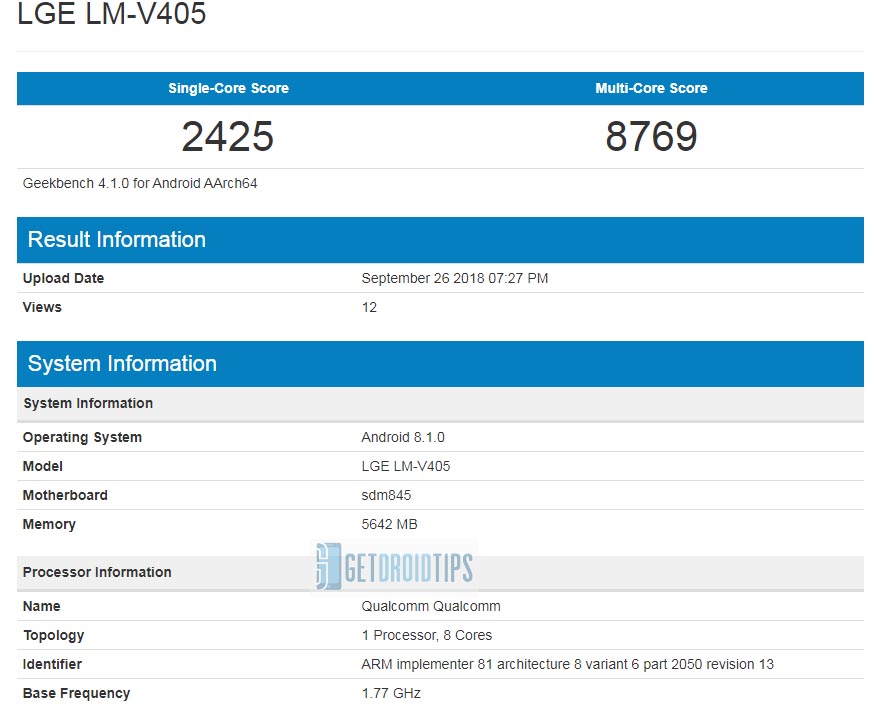 So as you can see, LG V40 will indeed pack flagship level chipset which is the good old Snapdragon 845 SoC. It is an octa-core chipset with 1.77GHz clock speed. Also, the memory looks promising with 6GB RAM. We may expect a base storage of 64 GB or 128 GB. However, the most interesting figure where the question mark arises is its software. According to the LG V40 Geekbench listing, it will run Android 8.1 Oreo out-of-the-box. We are in the phase where stable Android 9.0 Pie is already available. Now, we know about the existence of this device quite a few months ago. So, LG should have provided Android Pie out-of-the-box.
We know how LG is slow in providing updates. So, naturally V40 being a premium flagship, everyone will want to run the latest Android OS Pie. We can only hope LG manages to roll out Android Pie soon after its release. The testing for new system software takes months. So, if at all Pie will roll, LG V40 users may see it in 2019.
LG V40 is a camera-centric device which may pack a set-up of 20MP, 16MP and 13MP lens on the rear. It may be the only device to bring together both super wide-angle and super telephoto lenses on it. Again the front face may house two cameras of 8 MP + 5 MP. The camera set-up could be the selling point of this smartphone.
There is also a teaser of the LG V40 which revealed itself on YouTube. Here is the video for you guys. The device shows off its camera set-up. This teaser also hints the V40 will come in a red color variant.
[su_youtube url=" https://youtu.be/C6rhsBjjeiA"]
So, this is the hype maker LG V40. We think it will be better than its predecessors. There is no lead available on its pricing but we guess it will definitely be around or over $500. Let's look forward to the official announcements regarding this upcoming flagship device.