In this tutorial, we will show you how to install LineageOS 17.1 on Realme 1 based on Android 10. Realme devices belong to the BBK Electronics group, which also houses OnePlus and Oppo and Vivo and iQOO. All these OEMs follow the same USP of offering feature-rich devices at affordable prices. Although Realme isn't yet near the achievements of OnePlus, yet its slowly but surely climbing the ladders of success. Especially in India and other Asian countries, we are seeing its rise in popularity. One of the earlier devices that have made it possible is the Realme 1. Till Android 9.0 Pie, the devices used to run Oppo's ColorOS, but beginning with Android 10, they have introduced their Realme UI.
However, Realme 1 has already received its share of two Android upgrades (Oreo and Pie), hence it isn't slated for the Android 10 or Realme UI update. But when you are running an open-source OS, there is no limit to the opportunities at hand. Developers have already successfully ported an unofficial build of one of the most famous customs ROMs LineageOS. The ROM is based on Android 10 and will give you a taste of near about stock Android 10 experience. So with that said, let's check out what the latest stable build of Android and Lineage OS17.1 has to offer. After that, we will provide complete instructions to install LineageOS 17.1 on Realme 1 based on Android 10.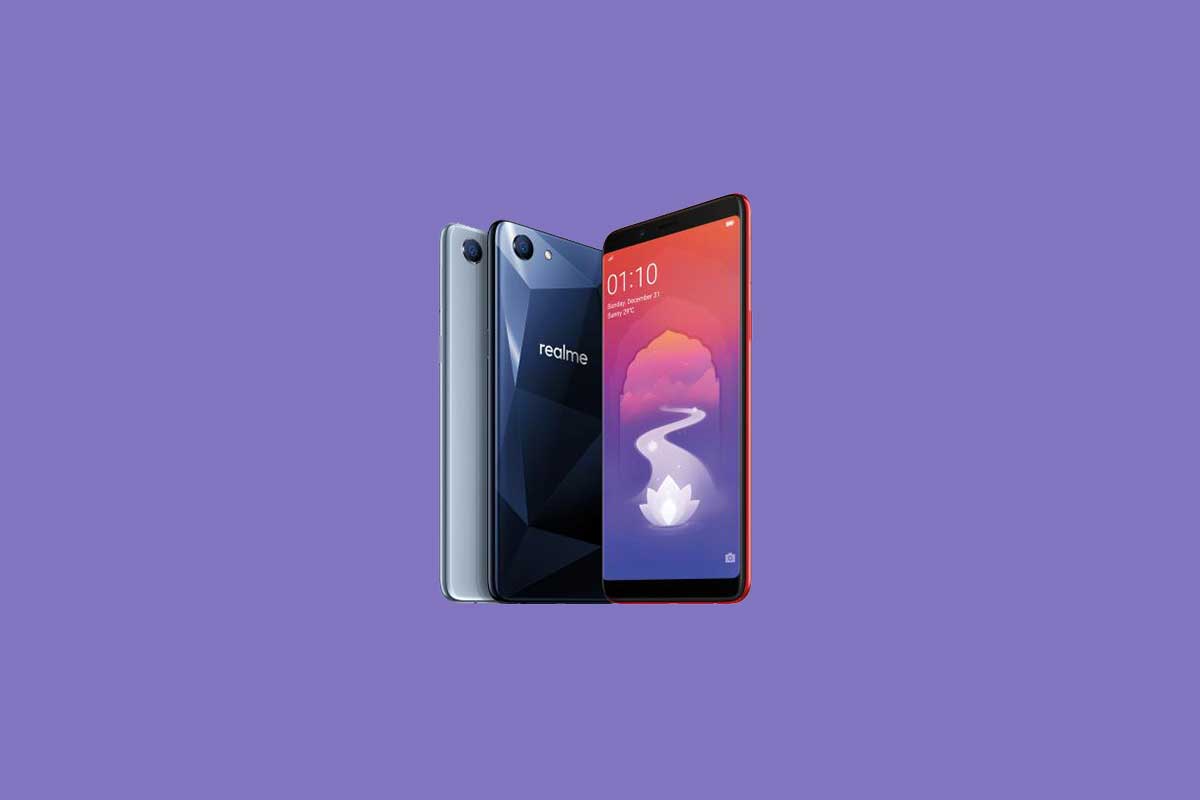 What is LineageOS ROM
Among the oldest and most popular players in the custom ROM domain, the roots of LineageOS goes back to CyanogenMod, the first custom ROM for Android. After the latter's demise, it has very efficiently carried out his 'lineage' in the right direction. It has always managed to provide a feature-rich ROM without compromising on the stability front. Furthermore, although it provided tons of new and interesting features, yet it won't give you the feeling that it is filled with bloatware or unnecessary apps. Here are some of its pretty useful features:
New partial screenshot UI that helps you to take screengrabs of only a particular region of the screen.
New adapted ThemePicker app from AOSP, with tons of new accents, font change, icon shapes (both QuickSettings, and Launcher), and icon resource changes (including the likes of changing the shape of the Wi-Fi/Bluetooth icons).
Use a fingerprint sensor to hide and protect apps within Trebuchet Launcher.
Wi-Fi Display is available once again.
It now supports on-screen fingerprint sensors (FOD).
Support for pop-up and rotating cameras is now also there.
WebView has been updated to Chromium 80.0.3987.132.
The LineageOS 17.1 is based on Android 10. If you are didn't have a taste of this Android build till now, here's what the latest iteration of stable Android has to offer. But before, here is a slight glimpse of how the LineageOS 17.1 on your Realme 1 will look like.
Screenshots
Android 10: What's New
Let's check out some of the new and noteworthy features of Android 10.
Dark Mode
One of the most highly anticipated features has finally made it is over to Android 10. You could now enable system-wide dark mode on your device. Furthermore, there's another pretty handy feature in the form of Override force dark. Baked deep inside the Developer Options, it allows you to force enable dark mode across all apps, even if it isn't officially supported.
New Permissions Request
Up until now, you could either Allow or Disallow any permission. But beginning with Android 10, that's about change. Initially only limited to Location [ermissions, you could now also select the option to Allow only while using the app. As soon as you close or even minimize the app, the said permission will be revoked. Apart from location, plans are to increase it to media files and camera, albeit in the next Android version.
Digital Wellbeing
To help you keep a healthy balance between your personal and digital life, Google has added the Digital Wellbeing to Android 10. One of its many features includes the ability to set up App Timers. Once the said timer expires, you won't be able to use that app for the rest of the day (with exceptions).
Captions
You could now also add captions to any video that even doesn't officially support it. The feature is now present in Android 10.
New Gestures
Taking a page or two out of Apple's book, Silicon Valley giants have added new navigations gestures to Android 10. For example, you could swipe from the left or right edge to go back, swipe diagonally from the bottom left or right to bring up Google Assistant, and so on.
Well, these are just some of the interesting features of Android 10. For the complete list, don't forget to check out our guide on the top 10 Android 10 features and details. Let's now turn our attention towards the installation of LineageOS 17.1 based on Android 10 for your Realme 1.
How to Install LineageoS 17.1 based on Android 10 on Realme 1
To begin with, let us get you acquainted with the list of what's working and what's not in LineageOS 17.1 for your Realme 1 device.
Working Features
1. Boots
2. RIL(Calls,SMS,Data)
3. Wi-Fi
4. Bluetooth
5. Camera
6. Audio
7. Sensors
8. Flash
9. Brightness
10. GPS
11. Gcam (you need to flash Gapps for it)
12. Hotspot
13. USB Tethering
14. DT2W
Bugs
1. SELinux is permissive.
2. Video Encoding issue for some videos/apps.
3. Call Recording is not working (inbuilt one)
Now, some important requirements need to be met by your device. Please go through them very carefully.
Warning
Before we begin with this procedure, I would strongly recommend you to create a backup of your device storage and all your files stored on your device. Moreover, it is advised to follow the steps mentioned in this post very carefully to avoid permanent damage or to brick your device. If anything goes wrong the author or GetDroidTips is not responsible for it.
Prerequisites
The bootloader of your Realme 1 should be unlocked.
Make sure to create a complete backup of your entire Android device. We will also have to wipe the Internal storage, hence create the backup accordingly.
In our testing, only a few versions of Magisk are working. So use the shared one in the download section below only. Working Magisk versions: Original – 20.1 and 20.3 | Phh based – 20.3
Don't update Magisk (you can update the app though).
Use the shared (given below) TWRP only and don't use others (testings are based on the shared TWRP).
Through Mega and Direct Link only the latest build will be shared. All builds with history will be available in Sourceforge.
Download the GApps package to enjoy Google Apps on your device.
With that said, here's the download link for the LineageOS 17.1 for your device.
Download LineageOS 17.1 for Realme 1
ROM OS Version: Android 10
ROM Kernel: Linux 4.x
Firmware Required: C49 (Latest Version)
Based On: LineageOS
Status: Stable
Release Date: 2020-05-31
Download (Contains Magisk, TWRP, and ROM): SourceForge Link | Mega Link | Direct Download
Installation Instructions
Once you downloaded the ROM and Magisk (optional, for root), transfer it to SD Card or USB OTG. Don't transfer to internal memory because we will be wiping it. Similarly, transfer the TWRP Recovery to the platform-tools folder on your PC. Rename the recovery file to twrp (the complete name will hence be twrp.img).
STEP 1: Boot Realme 1 to TWRP Recovery
For that, firstly boot your device to Fastboot/Bootloader mode using the hardware key combinations. Connect your device to PC and head over to the platform-tools folder.
Type in cmd in the folder's address bar and hit Enter. This will open the Command Prompt. Enter the below command to flash the TWRP on your Realme 1:

fastboot flash recovery twrp.img

That's it. TWRP has been successfully installed on your device. Upon the execution of the code, your device should boot to TWRP as well.
STEP 2: Install LineageOS 17.1 (Android 10) via TWRP
Head over to the Wipe section of the TWRP and select the following partitions:  Wipe System, Dalvik Cache, Data, Cache, Internal Storage. Perform a right swipe to wipe them.

Now, if you have placed the ROM in a USB OTG, make sure to mount it via TWRP Mount option. If it is placed in the SD card, no need to do so.
Go to the Install option and select the LineageOS 17.1 ROM file. Perform a right swipe to flash it.
Go back and this time select the GApps package, perform a right swipe to install it as well.
Now if you want to root (optional), install the Magisk ZIP file as well.
Once you have flashed all the files, wipe the Cache and Dalvik Cache as well. That's it. Head over to Reboot and tap on System. Your device will now boot to the latest Android 10.
With this, we conclude the guide on how to install LineageOS 17.1 based on Android 10 on Realme 1. The first boot might take some time, it is completely normal. On that note, if you have any issue with the above-mentioned steps, drop in your queries in the comments section. Do let us your views on the newly installed OS as well. Rounding off, here are some iPhone Tips and Tricks, PC tips and tricks, and Android Tips and Trick that you should check out as well.