This guide will help the players to unlock Lonely Lagoon AX50 Blueprint in Call of Duty: Warzone.
In the latest update of Call of Duty: Warzone, players will get to experience new game content events, new loot items,  and never before seen contract system known as contraband contract system. These contract systems allow for a player to attain weapon blueprints for finding and completing them. These blueprints have become highly sought after rewards in Call of Duty: Warzone ever since they debuted. Players can unlocker newer things and even combine blueprints to discover some really powerful weapons.
The Contraband Contract System, which spawns rarely, involves tasking players with the smooth extraction of a few valuable cargo items. One of these valuable cargo items that get dropped occasionally is a contraband blueprint for the elusive blue sniper rifle "Lonely Lagoon AX50". Out of all the different kinds of blueprints, this one, in particular, is gaining a lot of attention.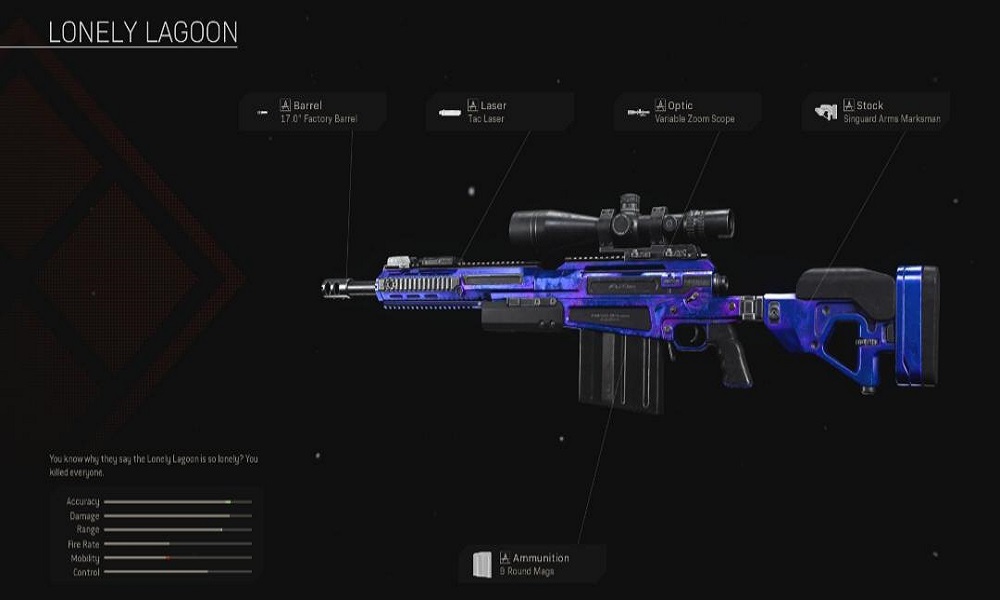 Lonely Lagoon AX50 in Call of Duty: Warzone
The Lonely Lagoon AX50 is a close variant to the original AX-50 Rifle. It gets with it five unique attachments and belongs to the Legendary Rarity Tier, with an interesting blue coating. Here are it's attachment list:
Barrel – 17″ Factory
Stock – Singuard Arms Marksman
Laser – Tac Laser
Optics – Variable Zoom
Ammo – 9 Round Magazines
With these attachments, players will notice a slight decrease in mobility. But stand to gain better firing accuracy and shooting range to deal some serious damage against opponents.
In order for players to get their hands on the Lonely Lagoon AX50 Blueprint, we've put together this guide that will cover where to locate the blueprint and how to find it.
How to Unlock Lonely Lagoon AX50 Blueprint in Call of Duty: Warzone
Season 4 in Call of Duty: Warzone is all about the Contraband Contract Systems.  The first step towards unlocking the lonely lagoon AX50 blueprint involves completing these contract systems. Interested players must join a Warzone game, single or as a team, and then proceed to find these contracts to participate in them.
Once players have successfully completed a contract, they will notice a rare contract on their map. As soon as a contract is complete, it will trigger the contraband contract to spawn. To save time, players can opt for any of the following:
These are easy to make contracts that won't take up too much time either. The more contracts that are done, the more contraband will spawn. Players need to keep an eye out for a blue briefcase that will spawn as this is the key to getting the blueprint for the Lonely Lagoon AX50.
Once players have found the blue briefcase which has 'CONTRABAND' written across it, they will receive a drop-off location on the map. Players then need to make their way to this location and find the blue circle. Similar to Plunder, once players make it into this glowing circle, it will trigger the contraband helicopter. The briefcase needs to be attached to the rope that will be thrown from this helicopter in exchange for the sniper blueprint, and once the helicopter leaves, players will receive the blueprint along with the money.
Apart from receiving the blueprint for the Lonely Lagoon AX50, players will also receive lots of money. Regardless of which players complete the contract or missions, everyone in the team will get the blueprint rewards. Players need to be cautious when heading to the drop-off location, as the contraband contract can be lost if the player who found it does not make it there all the way. This is why working as a team is advisable for the contraband contract systems.
That concludes our guide for how to unlock Lonely Lagoon AX50 Blueprint in Call of Duty: Warzone. Remember, to be stealthy and exercise caution when entering the blue circle. We hope this helps. Check out our Windows Guides, Gaming Guides, Social Media Guides, iPhone Guides, and Android Guides for more outstanding content. Subscribe to our YouTube Channel for participating in our $150 giveaway. In case you have any queries, doubts, or feedback, do comment down below with your name along with e-mail ID, and we will get back shortly. Good Luck