When the use of smartphones on a daily basis increased, the data saved on them increased too. Users today save important data on their smartphones, and losing them can be a very big issue. The Apple smartphones have a very effective and easy way to make this backup and restore it. But when it comes to Android, they still haven't found out a way which is reliable enough. Although there are many tools and software intended to create a backup, nothing really helps in creating a complete back up of data on your Android device. The one reliable solution to make a complete back up is by using the TWRP custom recovery Nandroid backup. In this guide, you will learn to make a complete Nandroid backup on Google Pixel 2 and Pixel 2 XL.
Android has a big developer community who have contributed greatly to a lot of devices. TWRP recovery is considered to be one of the best contributions done by developers of Android. The TWRP is a custom recovery which comes with a lot of advantages over the stock recovery. This custom recovery is used by a lot of users with different devices around the globe. They provide a lot of services like Nandrid back up, flashing firmware etc. Unlike the stock recovery, they have a better interface with touchscreen enabled. Given below are the steps to make a Nandroid backup on Google Pixel 2 and Pixel 2 XL using TWRP recovery.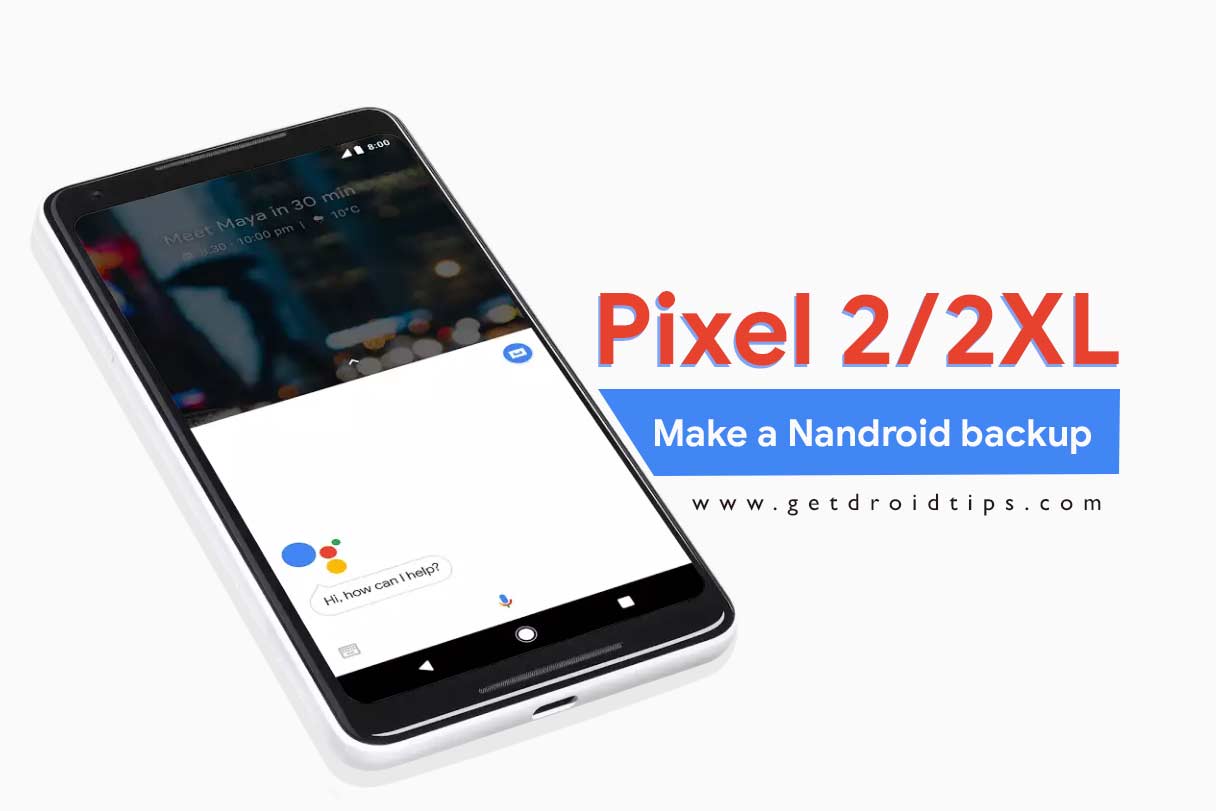 Steps to make a Nandroid backup on Google Pixel 2 and Pixel 2 XL
Power off the device
Press and hold power button and volume down button to boot into fastboot mode
Highlight recovery mode using volume button and press the power button to select it
When the recovery splash screen appears press and hold power button and press volume up button
Tap on backup
Select the partitions of which you need to create a backup
Swipe the arrow to start backup process
When the process is completed go back to TWRP recovery screen
Tap on reboot
I hope this guide was useful in understanding how to make a Nandroid backup on Google Pixel 2 and Pixel 2 XL. If any queries or feedback, please leave a comment below.
More Related Post
Find More Pixel 2/2XL Tips and Tricks from the link given below. Take full advantage of your phone to make it has your electronic robot.
[su_button url="https://www.getdroidtips.com/tag/pixel-2-tips/" target="blank" background="#31528e" color="#ffffff" size="6" center="yes" icon="icon: cloud-download" text_shadow="0px 0px 0px #fa6512"]Check Out Pixel 2 Tips[/su_button]