Processors are the core of the functionality of any smartphone. It is literally the brain of the device regardless of whether it's a flagship or a budget entry. Lately, the chipsets are concentrating more on AI and gaming performance. MediaTek's latest offering Helio P70 also joins the bandwagon with its dedicated ultra-smart Edge AI and responsive gaming experience. The company has officially revealed its latest upgrade P70 over the Helio P60.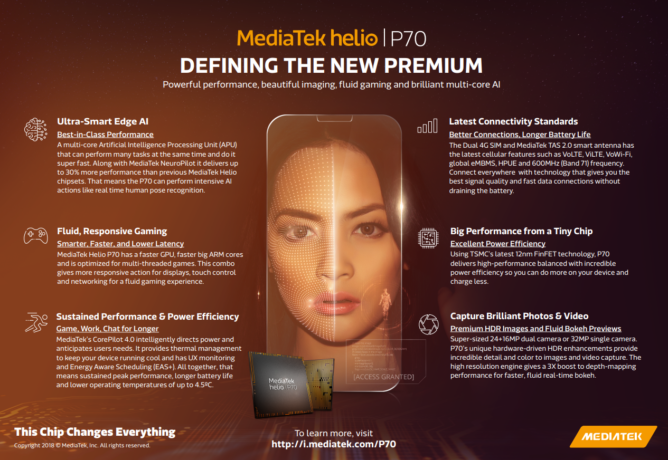 Helio P70 has a better clock speed which makes it an efficient upgrade over its precursor the Helio P60. P70 uses the TSMC's 12nm FinFet node with eight cores. There are four A73 cores of 2.1 GHz and another four A53 cores of 2.0 GHz. As mentioned above, it has a multicore APU of 5.25MHz dedicated for AI. It also packs a Mali-G72 MP3 GPU that runs at a 900MHz clock speed. It is said to bring around 13% improvement over the GPU in the Helio P60.
The new Helio P70 comes with WorldMode modem with support for 4G LTE at up to 300Mb/s. Needless to say, it brings dual-sim support as well. The processor also supports brings support for HDR, PDAF, multi-frame noise reduction, and MEMA 3DNR.
It comes with better thermal management to keep the device cool while efficiently carrying out tasks. It brings better UX monitoring and Energy Aware Scheduling(EAS) to ensure longer battery life and peak performance.
We usually see the P60 running on the mid-range smartphones. The Helio P70 comes being an upgrade, we believe to see it running on the upper mid-range smartphones. 2018 is almost over, so mostly smartphones in 2019 will incorporate the P70 chipset. It definitely looks promising. As of now, the processor is under production. We may expect to see some smartphones sporting the Helio P70 in the December of 2018 itself. It looks like a good upgrade and will deliver better than Helio P60.