Phones fit in your palms and yet can drive a spaceship to the moon which is something that explains how powerful smartphones have become. However, they have their share of problems such as the Elephone restarting and freezing problem that we are talking about here in this blog post. Within this issue, the phone could escape into a random reboot when something triggers it like excessive apps or lack of resources or if the processor and other components are overworked. On the other hand, the freezing problem is pretty much related to the apps, storage, and cache files where each needs special attention to fix them. If your Elephone phone is going through this rough restarting and freezing problem, here's everything you need to know and do.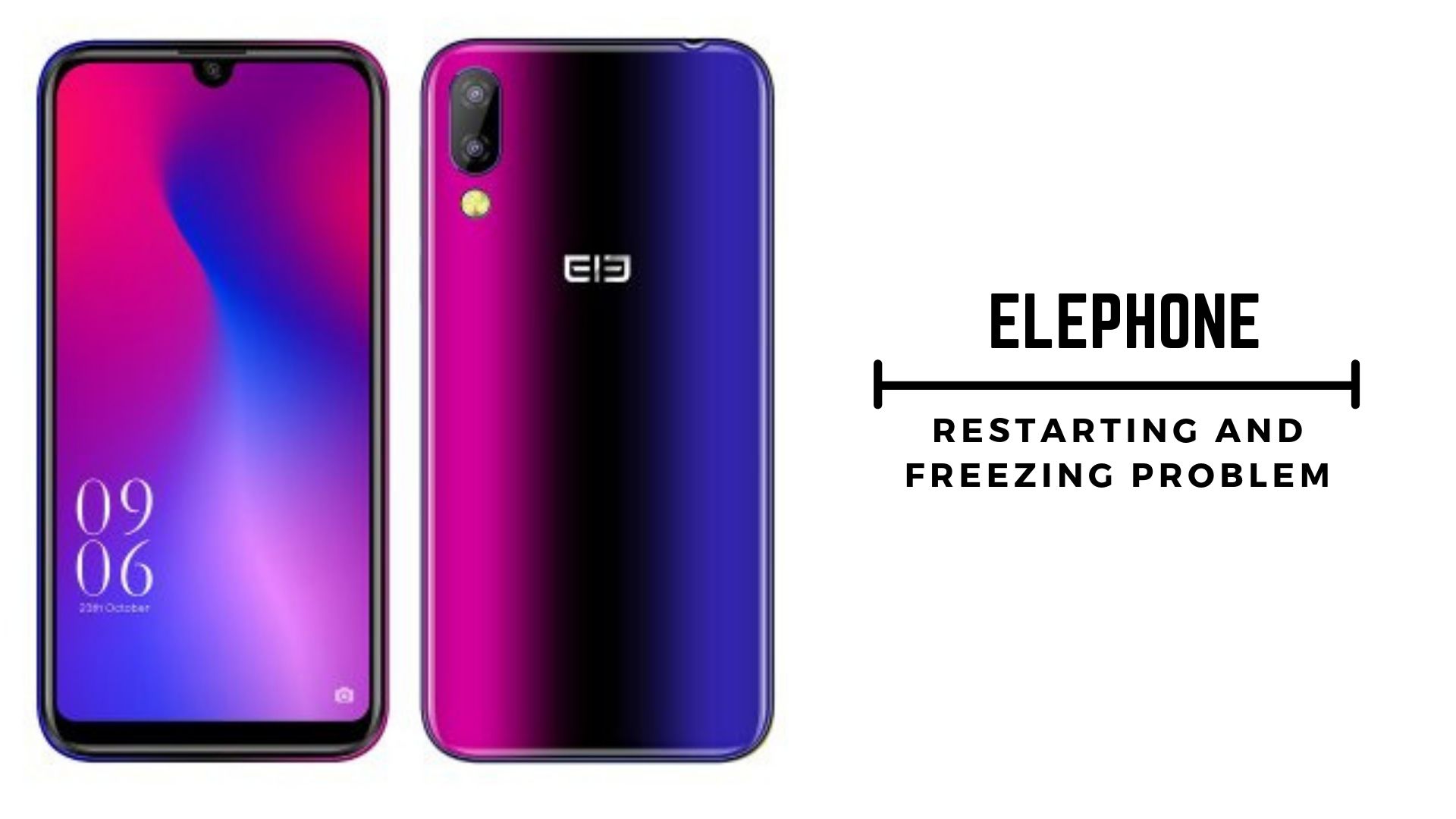 How To Fix Elephone Restarting And Freezing Problem?
Reboot the device
It's a bit ironic how I am asking you to reboot the device when the fact is, it is already rebooting itself abruptly. But you should know that rebooting the device can make a lot of difference. First up, restarting problem could be because of a lack of resources, storage, corrupted cache files, and other reasons were restarting the phone comes as a temporary solution.
On the other hand, if we are talking about the latter part of restarting and freezing problem, it is definitely caused due to lack of storage or corrupted cache or even malware or bugs. In case you are able to reboot the device using a soft reboot, you are good to go. However, if the screen is frozen which literally means you cannot turn off the device, you can practice forced reboot wherein you press volume up/down and power button together to initiate turn off procedure which could take a while since different OEMs have a different procedure with a combination of three hardware buttons that I listed earlier.
Force Stop all the running apps
If you have guessed the time it takes the phone to reboot consecutively or if the phone's screen freezes after you run a specific app or apps in combination, try force stopping the running apps. This will clear the cache files temporarily relieving the system from excessive stress and prevents most of the issues. For this, you need to navigate to the Settings >> Apps >> Running and tap on each app to 'Force Stop' it.
Stop all the unwanted services
Now that you have stopped all the running apps or say most of them by referring the last method, here's what you are going to do next. Drag down the notification panel and check if the Wi-Fi, location, Bluetooth, and other services are disabled when not needed or not. If the location is turned ON even when you didn't need it, turn it off and make it a practice to only enable it when needed and disable these connectivity services when done with work.
Clear app level cache files
Cache files are build up when you access any app or service. These files are used to retrieve when the user demands that particular app again thereby reducing the overheads. This ensures that the apps run faster and smoother. However, cache files are vulnerable to bugs and viruses and can easily get corrupted due to one or another issue. This is where the problems such as restarting and freezing problem, overheating problem, battery draining problems and a bunch of other issues arose.
For this, you need to get rid of app-level cache for which, here's the procedure.
Firstly, tap on the Settings app and navigate to 'Apps'.
Next is to tap on 'Downloaded' and select an app.
Here, you'll see a button to clear 'app cache' so click on it.
Back up a bit towards the 'Downloaded' list and repeat the same procedure for all the apps that you want to get rid of cache files from.
Delete Storage cache
For this, you need to visit the Storage section within the Settings app. Now, you need to scroll to find 'Cache Memory' and tap on it. This will prompt to either delete cache files or not so select, yes and that will do the job.
Wipe cache partition
This is the third section where you'll find traces of cache files. For this, you will have to access the recovery mode which is accessible only when you turn off the device and press power plus volume up buttons to restart the device. Here, you need to tap on 'wipe cache partition' and this must satisfy the method as said.
Check out for deficiency in storage
Apart from cache files, storage can dictate the performance and the ability to deflect any bugs as well. The thing is simple, apps use internal storage and RAM among other resources which means you need to keep the internal storage free as much as possible. You shouldn't fill it up with data since you can already use cloud services or even memory cards to extend the storage while keeping the internal storage free. This will surely improve the performance of the device drastically.
Scan the external microSD card
If you have a microSD card installed in your device, use an antivirus program to scan if it has been corrupted or bugged or has attracted viruses or any other unwanted intruders. Also, if your phone's screen is freezing too much when a microSD card is installed, try removing it and use the device for a while to observe if there's any difference or not and take appropriate steps according to that such as stop using the microSD or any other memory card if the phone's screen was freezing when it was installed as opposed to when it wasn't.
Uninstall apps that you don't need
Apps can be used to do things that would otherwise require a lot of efforts such as making a transaction to a friend or anyone else via the app rather than walking into the bank and making the transaction. However, since the Google Play Store has millions of apps, people tend to install some apps that they might never use or have used once and that's all. Unwanted apps installed on your device are still consuming storage and other resources which actually causes problems when you need resources for other apps in use. This is why I recommend uninstalling the apps that you don't need and here's how you can do it.
Firstly, go to Settings >> Apps.
Check out the Downloaded section where a list of apps you downloaded will appear.
Next up is to select any app that you don't want, tap on it and press 'Uninstall'.
Now, repeat the same procedure for all the apps that you don't want and this must take care of restarting and freezing problem without any further ado.
Update all the apps installed
It is not a secret that you should always keep the apps installed on your device updated to the latest available update. You can always let the system automatically update the apps when Wi-Fi is available or you can do it manually. This needs to be done because outdated apps are prone to issues such as exploitation of bugs or they can be infected with malware or virus among other unwanted foreign agents that could result in various issues such as the Elephone restarting and freezing problem. Updating the apps will strengthen its resistance against intruders while providing a bunch of new features and UI changes that will make the system run faster than earlier for sure.
Upgrade to the latest Android OS
If you know why updating apps is crucial, the same rule applies on Android OS which is a major update and might not come your way more than once to twice in the lifetime of your Android device. You need to keep the system updated by upgrading to the latest OS or if your phone is not eligible for it, check if you have any security updates. You can also switch to a custom ROM that must take care of the constant updates on your phone.
Perform a restore factory
This is the mother-of-all-fixes. This particular method should work by fixing any kind of software-related issues on your device without any glitches. Here's how you can perform a restore factory on your Elephone smartphone.
First up is to turn off the device using the power button and select 'Power Off' from the dialog box that appears on the screen.
Now, press power plus volume up button together and hold it for a few seconds until the phone vibrates.
You can release the buttons when you see an Android logo on the screen.
Next, you'll need the power button to select and volume rockers to scroll since touchscreen doesn't work here.
You need to retreat to the option that says "wipe data/factory reset" from the menu and then proceed to "yes — delete all user data".
This will take a minute after which, the system will prompt you to reboot the device and set it up again.
Seek help
This is something I recommend as a last resort if nothing in this explicit guide on how to fix restarting and freezing problem works in your favor. You need to visit an authorized or third-party service center where the difference is the service charges are higher at the former while the latter does it at a lower service charge but voids the warranty on the device for sure. Hopefully, you'll find the solution to the problem. Tell us if any of the aforementioned methods helped in your favor or not.