Minecraft's dungeon crawler spinoff, Minecraft Dungeons, has been gaining popularity at a fast rate among players in the video game community. Developed by Mojang Studios and Double Eleven and published by the Xbox Game Studios. The game is available for the PlayStation 4, Microsoft Windows, Nintendo Switch, and Xbox One in May 2020. Although the game's rather short story mode received some criticism, it's received much praise for its charming simplicity, enchanting visuals, beautiful music, and engaging gameplay. Gamers across the globe are finding themselves involved deeply in the game, battling hordes of evil enemies and unlocking new treasures every day.
Minecraft Dungeons offers its players a variety of powerful weapons, exciting items, and gear. Still, does one's thirst for more power ever get quenched in a game like this? Thankfully, the developers kept this in mind. So they introduced the system of enchantments in the game. If you possess enchanted gear, battling all those throngs of violent mobs in the game becomes so much simpler and exciting. There has been a specific query going around among players, though. Do these enchantments actually stack in Minecraft Dungeons? Well, we've got a brand new guide to help you get the answer to that very question!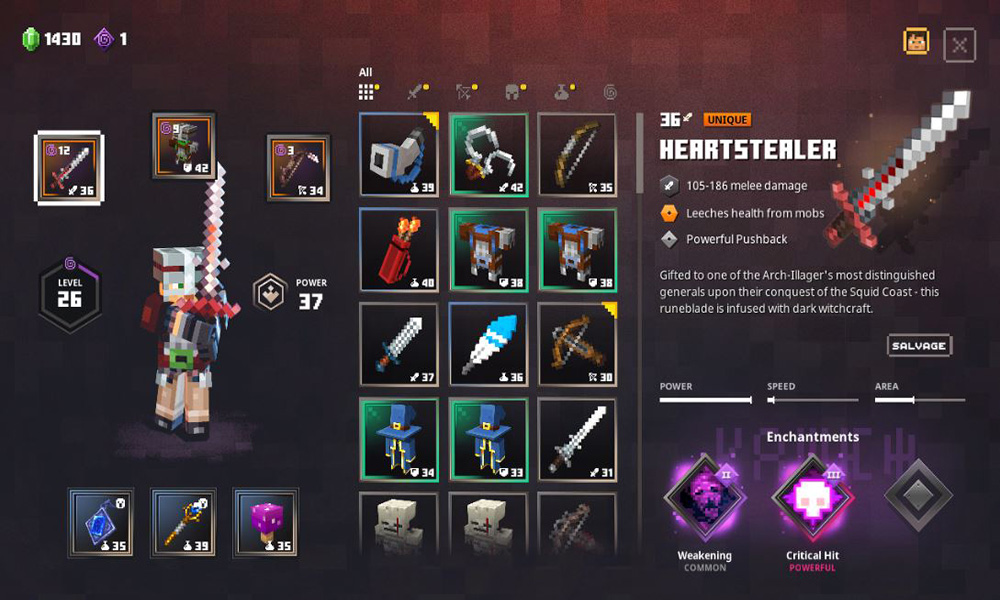 Do enchantments stack in Minecraft Dungeons?
Long story short, certain enchantments indeed do stack in Minecraft Dungeons. The game offers you a lot of options, considering a large number of various weapons and armor available. Each of your weapons ranged weapons and armor can hold up to a maximum of three enchantments in the game. Of course, you can choose to have a completely arbitrary collection of various enchantments. But that's not what a skilled player does, isn't it? You should try to create more thoughtful and apt mixes regarding enchantments. You will be able to stack more than one enchantment in the game – three per item, to be precise. This will help you diversify and create your own unique style of playing.
Possessing multiple enchantments producing additional fire damage or leeching enemies' health could prove to be extremely useful. A single enchantment can leech up to 22 percent of a foe's health. If you manage to stack a good number of these enchantments, you could get regularly healed when an attacking mob strikes you. It is also advisable to keep some additional loot magic, which will make items more abundant. It is interesting to know that there exists rarity enhancing magic for items as well! Indeed, rare items happen to be among the best equipment in the game. They especially come in handy at the highest difficulty level in the game, Apocalypse. When it comes to farming for items, making item drop enchantments stack is a great option.
The game features a number of secrets and puzzles that unlock exciting treasures. So, make sure to play and explore as thoroughly as you can. This guide was to help the players of Minecraft Dungeons understand the stacking of Enchantments in the game. After reading our guide, they will have a transparent approach to enchantments. We hope this guide helped you. If you think the same, go and check out our best and latest iPhone Tips and Tricks, PC tips and tricks, Games and Android Tips, and Tricks. Moreover, you may also subscribe to our very own YouTube Channel and participate in the $150 giveaway contest. However, if you have any queries or feedback, do comment down below with your name and e-mail ID. Happy gaming!