The brand new hack-and-slash action dungeon-crawler game by Mojang, Minecraft Dungeons, offers its players a wide variety of rewards for perseverance and intelligent thinking. Unlike many other contemporary games, it emphasizes one's inquisitiveness and vigilance. The game has also been praised for its graphics and music. It takes a vintage approach to roleplaying gameplay, laying heavy emphasis on the gear grind as players move up progressively difficult tiers swarming with deadly enemies.
In the game, you will have to engage in battle against violent mobs and rise up against the terrifying forces of the evil Arch-Illager. However, unlike other games in the genre such as Gauntlet or Diablo, Minecraft Dungeons utilizes gear that's strengthened by Enchantments. A question naturally arises in one's mind: after using Enchantments on a piece of gear, is it possible at all to get them back? If you had been wondering that as well, you've ended up in just the right place! Here is our guide to salvage gear and reclaim Enchantment points in Minecraft Dungeons.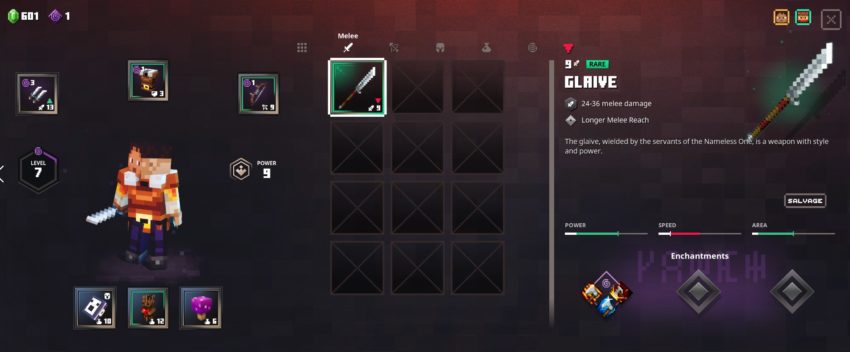 How to Reclaim Enchantment Points in Minecraft Dungeons?
As we mentioned, Minecraft Dungeons works in a rather different manner than other games in the same genre. Gear plays a very important role in the game. The gear that you have equipped directly determines your strength. But once you move beyond the base level, different pieces of gear are also associated with secondary abilities. You will be able to upgrade these abilities through a concept known as Enchantment Points. The game gives you one Enchantment Point for every time you level up by gaining experience points.
As you progress through the game, however, it's just a matter of time before you come across new and more interesting pieces of equipment that you find more convenient, or just more unique and appealing. You might even find the same piece of equipment with a secondary ability that moves it higher up your list of preferences. Undoubtedly, this will make you want to spend Enchantment Points to level up that particular piece of gear. But if you happen to have run out of Enchantment Points, what are your options? Will you have to keep leveling up your character to get them tediously?
How to Salvage Gear?
Fortunately, the answer is no. It is very much possible to reclaim your Enchantment Points. For that, you must remove your old piece of Enchanted gear and press the button that corresponds to "Salvage." Once you do this, you will regain all your Enchantment Points. You will receive a neat little Emerald bonus as well. Unfortunately, that particular piece of equipment will be gone forever. So just bear this in mind before salvaging a Unique item that you're particularly fond of. If that's a price you are willing to pay, then go ahead.
Of course, as you level up more in the game, you should possess Enchantment Points to thoroughly enchant another piece of equipment without having to salvage one. But still, this technique will prove useful during the early stages of the game.
This guide was to help the players of Minecraft Dungeons to Salvage Gears and reclaim Enchantment points. After reading our guide, they will be able to do so. We hope you find our guide helpful to salvaging gear and reclaiming Enchantment Points in Minecraft Dungeons. If you liked this guide, go and check out our latest iPhone Tips and Tricks, PC tips and tricks, Games and Android Tips, and Tricks. Moreover, you may also subscribe to our very own YouTube Channel and participate in the $150 giveaway contest. However, if you have any queries or feedback, do comment down below with your name and e-mail ID. Happy gaming!