After the phenomenal success of the original Minecraft game, it's thrilling dungeon crawler spin-off – Minecraft Dungeons – has been steadily winning the hearts of players all over the world. The game is available for the PlayStation 4, Microsoft Windows, Xbox One, and Nintendo Switch just about a week ago. The game has received overall mixed reviews, with some aspects of the campaign being criticized.
However, it has also been acclaimed for its beautiful graphics, powerful soundtrack, and thought-provoking puzzles. The efforts put in by Mojang Studios and Double Eleven to present a worthwhile and quality product are commendable. They have won them a loyal fan base now. All across the globe, players are having a wonderful experience going up against bloodthirsty mobs and hunting down valuables every day.
Unfortunately, unlike the vintage Minecraft game, Mojang Studios' Minecraft Dungeons does not offer players the option of creating and customizing your character in a free manner. That said, it does allow you to get your hands on a number of different skins for your character. Going through the list, you must definitely have noticed that the six skins right at the bottom of the list are unavailable, and marked as DLC. We know many people have been curious to know how to obtain these particular DLC skins in Minecraft Dungeons. Let's find out how to do so in our guide right below.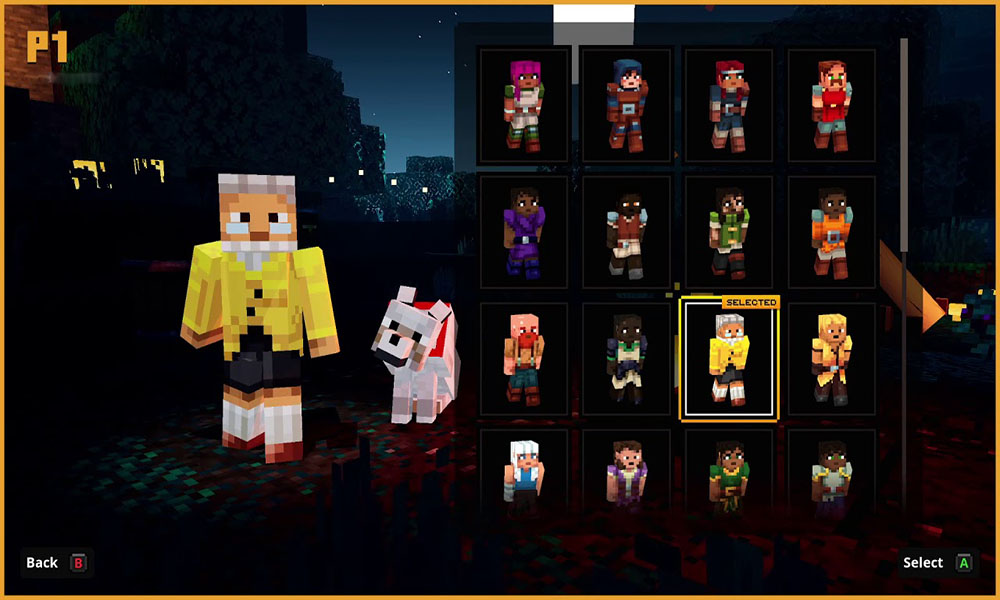 How to Unlock DLC Skins in Minecraft Dungeons?
Of the six DLC skins in Minecraft Dungeons that we mentioned above, two are presently available. Mojang is yet to release the other four. The two available skins are a red-eyed crook in a blue hood and a wizened old male adventurer. In order to unlock both of these DLC skins, you must purchase the Hero Pass DLC or Hero Edition of Minecraft Dungeons.
As of now, there is no information regarding the availability of the other four skins. They could be free for all, or premium DLC content. Mojang could also release them individually or as an integral part of a larger bundle. Mojang has confirmed that there are at least two expansions for Minecraft Dungeons due for release. Therefore, we feel that it's likely that two of the skins will be present with each of the upcoming DLC packs. In that case, it's fair to extrapolate that the other four skins will also become available through the Hero pass. This will only happen in the future, though.
Players have been curiously speculating what exactly the unreleased skins are. At this point, that question is rather difficult to answer. A close examination reveals what looks like a man and woman in barbaric-looking attire. You can clearly see that the man has a gigantic beard and the woman is apparently sporting war paint on her face. All this is mere speculation: we'll have to wait for the developers to release these skins to find out officially.
This guide's motive is to help the players of Minecraft Dungeons who want to unlock DLC Skins. After following our guide, they will understand everything they need to know. Moreover, we will be updating this section regularly when we get more details. Until then, we hope you have a great time playing Minecraft Dungeons. We hope this guide helped you. If you think the same, then go and check out our latest iPhone Tips and Tricks, PC tips and tricks, Games and Android Tips, and Tricks. Moreover, you may also subscribe to our very own YouTube Channel and participate in the $150 giveaway contest. However, if you have any queries or feedback, do comment down below with your name and e-mail ID. Thank You!