The latest Creeping Winter DLC in Minecraft Dungeons has introduced a wealth of new material for fans to relish. This includes all-new daily quests, three exciting new levels, merchants you can rescue to expand your home base, and much more. Similar to the previous DLC (Jungle Awakens), it also features a new secret level for you to unlock.
However, this level is comparatively tougher to gain access to. The new secret level in question is titled the "Lost Settlement." In our latest guide here, we will show you how to unlock this level in the Creeping Winter DLC in Minecraft Dungeons.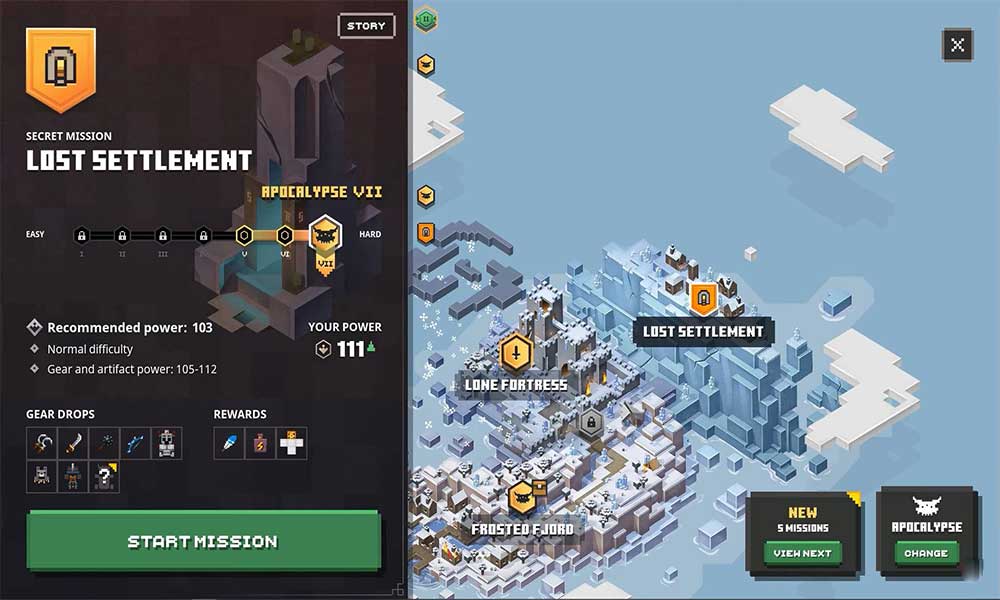 Unlock the New secret Level in Minecraft Dungeons' Creeping Winter DLC
To gain access to the new secret level in Minecraft Dungeons' Creeping Winter DLC, called the Lost Settlement, you must have access to Creeping Winter and start playing the first level. After entering the Frozen Fjord, you must go along a particular path and successfully solve some puzzles to unlock the level in question. This level features some exclusive loot for you to acquire, so unlocking it is definitely worth the hard work.
Similar to other secret levels in Minecraft Dungeons, the Lost Settlement does not turn up all the time. Thus, you might have to play through the Frozen Fjord many times to unlock this secret level. Fortunately, there are some ways of speeding up this procedure. Firstly, you simply need to go through the level normally. It is your choice whether you want to battle against every enemy you see, acquiring chests containing loot, or to simply give your foes the slip.
You will then reach a cave covered in ice. At the end of this cave, the path you are following will split into two. You will have to move away from the quest marker in this case. In case the Lost Settlement has spawned, you will come across a doorway at the other end of this cave. Go through it, and you will find yourself outdoors in a region with a huge pool of water in the middle. Keep following the path downwards until you come across a pump. Interact with it to drain the pool; this will give you access to new areas.
Finding the Lost Settlement
You will encounter come of the new foes introduced in Creeping Winter. Take them out, and you will see another gate open. Go across it and reach the next area. Here, you must step onto the huge rocky platform there and hit the button that turns up below it. The water level in the place will go down, and you will gain access to the lower deck of a boat there. This is where you will find the secret level; collect it in order to unlock the Lost Settlement finally.
That is it for now. We hope our guide helps you successfully unlock the secret level in Minecraft Dungeons' Creeping Winter DLC. Check out our Windows Guides, Gaming Guides, Social Media Guides, iPhone, and Android Guides to find out more. However, if there are any queries or feedback, comment below with your name & email ID. We will try to reply soon. Moreover, subscribe to our YouTube Channel in order to watch awesome videos on gaming and smartphone tips and tricks. Thank you!