The Final Fantasy 7 Remake has proved to be highly popular in the market, thanks to the developers carefully heeding fans' demands and not only improving upon certain loopholes in the original but introducing several exciting new features as well – the hallmark of a quality remake. One of these is the Bladed Staff – a weapon belonging to Aerith that is very easy to miss if you're not vigilant. Worry not – for we're here to help you obtain it.
So the players of The Final Fantasy 7 remake, are a bit confused on obtaining this weapon of Aerith. So we decided to bring up a guide that will help the players to do so. Now, if you are one of them who is unable to obtain the Missable Bladed Staff weapon, look no further. You have landed on the right page. So, without any further ado, let's get started.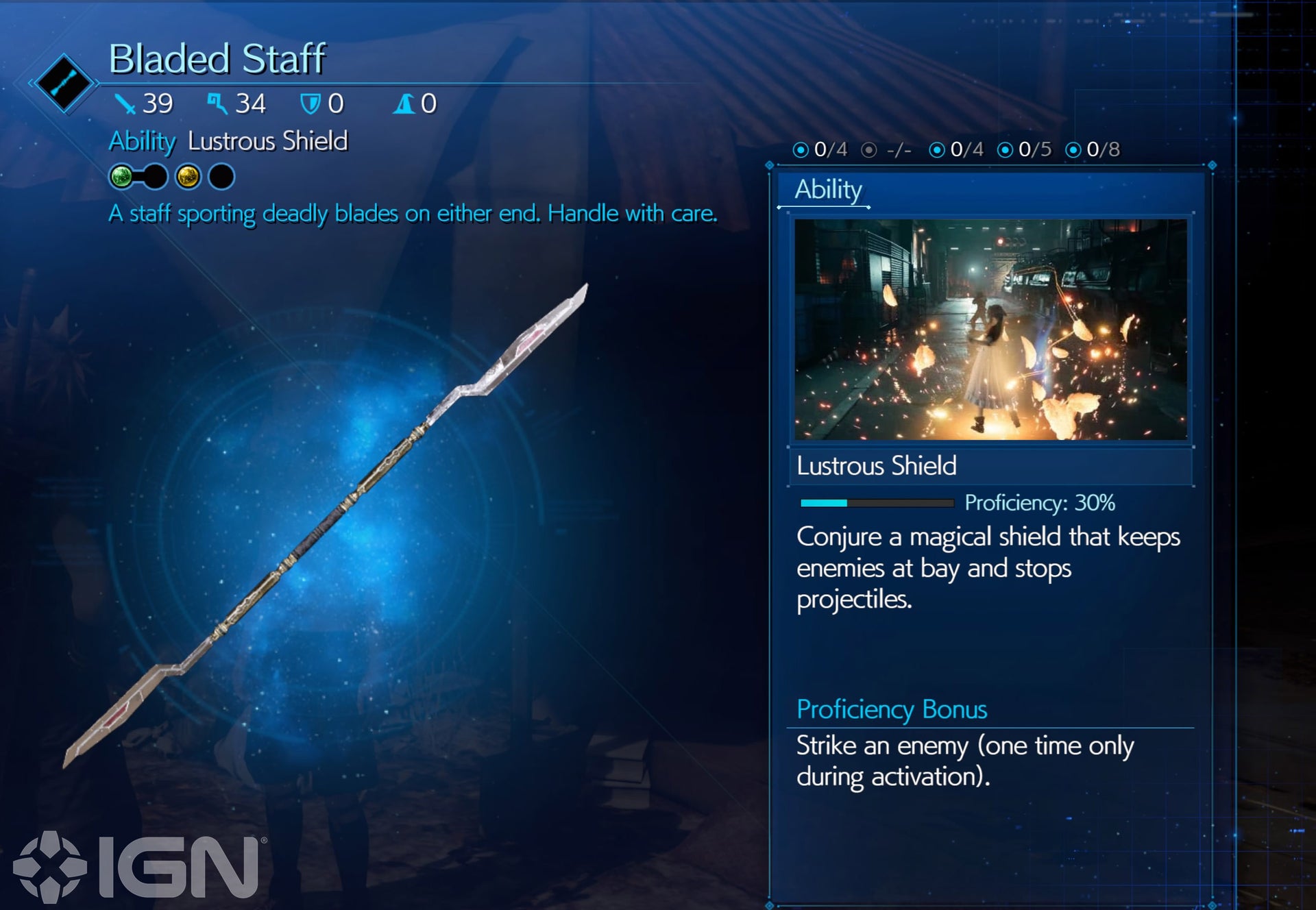 The Bladed Staff: An Intro
As mentioned above, the Bladed Staff is a weapon designed for Aerith in the game. The most important feature we must mention is its incomparable feature – the Lustrous Shield – that allows Aerith to hold her ground on the Arcane Ward more efficiently, and thus enhances her performance a whole lot. Along with this, the Bladed Staff's weapon upgrade cores put significant emphasis on Crit and Luck, allowing you to boost up Aerith's Luck as much as possible and get the most out of the critical hits this Staff can inflict upon your enemies.
Obtaining the Bladed Staff
Now that we're familiar with the Bladed Staff let's see how you can get your hands on it. Like we've already mentioned, this weapon is very easy to go unnoticed unless you make careful Assessment of every foe your encounter. There really is only one way to obtain this Staff – by stealing it from Eligor, the final boss of Chapter 11 – Haunted.
Just after the main scenario, "Clear the Way," you'll find yourself face to face with Eligor. He is the chariot-riding ghost boss who wields the staff you yearn to possess, he is located in the Train Graveyard, Old Sector 7 Station – Switchyard (Northern Area). You'll know you need to be prepared when you spot the vending machine and bench there. But first, you must equip the Steal Materia to a character in your party.
Obtaining the Steal Materia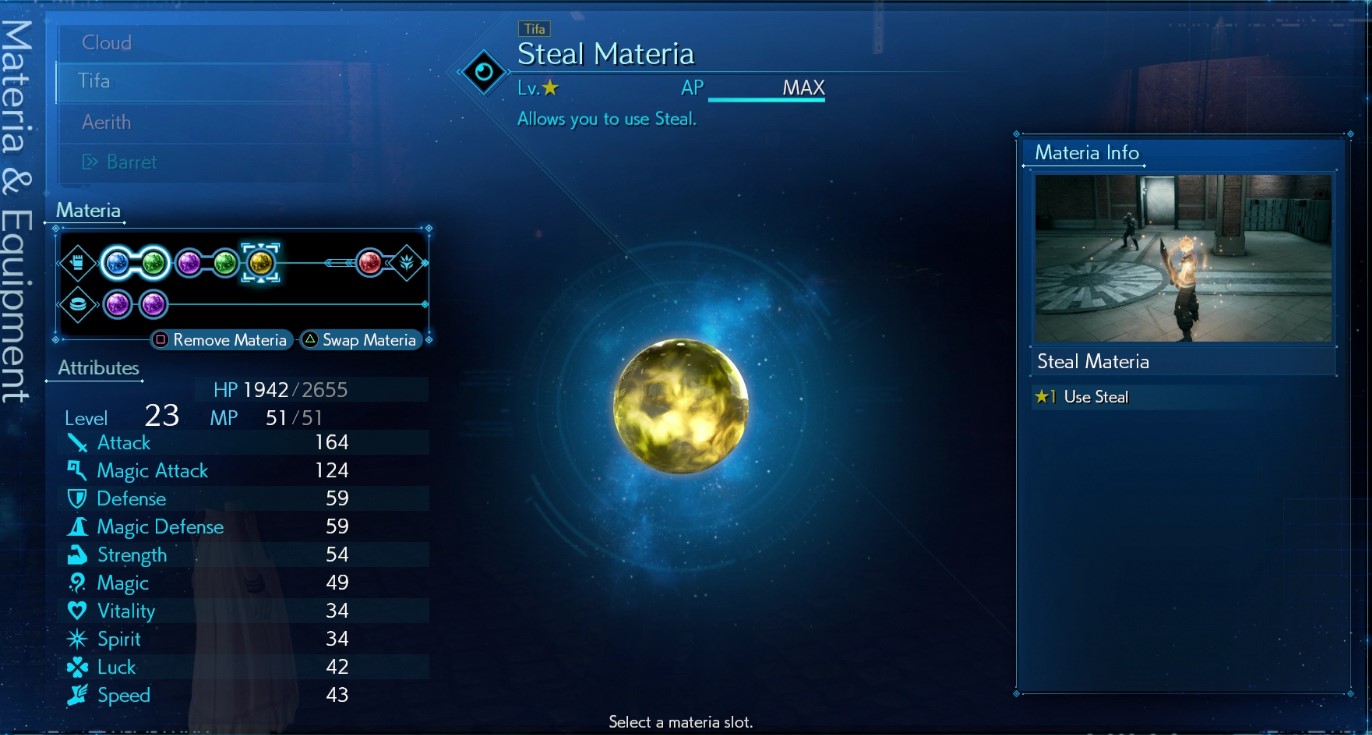 By Chapter 9, you should have unlocked the Steal Materia by finishing Chadley's Battle Intel Report 07 and purchasing the Steal Materia from him. In order to finish this Report, you'll have to exploit the unique weaknesses of 15 different types of foes, which is easy enough to achieve before Chapter 8
We recommend equipping Tifa with the Steal Materia because the Steal action needs ATB, and Tifa has three great strengths that make her the ideal candidate for this. One, her unique ability Triangle, which enhances ATB and allows her to unleash abilities swiftly, and with greater frequency. Two, her incredible Speed, which enables ATB to charge really fast. And three, her appreciably high Luck, which provides greater chances for your Steal move to be successful. As you can see, Tifa is the character who fits this bill really well, as a character with strong Speed and Luck to enhance your chances of grabbing the Staff.
After initiating the battle with Eligor, all you need to do is charge up ATB with Tifa and use Steal on it until you obtain it. It may take a few attempts, but rest assured, it'll happen if you are persistent. When it happens, you will be notified clearly on the screen. Congratulations on your achievement!
As a bonus, here's a list of a few other elusive weapons you might want to keep an eye out for. You really would be proud to have all of them in your arsenal, now, wouldn't you?
Arcane Scepter – Chapter 9
Wrecking Ball – Chapter 14
Purple Pain – Chapter 16
EKG Cannon – Chapter 16
Well, that should be all, good luck stealing the super savvy Bladed Staff. Rule of thumb: Steal from every boss, because who does not steal from a boss in an RPG?
Wrap-UP
This guide was to help the players of Final Fantasy 7 Remake, who were finding it difficult to obtain the Bladed Staff. After reading our guide, they will be able to obtain it soon.  We hope this guide helped you. If you have any queries or feedback, feel free to comment down below with your Name and E-mail ID. Likewise, check out our iPhone Tips and Tricks, PC tips and tricks, and Android Tips and Tricks for more such tips and tricks. We urge you to participate in the $100 giveaway by subscribing to our YouTube Channel. That's all for now. Happy gaming, amigos!