In one place, the smartphone category is every now and then, added with new devices, on the other hand, the Android tablet market is struggling to thrive. Though there are major players like Huawei, Samsung, Xiaomi, etc. trying to revive the tablet industry, nobody seems pretty intrusted in them, and more or less you can blame the Apple iPad for being so good, and also very popular in the tablet market. Whatever, be the case, at least Samsung is pretty good with the update plans for its tablets and often rolls out the latest patches and firmware updates to them. However, that will not be the case with the Xiaomi Mi Pad 4 and Mi Pad 4 Plus.
We all know, that recent Xiaomi has unveiled and launched its new custom UI, the MIUI 12 along with the update schedule on which the users can expect their devices to be upgraded. But, the tablet, Mi Pad 4, and Mi Pad 4 Plus have been left out and it has been confirmed from Xiaomi that the OEM does not have any plans in upgrading its Mi Pad 4 tablet lineup with the MIUI 12 update. Notably, both the tablets came into the market in 2018 and came with Android Oreo out of the box. Interestingly, both the tablets are also stuck with the MIUI 9 based on Android Oreo and have not even updated with Android 9 Pie.
As per the official post, of the update plans for the MIUI 12, it is clearly mentioned that:
There is no MIUI 12 Beta and Stable Version release plan for Mi Pad Series. If there is any changes then it will be informed, Till then stay tuned on Mi Global community.

(Source)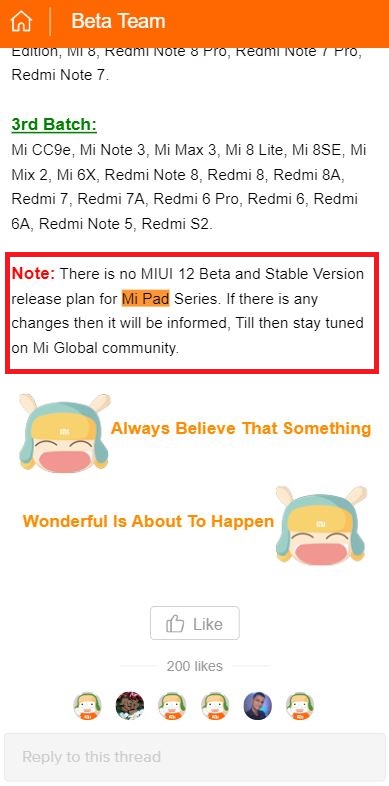 Although, the Mi Pad 4 and Mi Pad 4 Plus were not in the line considering the fact that Xiaomi has not even updated its tablet lineup with Android 9, or even MIUI 11, MIUI 12 was a distant dream. And this official statement from the company has put the final nail in the coffin. So, it is better to skip the tablets from now on, especially the Xiaomi ones, as they are no longer in the company's plans of update.